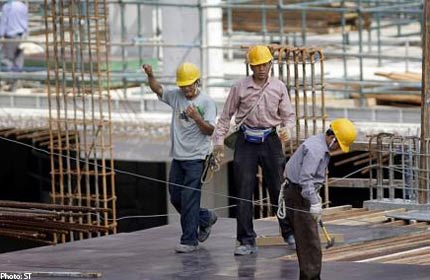 SINGAPORE - To push the construction industry towards greater productivity, the Ministry of Manpower (MOM) is considering a new quota for construction firms: That each firm must have a minimum percentage of higher-skilled workers.
The move was announced by Acting Manpower Minister Tan Chuan-Jin in Parliament yesterday. But he said that the Government will be consulting the industry before making any move.
Responding to questions by Nominated Member of Parliament R. Dhinakaran, he said: "Moving towards having a smaller pool of higher-skilled and higher-paid workers is the right direction for Singapore, rather than towards having a larger pool of more low-skilled but cheaper workers."
There are two groups of foreign construction workers on work permits here - those with basic skills, and those with higher skills.
From May this year, companies that hire higher-skilled workers from countries such as China and India will be allowed to extend their maximum employment period to 22 years, up from 18 years.
From July 2016, however, firms will have to pay higher levies for workers with only basic skills.
Both measures, aimed at encouraging contractors to opt for more skilled and experienced workers - in line with boosting construction productivity - were announced in the Budget statement delivered two weeks ago.
Yesterday, Mr Tan also said that while the ministry is looking at more sources of construction workers, from countries such as the Philippines and Sri Lanka, it does not intend to reduce the supply of construction workers from regular source countries. These include China, India, Thailand and Bangladesh.
Nan Guan Construction managing director Mohamed Abdul Akbar said that having more higher-skilled workers would be the "right step forward" for construction firms, where manpower needs have been a perennial issue.
His firm, for instance, can be short by up to 10 workers at any one time. He currently employs about 15 foreign construction workers, and intends to upgrade all of them into higher-skilled workers through training.
Still, there may be limits, said Mr Akbar, pointing out that higher-skilled foreign construction workers are more difficult to replace once they finish their contracts, with most of them coming in on a one- or two-year contract.
Higher-skilled workers are also in demand and may be poached by other firms, he noted. "There are also extra costs involved to train new workers after they leave."
Said Mr Akbar: "A lot of workers are still in the industry to fulfil their immediate needs - they come here just to earn a living, and then they go back (to their home countries).
"They don't see their jobs as a long-term career option."
tsjwoo@sph.com.sg
Get MyPaper for more stories.