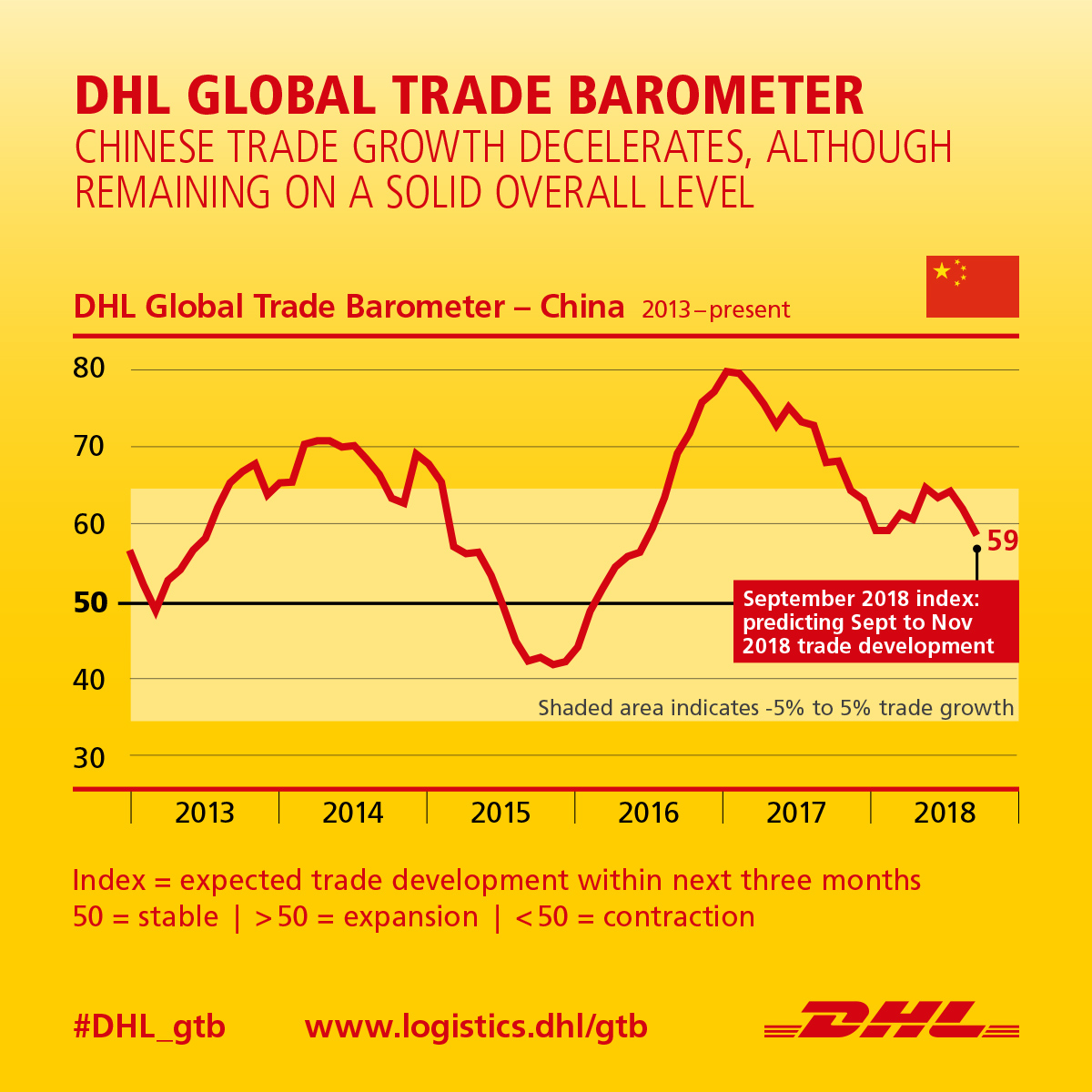 Mild growth for Chinese trade in both air and ocean freight
Important growth sectors include Personal & Household Goods, Machinery Parts, Basic Raw Materials, as well as Chemicals & Products
SHANGHAI, CHINA -  Media OutReach  -  8  October 2018 - China's trade is predicted to remain positive and solid on an overall level despite a slowing growth in air and ocean trade in the coming quarter, according to data from the DHL Global Trade Barometer released by DHL, the world's leading logistics company.
The DHL Global Trade Barometer , an early indicator of global trade developments calculated using Artificial Intelligence and Big Data, shows that China's overall index decreased from 63 to 59 compared to June. Most of the country's subdued growth will likely stem from air imports of Chemicals & Products, Capital Equipment, Machinery Parts, Consumer Fashion Goods and Temperature or Climate Controlled Goods. Ocean trade is also expected to maintain moderate growth at 56 points due to high exports of Personal & Household Goods and Machinery Parts.
"With the rise of domestic consumption and e-commerce platforms in China, consumer spending is expected to drive the country's gross domestic product growth despite ongoing uncertainty in its global trade relations," said Steve Huang, CEO, DHL Global Forwarding Greater China. "Domestic consumption contributed almost 80% of GDP growth in the first half of 2018, an increase of more than half the year before.[1] As such, we're beginning to see the effects of China's economic transition towards becoming a digitally-enabled mass-consumer market, even as trade continues for raw materials necessary to their manufacture ."
The Barometer's results also suggest that despite intensifying global trade disputes, mainly between China and the US, world trade is expected to grow over the next three months albeit at a slower pace. The growth outlook looks positive for all Asia Pacific countries with India leading the ranks, along with optimistic outlooks for South Korea, China, and Japan. This is testament to the Asian economy's growth, especially in the areas of technology and manufacturing. In the Global Trade Barometer methodology, an index value above 50 indicates positive growth, while values below 50 indicate contraction.
Developed jointly by DHL and Accenture, the DHL Global Trade Barometer provides a quarterly outlook on future trade, taking into consideration the import and export data of seven large economies: China, South Korea, Germany, India, Japan, the United Kingdom, and the United States. Together, these countries account for 75 percent of world trade, making their aggregated data an effective bellwether for near-term predictions on global trade. The DHL Global Trade Barometer , which assesses commodities that serve as the basis for further industrial production, predicts that global trade will continue to grow in the next three months, despite slight losses in momentum.
DHL -- The logistics company for the world
DHL is the leading global brand in the logistics industry. Our DHL family of divisions offer an unrivalled portfolio of logistics services ranging from national and international parcel delivery, e-commerce shipping and fulfillment solutions, international express, road, air and ocean transport to industrial supply chain management. With about 360,000 employees in more than 220 countries and territories worldwide, DHL connects people and businesses securely and reliably, enabling global trade flows. With specialized solutions for growth markets and industries including technology, life sciences and healthcare, energy, automotive and retail, a proven commitment to corporate responsibility and an unrivalled presence in developing markets, DHL is decisively positioned as "The logistics company for the world".
DHL is part of Deutsche Post DHL Group. The Group generated revenues of more than 60 billion euros in 2017.
[1] http://www.xinhuanet.com/english/2018-07/17/c_137330975.htm