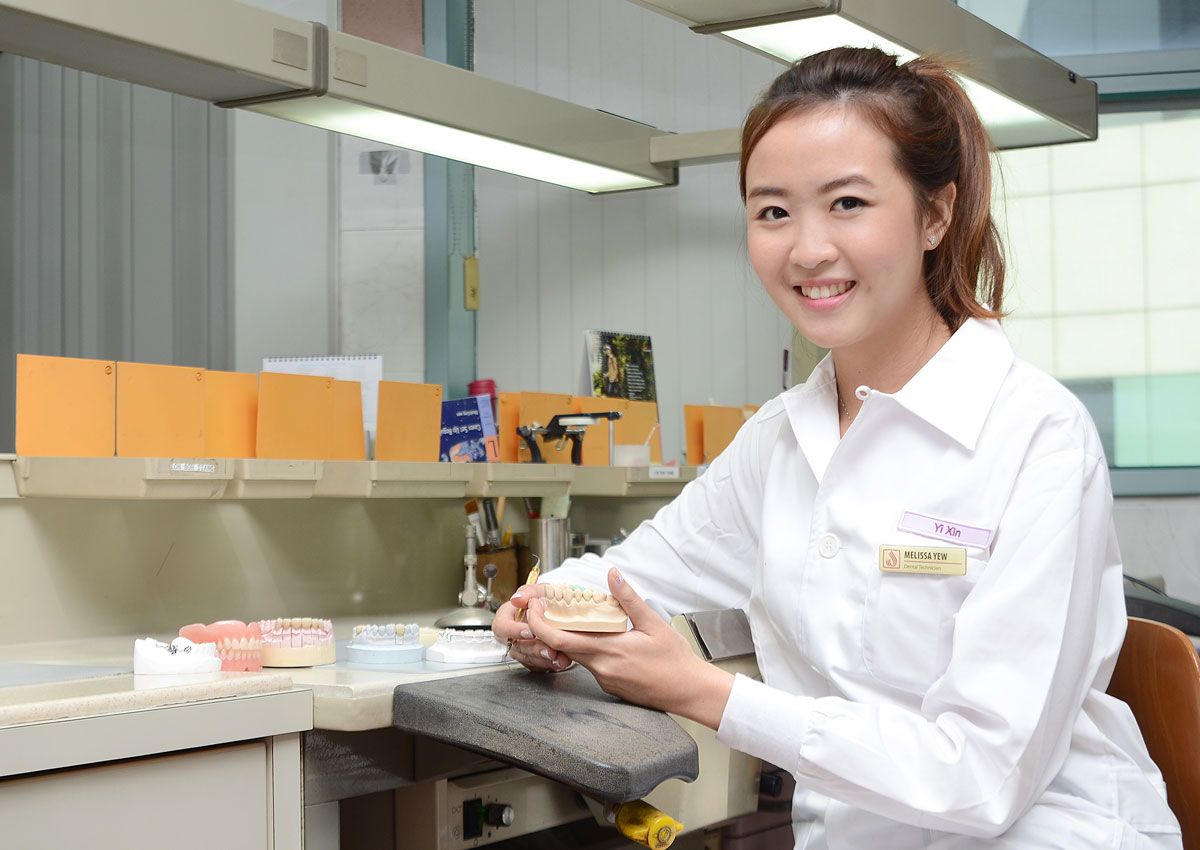 Cradling a set of dentures she made "with (her) own hands", the 28-year-old dental technician at the National Dental Centre Singapore (NDCS) lights up when she talks about its minute details.
"A lot of practice is needed to make these, you have to get every part of the shade and shape right so that patients will be happy," said Miss Yew, who has been in the job for almost 10 years.
Cutting a humble figure, she added: "I have had a lot of help from my seniors who always guide and help me."
As a dental technician, Miss Yew makes prostheses for dental patients.
These include dentures, metal dental crowns and orthodontic retainers.
Her workplace resembles a laboratory or a workshop as she uses different tools to manufacture dental products.
She said: "There are specialised equipment that we are taught to use, like the special furnace to fuse tooth-shaped porcelain over a thin metal layer to form a conventional crown."
She and her 37 other colleagues in the department focus on making different items.
Miss Yew specialises in dental crowns and porcelain tooth bridges. The items, she said, vary in the time it takes to make them.
"One crown takes about two visits, but complex ones can take longer. For dentures, the patients have to come in several times because there are many steps. From taking the impressions to trying them on and adjusting, it can take several visits," she added.
But the job goes beyond technical know-how.
DEALING WITH PATIENTS
According to Miss Yew, although her role is to supply accessories, dental technicians also have to deal with patients directly.
Laughing, she said: "It is the most challenging part of the job.
"When we have to face patients and get measurements or check the colour of their teeth, they can be demanding because they have expectations."
Her secret for getting by? Patience.
"Their teeth are important to them and of course they want to look good," she said.
Training to become a dental technician takes around two years at the NDCS dental laboratories.
Upon completion, students graduate with a Nitec in dental technology.
Miss Yew decided on the job after being introduced to it by a relative.
One could say that she has a natural talent - Miss Yew not only makes the dental protheses, she also moulds future generations by helping trainees learn the ropes.
Miss Yew said: "Just like what my seniors did before, it's nice to be able to share what I have learnt."
The focus on creating items was a big draw for Miss Yew, who said that she cannot see herself doing anything else.
Her choice of hobby, which also deals with details, does not come as a surprise.
With a bubbly laugh, she said: "I love making handicraft and painting my nails.
"You can tell I am in the right job, right?"
Secrets of the trade
It's all in the details If you do not like scrutinising and paying attention to the smallest of things, then this might not be the job for you.
Dental health is very important Dealing with patients means that impressions are important, so it will be unprofessional to not have clean and healthy teeth.
Good communication skills are essential Whether it be talking to patients, doctors or colleagues, instructions that dental technicians give and receive have to be clear.
harizbah@sph.com.sg

This article was first published on Jan 16, 2017.
Get The New Paper for more stories.