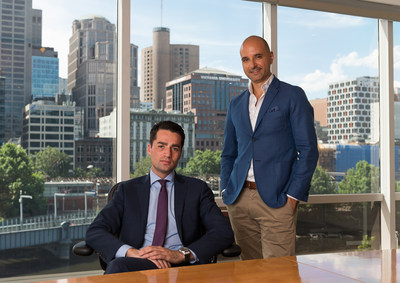 NEW YORK, Nov. 30, 2017 /PRNewswire/ -- Fintech payments company Credit Clear has launched a $10M Series A capital raise to expand its revolutionary data-driven invoicing and collections platform globally. The capital raise comes off the back of significant interest and contacts being issued to large enterprise level businesses in the US, Singapore and UK.
Launched in July 2017, Credit Clear's powerful technology is processing over $180m in debt for the corporate mother ships of Australia, including major financial institutions, telecommunication, utilities, government and property agents. Earling reports are showing up to a 500% increase in traditional collections and up to 200-times ROI.
Credit Clear's Managing Director, Simon Scalzo, believes these early outcomes highlight how FinTech is overcoming the huge disconnect between the service offerings of traditional processes and the consumers' demands.
"Australia is a great international launch market for fintech products, due to its early adoption of new technology and ideas."
"With global adoption of fintech services surging dramatically, we plan to continue our rapid growth trajectory into 2018 by opening offices in larger markets, while continuing the evolution of the product to develop new models for digital lending," says Mr Scalzo.
Credit Clear's technology is rewriting best practice, as regulatory pressure builds in global markets for companies to make more relevant payment options available that are flexible, mobile and transparent.
The core of Credit Clear's product is a sophisticated machine-learning engine, programmed to individual customer's profiles. Drawing from over one billion requests per month, the system decides the optimum time/day to send tailored communication and via the most appropriate platform (SMS, email or I.M.) that best suits the consumer.
"Our AI technology is being used to maximize payments by understanding the behavior and attributes of our customers. The systems intelligence also extends to automatically translating into user's default language, generating powerful results as English isn't everyone's first language," continues Mr Scalzo.
Credit Clear has attracted the support from some of APAC's leading technology executives who join its Advisory Committee, including Neal French, Head of Chrome & Android for Work--Google APAC & Japan; and Stephen Borg, Global CDO AOPEN Group.
"We have developed an exciting fintech offering with multiple future applications, that generates revenue and has significant customer intelligence capabilities. Businesses and end-users are gravitating toward Credit Clear because it approaches an old problem in a distinctly new way," Mr Scalzo said.
Emily King
+61-4342-55022
emily@creditclear.com.au  
View original content with multimedia:http://www.prnewswire.com/news-releases/credit-clear-launches-10m-series-a-capital-raise-300564115.html