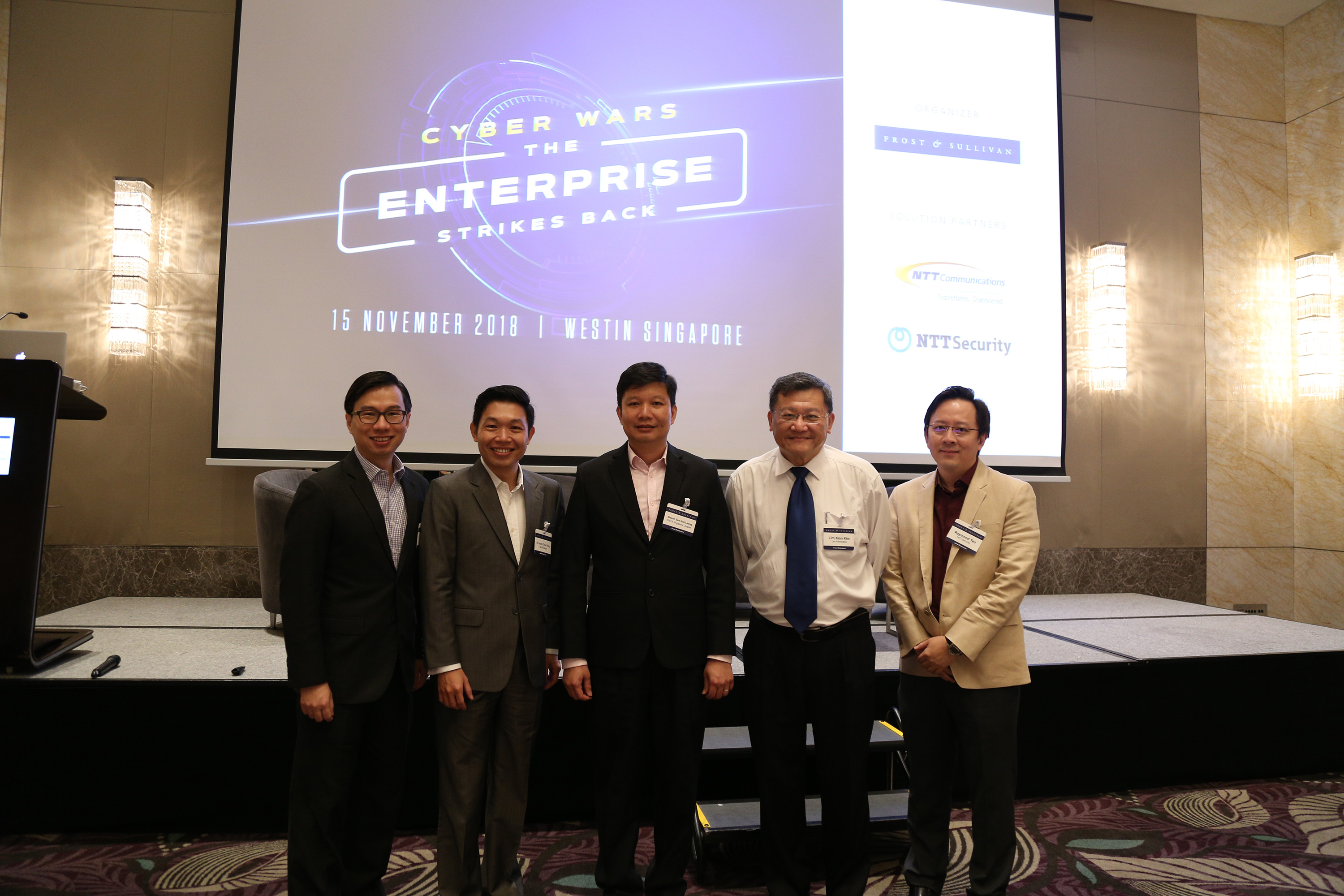 A Frost & Sullivan Executive MindXchange on Building Cyber Resilient Enterprises
SINGAPORE - Media OutReach  - 10 December 2018 -  Cyber threats hugely affect the operation of a business; its costs and impact are substantial. The convergence and interdependency of technology make guaranteed protection impossible. Most frequently, cyber risks are caused by human behavior rather than system flaws or technological weaknesses. Organizations need to work with their internal stakeholders to promote awareness and understanding to minimize cyber risks by building cyber resilience.
L-R: Kenny Yeo, Dr Leong Chou Ching, Steven Sim Kok Leong, K. K. Lim, Raymond Teo
Recently, Frost & Sullivan held an Executive MindXchange briefing titled Cyber Wars -- The Enterprise Strikes Back at the Westin Singapore. Together with technology partners NTT Communications and NTT Security, the briefing presented the latest trends and updates on why and how organizations should and can make their workplaces cyber resilient.
According to Kenny Yeo, Industry Principal, Frost & Sullivan, "Humans remain the weakest security link. 91% of cyberattacks still start with a phishing mail and a lack of training in both people and process among enterprises can result in loss of brand trust, putting organizations and consumers at risk."
"It is critical to embrace a holistic 'people, process and technology' approach to cyber security. Traditionally, many organizations establish a 'Prevent', 'Detect' and 'Remediate' approach. Organizations need to use data and extend this paradigm further to gain 'Predict' and 'Measure' outcomes as well," Kenny added.
This was followed by a presentation by Raymond Teo, Senior Vice President, Business Development, APAC, NTT Security on Managing Cyber Risk in the Boardroom .
"Cyber breaches impact trust in organizations and this is a Board issue. Organizations need to equip their Board with the requisite knowledge so the Board can competently exercise its oversight function and appraise the adequacy and eff­ectiveness of their overall cyber resilience program and make informed decisions," said Raymond. "Deploying good risk management processes can mitigate threats against the digital assets of a company."
This was followed by a panel discussion on Cyber Ready Business - Lessons Learnt & Case Studies . Panelists for this session included Dr Leong Chou Ching, General Manager, IT of MindChamps, Steven Sim Kok Leong, Vice President of ISACA Singapore Chapter, K. K. Lim, Advocate & Solicitor for Lex Advocatus and Raymond Teo, Senior Vice President, Business Development, APAC for NTT Security.
To learn more, download the complimentary executive summary report here: https://goo.gl/U3YBuh . 
About Frost & Sullivan
Frost & Sullivan, the Growth Partnership Company, works in collaboration with clients to leverage visionary innovation that addresses the global challenges and related growth opportunities that will make or break today's market participants. For more than 50 years, we have been developing growth strategies for the global 1000, emerging businesses, the public sector and the investment community. Is your organization prepared for the next profound wave of industry convergence, disruptive technologies, increasing competitive intensity, Mega Trends, breakthrough best practices, changing customer dynamics and emerging economies? Contact Us:     Start the discussion
About NTT Communications
NTT Communications solves the world's technology challenges by helping enterprises overcome complexity and risk in their ICT environments with managed IT infrastructure solutions. These solutions are backed by our worldwide infrastructure, including industry leading, global tier-1 public and private networks reaching over 190 countries/regions, and more than 400,000m2 of the world's most advanced data center facilities. Our global professional services teams provide consultation and architecture for the resiliency and security required for your business success, and our scale and global capabilities are unsurpassed. Combined with NTT Data, NTT Security, NTT DOCOMO and Dimension Data, we are NTT Group.
For more information, please visit www.sg.ntt.com
About NTT Security
NTT Security is the specialized security company and the center of excellence in security for NTT Group. With embedded security we enable NTT Group companies to deliver resilient business solutions for clients' digital transformation needs. NTT Security has 10 SOCs, seven R&D centers, over 1,500 security experts and handles hundreds of thousands of security incidents annually across six continents.
NTT Security ensures that resources are used e­ffectively by delivering the right mix of Managed Security Services, Security Consulting Services and Security Technology for NTT Group companies -- making best use of local resources and leveraging our global capabilities. NTT Security is part of the NTT Group (Nippon Telegraph and Telephone Corporation), one of the largest ICT companies in the world. Visit www.nttsecurity.com to learn more about NTT Security or visit www.ntt.co.jp/index_e.html to learn more about NTT Group.