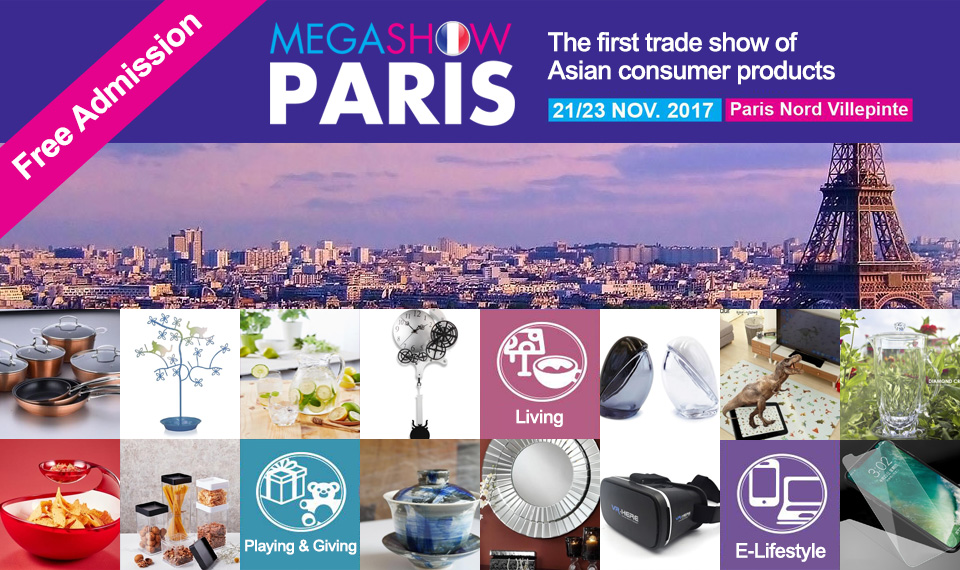 PARIS, FRANCE - Media OutReach - Nov 8, 2017 - From November 21-23, Paris will be the focus of sourcing for European buyers looking for new merchandise in the playing and giving, living and electronics and e-lifestyle consumer retail categories at MEGA SHOW PARIS .
Comasia Limited, organiser of the long running and Hong Kong based MEGA SHOW , is presenting this new tradeshow at PARIS NORD, VILLEPOINTE, supported by both Asian and international suppliers. Expect to see over 350 producers from Bangladesh, Hong Kong, India, Indonesia, Japan, China, Singapore, South Korea, Taiwan, Thailand, France, Turkey and Vietnam - showcasing Asia designed and made innovative and creative products, plus from closer to home, companies from Turkey and France.
The three merchandise zones include: 1) gift, premiums and souvenirs, giftwrap and packaging, festive and seasonal, toys and games, along with fashion accessories. 2) home décor and home textiles, kitchen and dining, home textiles and home accessories plus outdoor living. 3) IT and gadgets, mobile devices, smart phone accessories, electrical home appliances, and computer accessories. 
Some of the key Hong Kong based companies include Kam Hing Plastic Manufactory Co. Ltd., presenting their highly original festive decorations. Travel Products Corporation Limited have for over twenty years designed and exported  travel, sports and laptop bags, along with backpacks and tablet sleeves. BNB Cookware Limited (Hong Kong) produces quality stainless steel and aluminum cookware. Aquarius Ind (HK) Limited is the supplier of the iJacket series, designed not only to protect smart phones but to personalise phones for the users. 
Kitchenware and non-stick cookware will be on show from YongKang K-Star , based in China and a well known exporter.   From Bangalore in India, AEC specialize in eco-friendly paper products for use in stationery and gift decorations. Stationery supplies are offered by Ningbo Yostar International from China.
The introduction of MEGA SHOW PARIS will provide a new platform showcasing a broad selection of well-priced merchandise from reliable and experienced exporters so European professional buyers who source and  purchase smaller quantities and on a shorter buying cycle can connect with new Asian based companies,  which have made significant investment in  products and ranges, improvement in  quality and delivery, introduction of more innovation, plus expansion in design capability and the manufacturing of more eco-friendly ranges and products.
In addition to the complimentary admission badges, cash sponsorship is also being offered to qualified trade buyers, with full details available on the show website www.megashowparis.com