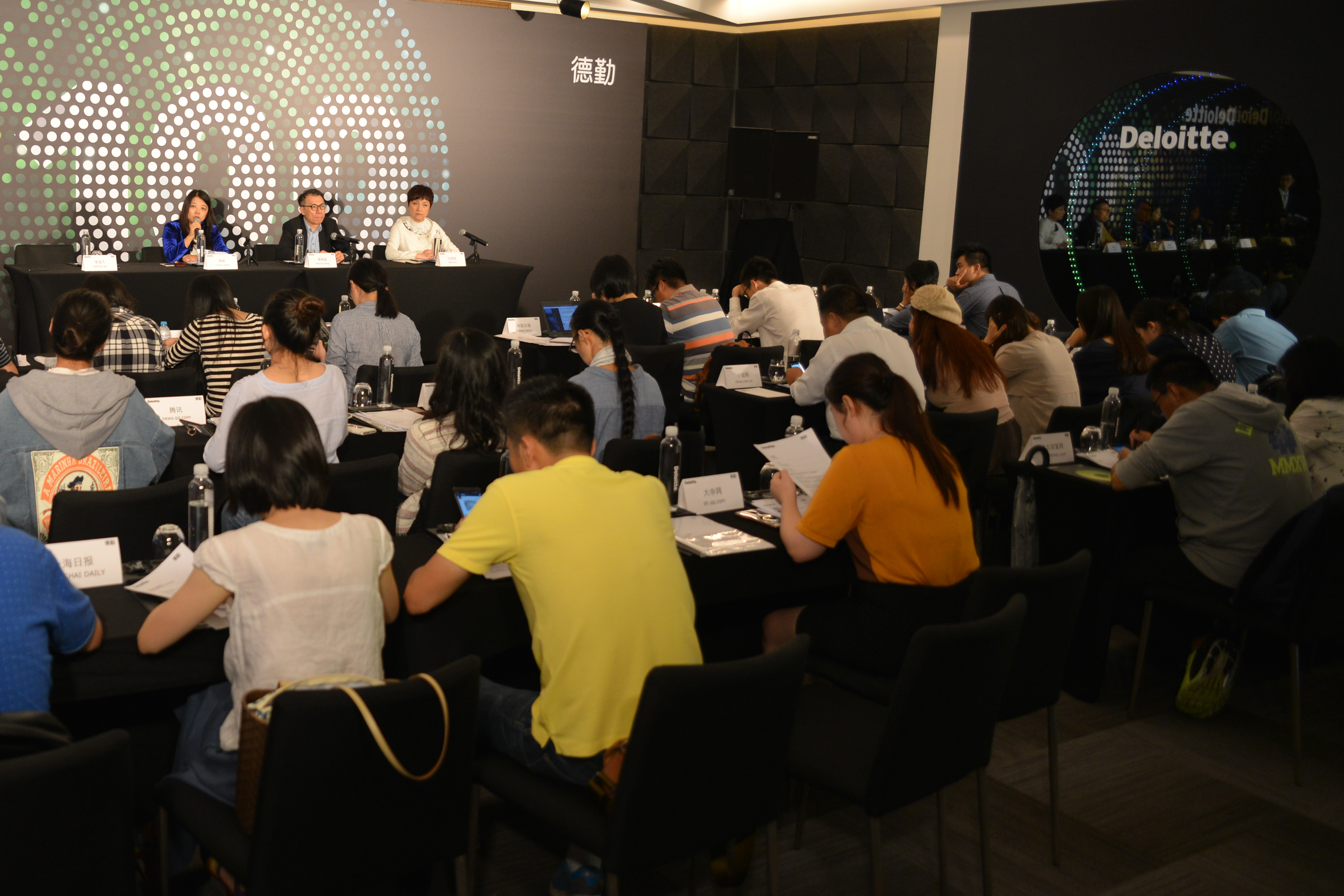 SHANGHAI, CHINA - Media OutReach - September 25, 2017 - On the occasion of its first centenary in China, Deloitte is pleased to announce a strategic investment program of US$200 million into talent development and capability upgrade. This program will be dedicated to enhancing its advisory services, advancing digital and technology transformation for the firm and Chinese enterprises, supporting the Belt & Road Initiative, as well as assisting Chinese enterprises in going global. This is a joint initiative of Deloitte Global and Deloitte China.
At the press conference, Deloitte China CEO, Patrick Tsang, Deputy CEO, Vivian Jiang and Eastern Region Managing Partner, Dora Liu introduced the Firm's strategic investment program in China.
"Over the past few decades, we have witnessed China's incredible transformation as an economic power, which has continued to generate Fortune Global 500 companies. China is an important market for Deloitte and we are committed to serving the China marketplace with distinction. The strategic investment will help the China firm build an even stronger and more innovative multidisciplinary business model, which is a source of our competitive strength," said Punit Renjen, Deloitte Global CEO .
This strategic investment program aims to elevate the firm's talent and capabilities in professional services, as well as to support the digital transformation of Chinese enterprises and promote innovative changes within the firm and across Chinese enterprises. This will help enhance our operations and service capabilities. On this front, Deloitte has already undertaken a series of groundbreaking innovation initiatives, such as the establishment of the Deloitte Analytics Institute two years ago, which helps service lines apply data science to tackle our clients' most complex business challenges. The Deloitte Greenhouse was also established this year to help clients come up with innovative business solutions in an immersive ecosystem and environment. Earlier this month, Deloitte established its Asia Pacific Blockchain Lab in Hong Kong, which helps implement and deploy Distributed Ledger Technology for corporate clients across the region.
The program also includes US 40 million specifically for the purpose of helping Chinese companies participate in and capture the benefits of the Belt & Road Initiative on a global scale. Deloitte will leverage its vast global network, cutting-edge thought leadership, and comprehensive suite of services to support Chinese companies in becoming prestigious multinational enterprises.
Patrick Tsang, Deloitte China CEO , believes that "Deloitte is committed to being our clients' long-term collaborative partner and helping strategize, innovate, and develop in the face of opportunities and challenges. This is not only central to the goal of our strategic investment, but is also the key to our path to becoming the undisputed leader in the professional services arena. As such, this will all the more reflect our unique 'High Value, High Tech and High Touch' approach".
Commenting on the Belt and Road Initiative, Vivian Jiang, Deloitte China Deputy CEO , pointed out that "the Chinese Government will continually ramp up support for and investment in areas such as energy infrastructure, technology and international industrial capacity cooperation. Deloitte China is fully committed to helping our clients leverage opportunities and overcome challenges related to the Belt and Road Initiative, assisting them in resolving various risks, navigating cultural differences and developing a comprehensive business plan. At the same time, this strategic investment program can strengthen our firm's BRI international talent development and further accelerate Chinese enterprises in going global".
When commenting on the firm's innovation and digitalization strategies, Dora Liu, Deloitte China Eastern Region Managing Partner , pointed out that "As we enter into a rapidly digitalizing age, it is imperative that we strengthen our service capabilities by investing in technology and innovation. Advances in areas such as automation, cloud computing, blockchain, data analytics etc. have significantly affected the way people think about and do business all over the world. As a top professional services firm, Deloitte China will embrace innovation, leverage the competitive edge brought about by technological development and its business applications".
To celebrate the centenary milestone, Deloitte organized a large-scale, cross-nation, cross-city light show, for which celebratory messages were displayed on LED walls and screens on the facade of iconic buildings in major cities, including New York, Beijing, Chongqing, Guangzhou, Shanghai, and Shenzhen. More than a thousand Deloitte employees and guests witnessed the light show and shared in this significant moment in Deloitte China's history.
About Deloitte Global
Deloitte refers to one or more of Deloitte Touche Tohmatsu Limited, a UK private company limited by guarantee ("DTTL"), its network of member firms, and their related entities.  DTTL and each of its member firms are legally separate and independent entities.  DTTL (also referred to as "Deloitte Global") does not provide services to clients.  Please see www.deloitte.com/about  to learn more about our global network of member firms.
Deloitte provides audit & assurance, consulting, financial advisory, risk advisory, tax and related services to public and private clients spanning multiple industries. Deloitte serves four out of five Fortune Global 500® companies through a globally connected network of member firms in more than 150 countries and territories bringing world-class capabilities, insights, and high-quality service to address clients' most complex business challenges. To learn more about how Deloitte's approximately 245,000 professionals make an impact that matters, please connect with us on Facebook , LinkedIn , or Twitter .
About Deloitte China
The Deloitte brand first came to China in 1917 when a Deloitte office was opened in Shanghai. Now the Deloitte China network of firms, backed by the global Deloitte network, deliver a full range of audit & assurance, consulting, financial advisory, risk advisory and tax services to local, multinational and growth enterprise clients in China. We have considerable experience in China and have been a significant contributor to the development of China's accounting standards, taxation system and local professional accountants. To learn more about how Deloitte makes an impact that matters in the China marketplace, please connect with our Deloitte China social media platforms via www2.deloitte.com/cn/en/social-media .
This communication contains general information only, and none of Deloitte Touche Tohmatsu Limited, its member firms, or their related entities (collectively the "Deloitte Network") is by means of this communication, rendering professional advice or services. Before making any decision or taking any action that may affect your finances or your business, you should consult a qualified professional adviser. No entity in the Deloitte Network shall be responsible for any loss whatsoever sustained by any person who relies on this communication.
© 2017. For information, contact Deloitte China.