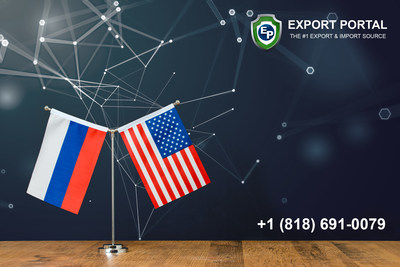 LOS ANGELES, Aug. 9, 2017 /PRNewswire/ -- At a BRICS conference in Shanghai, Russian Economic Development Minister Maxim Oreshkin on Wednesday called on BRICS nations to come up with a single WTO stance, "Together we will be able to promote the global economy and the multilateral trade system even if other (WTO) members disagree. Besides, BRICS countries could use the WTO platform to jointly raise the issue of e-commerce, small and medium-sized enterprises."
American Protectionism Doesn't Have to Harm Global Blockchain Trade, Especially if it is Free to Join in Any Language
The Russian Economic Development Minister sounds more like Ronald Reagan from 30 years ago. Oreshkin further states that "the freer the flow of world trade, the stronger the tides of human progress and peace among nations." Export Portal believes 1960 type Russian sanctions will soon seem even more passé with the Fourth Industrial Revolution. 
The first six months of the new Trump administration has been true to the 2016 campaign promises. TPP has been abandoned; NAFTA hangs in the lurch and now sanctions against Russia are fast moving forward.
Export Portal CEO Ally Spinu recently states that "Russian as well as BRICS SMEs can rise above these sanctions because no entity should be able to influence the ambitions of a business or community." Ms. Spinu continues, "Sanctions, trade wars, and Cold Wars are all last century's way of trying to control or punish countries." 
A new world order is being facilitated by Export Portal's blockchain technology and ExportPortal.com was purpose-built with this and 'Доверяй, но проверяй' ('Trust but verify'), in mind. The US Congress and Russian leaders should lead on larger issues they can control, instead of keeping independent businessmen and women from true success.
About ExportPortal.com:
ExportPortal.com is a Los Angeles-based, global-thinking technology company with a mission to provide verified businesses the means to find, communicate, and trade with other verified B2B businesses. Export Portal is the reason why businesses will no longer fear entering foreign markets to increase sales. There is even a Green component to what we do. To sign-up for free or to learn more, go to:  https://www.exportportal.com/learn_more.
EXPORT PORTAL - THE ONLINE TRADING WEBSITE WITH BUYER PROTECTION
John Zahaitis
media@exportportal.com
+1 (818) 965-9399