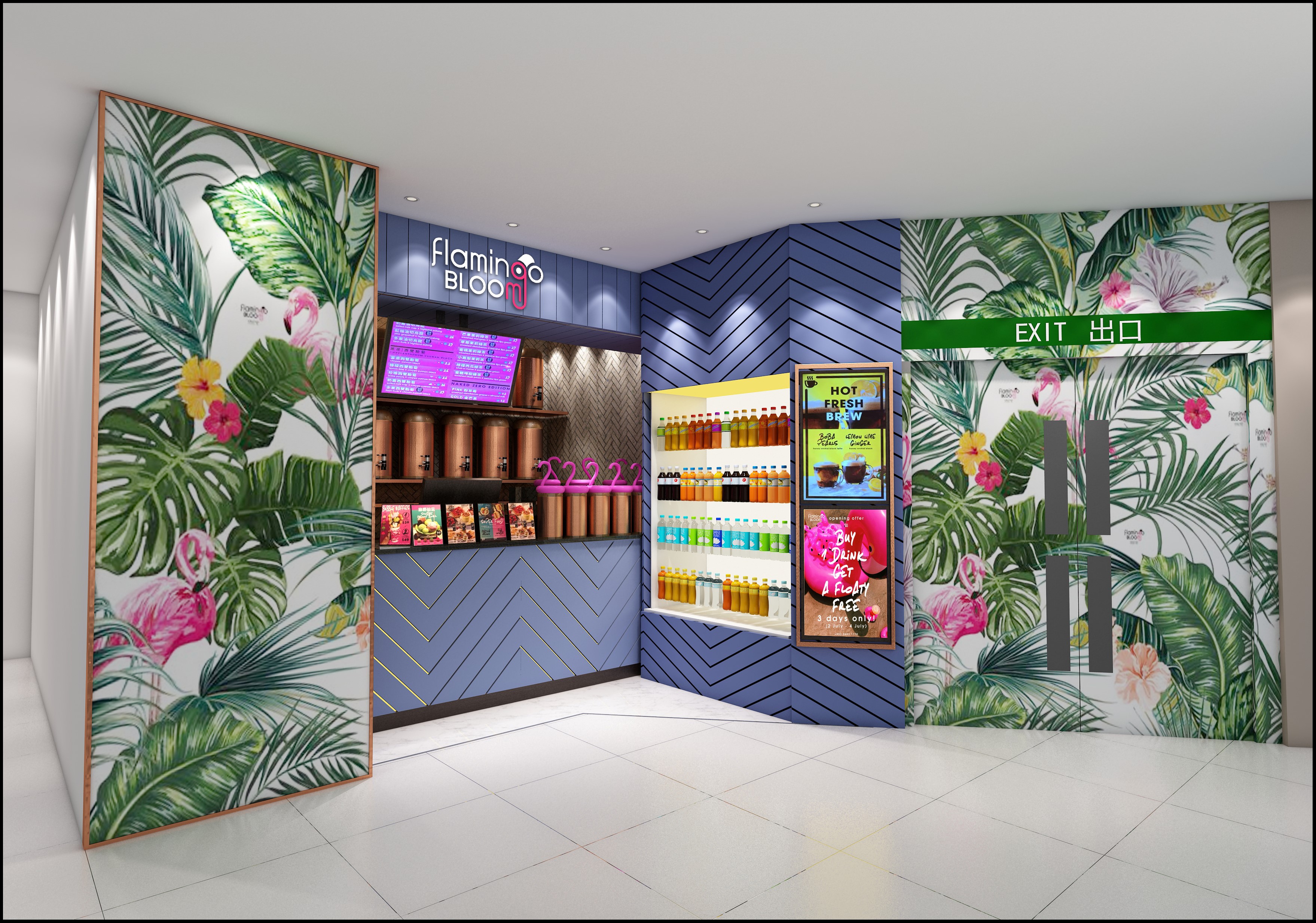 HONG KONG, CHINA - Media OutReach - July 6, 2018 - Drinks Are Not Limited announced the opening of its third Flamingo Bloom outlet in the city at the prestigious ifc mall in Central today with further expansion in the Asia Pacific region by the end of the year. The new salon will offer Flamingo Bloom's full range of premium loose-leaf teas, vegan milkshakes and healthy smoothies, all of which are made using only all-natural ingredients and are free from chemicals, additives and preservatives, as well as a new range of grab-and-go drinks and bites.
Hong Kong: 3rd store opens July 6, 2018 @ifc mall Shop 1032, Podium Level 1, Central
Malaysia: 1st overseas expansion. Opened on May 8, 2018 @Sunway Pyramid Mall, G/F, Shop G1.121A, No.3 Jalan PJS 11/15, Bandar Sunway, 47500 Selangor, Kuala Lumpur 
Flamingo Bloom's ifc salon is opening exactly one year after the brand's founder, Benjamin Ang, opened its first store on 50B Stanley Street with a mission to redefine Hong Kong's well-established tea culture with a new range of modern, healthy and hydrating loose-leaf teas which led to the brand being voted Best New Concept by Foodie Magazine . There was soon international demand for Flamingo Bloom's unique teas, and in May this year, Flamingo Bloom opened its first international outpost in Kuala Lumpur, Malaysia.
"With the opening of its third store in Hong Kong -- Flamingo Bloom will continue to offer a chic tea-drinking experience and rejuvenate people's perception on Chinese tea houses.   We are excited to see that our concept featuring premium all-natural and healthy takeout tea has been well-received in Hong Kong and in Malaysia. As the demand is there, we are currently looking for the right locations to continue with our expansion in Malaysia and the rest of Asia," says founder Benjamin Ang.
For centuries in China, tea has been known to have anti-inflammatory, stress-reducing and health-boosting properties and has been used in countless beauty and wellness treatments. Flamingo Bloom draws upon this ancient knowledge, but has modernised it with the addition of fruits, flowers and toppings while being served in a way that has captured the Instagram generation.  
All of Flamingo Bloom's teas are made from leaves grown in high-altitude regions in China and Taiwan, where fewer pesticides are used in the cultivation process and there are no synthetic flavours added at any point in the production process. In Flamingo Bloom's stores, these leaves are boiled in double-filtered water, which extracts nutritious antioxidants from the tea leaves . Customers can enjoy this fresh tea over ice or choose to blend it with matcha, boba or fresh fruit, which is jam-packed with vitamins and nourishing fibre. Every single glass of Flamingo Bloom tea is made-to-order and is totally bespoke.
Flamingo Bloom also offers two tea-free health-focused ranges: Superfood Edition smoothie bowls and Naked Zero vegan milkshakes. Containing zero added sugar, zero caffeine and zero preservatives, these products are full of vitamins and antioxidants and have countless benefits for your health.
Just as Flamingo Bloom is devoted to offering a selection of healthy, vitamin-packed drinks, it's also committed to being eco-friendly. To cut down on plastic waste, Flamingo Bloom encourages customers to bring their own 600ml cup to Flamingo Bloom with a HK$2 discount off their drinks, and are currently in the process of replacing all their plastic straws with paper and stainless steel alternatives while their cup lids have been designed to eliminate the use of straws altogether, should the customer choose. Flamingo Bloom also offers smoothies and teas in hollowed-out pineapples, melons and watermelons, rather than plastic bowls.
For high-resolution images, please go to:
https://www.dropbox.com/sh/5kldbgszrfaczx9/AAAmClPYiWakNKF-JD6PxHL0a?dl=0
ABOUT FLAMINGO BLOOM
Launched in July 2017, Flamingo Bloom is a tea salon concept that was created by Drinks Are Not Limited, with an aim to modernize Chinese tea culture by offering handcrafted floral loose-leaf teas that are jam-packed with antioxidants and all-natural ingredients. Our premium loose leaf teas have been carefully sourced and contain no synthetic flavours, powders, or unnatural colouring. While most grab-and-go tea shops produce their teas behind closed doors, our modern tea salon is designed to promote transparency. Customers can watch our tea-baristas in action at the open bar and know exactly what goes into each cup.  
For more information and updates, you can also visit https://www.flamingo-bloom.com/ and follow up on Facebook and Instagram on flamingobloomhk.