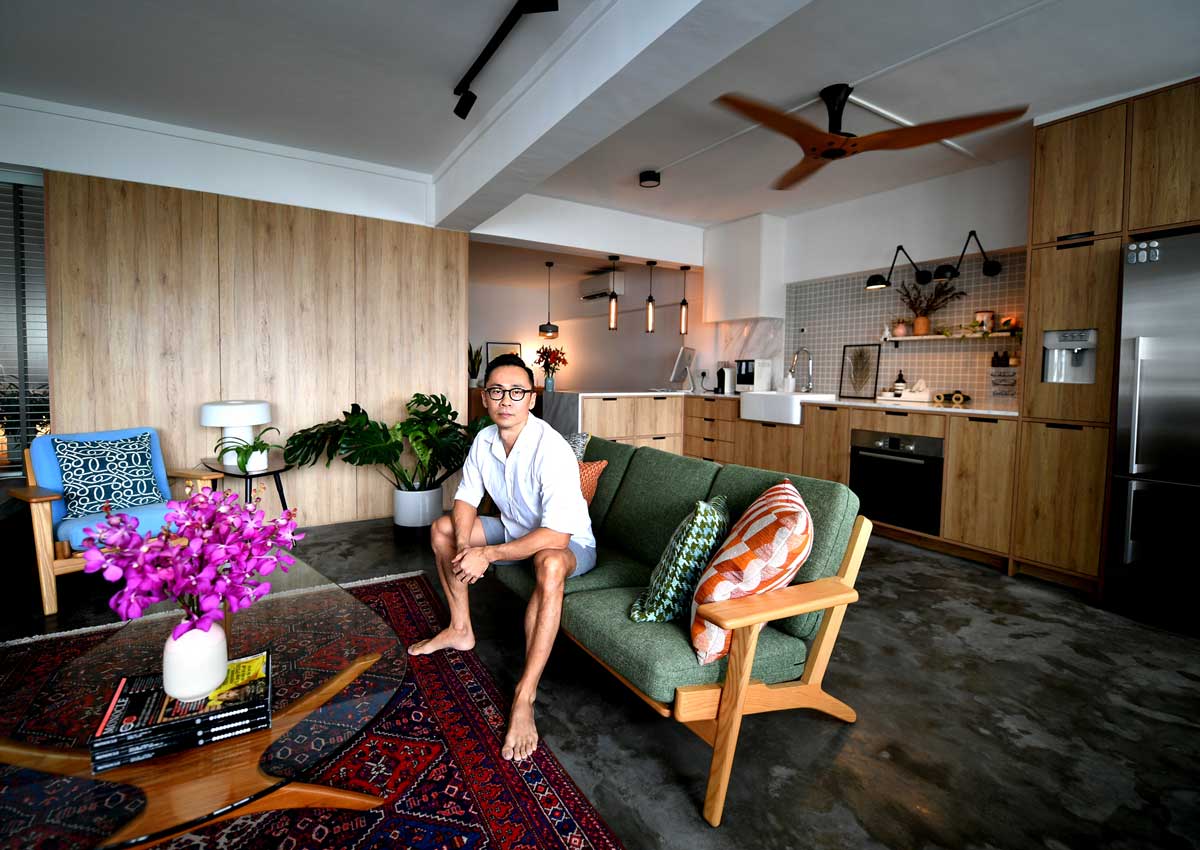 Space was a key concern for Mr Tan Hee Boon when he bought his three-room HDB flat in Marine Parade.
To make the most of the 818 sq ft space, he and his interior designer opted for dual-purpose furniture.
A low cement shelf which runs along one side of the living room provides space for a television set and display items as well as extra seating when needed.
The wardrobe acts as a partition wall that separates the living room and bedroom. And part of the marble kitchen counter doubles as a table for Mr Tan's desktop computer.
His interior designer, Mr Jonathan Poh of architecture and interior design company Studio JP, says the dual-purpose furniture helped optimise the limited space of the flat.
Referring to the wardrobe partition, Mr Poh, 36, says: "We started the project by zoning the different areas of the apartment by hierarchy - from public to private.
"As the bedroom was the most private, it was placed at the farthest corner of the space and had to be able to accommodate a wardrobe. Having the wardrobe serve as a partition between the bedroom and living room was the most obvious solution."
Mr Tan, 47, a yoga teacher, adds: "I didn't want a specific style such as Scandinavian or minimalist. Instead, I wanted my flat to feel cosy and comfortable. The planning of the space is important, especially when it is a small flat."
To further free up space, most of the walls in the flat were removed and one of the bedrooms made way for a bigger living area.
For his bedroom, Mr Tan opted for metal-framed glass walls to visually open up the space. There are full-length curtains for privacy.
Before the renovation, the flat felt very claustrophobic and dark, says Mr Tan, who is single. Now, large windows and the lack of interior walls let ample light in.
He moved in in October last year after a three-month renovation, which cost about $70,000, excluding furnishings.
The kitchen, which used to be at the back of the flat, was moved to the front, just behind the living room. He prefers to have water and food within easy reach of the living room, where he spends most of his time.
A cosy dining area is adjacent to the kitchen.
A spacious yard, which he uses for laundry and to do his potting of plants, now occupies the previous kitchen space. The yard is hidden by a door as he does not like the sight of hanging laundry.
But to make room for the yard, he had to settle for a smaller bathroom. The bathroom, which has white mosaic tiles and black sanitary wares, is the only one in the flat.
"If I wanted a bigger bathroom, we would have to push the bathroom wall into the yard and the flow of space from the living and dining areas to the yard wouldn't feel right," he says.
The flat is mainly black, white and grey and has white walls and cement flooring. It is spruced up with carefully selected decor and furnishings, such as a Persian rug and a sofa with green cushions.
Mr Tan, who previously worked as an art director, says: "I chose colours that are muted and not too bright as I did not want them to jump out at me."
To add life to the flat, he has placed potted plants or flowers at every corner, which he says have a calming effect.
He likens his home to his personal sanctuary in a busy city.
"In Singapore, everyone is rushing around and aiming for big cars and houses. It's challenging living like that so my home is like my sanctuary where I can relax and enjoy slow living."
BONUS! Furniture retailer HipVan is giving AsiaOne readers 15% off all purchases on their website. Simply enter promo code: HVASIAONE15 at the checkout.

This article was first published on Feb 11, 2017.
Get a copy of The Straits Times or go to straitstimes.com for more stories.
AsiaOne is looking to feature our readers' renovations and beautiful homes. If you would like to show off the transformation of your HDB flat, send us before and after photographs of the home, along with your name and contact number, to a1photo@sph.com.sg, with the email subject: "Home Works", and you could win a prize if your home is featured!