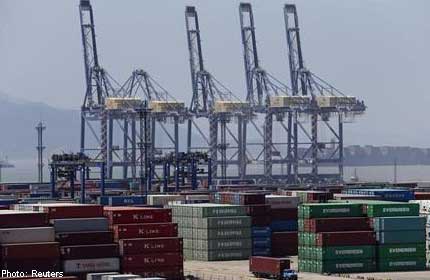 LONDON - European and Asian stock markets rose on Monday as China's economy grew in line with expectations.
But the latest evidence that the Chinese economy, the second-biggest in the world, has slowed further triggered fresh concerns about global growth.
In late morning deals, London's FTSE 100 index of leading shares climbed 0.36 per cent to stand at 6,568.69 points, while Frankfurt's DAX 30 gained 0.22 per cent to 8,230.66 points and in Paris the CAC 40 increased by 0.48 per cent to 3,873.53.
China's gross domestic product (GDP) expanded by 7.5 per cent in the April-June quarter, official data showed on Monday, a second slowdown in growth in a row .
While the figure is in line with a median forecast of 10 economists by AFP, it follows a series of weak numbers pointing to trouble in the Asian giant and fuels concerns it could miss the government's 2013 growth target.
"A sigh of relief for investors in Europe this morning as Chinese GDP comes in at 7.5 per cent for the second quarter of 2013, in line with expectations," said Ishaq Siddiqi, market strategist at ETX Capital traders.
But amid eurozone economic strains and a fragile US recovery, "hopes that the world's second-largest economy could somehow lift the rest of the world out of the slump are quickly fading", said Capital Spreads dealer Jonathan Sudaria.
China's leaders have proclaimed a long-term goal of rebalancing the economy, and since coming to power as Communist Party chief in November and then state president in March, Xi Jinping has placed less emphasis on the traditional growth drivers of exports and investment, and more on consumer spending.
Shanghai's main stocks index added 0.98 per cent to 2,059.39 points in reaction to the latest Chinese numbers. Hong Kong also advanced, while the Sydney index - on which a number of listed companies rely on Chinese trade - climbed 0.15 per cent. Tokyo was closed for a public holiday.
Stocks were helped higher on Monday also after Wall Street's Dow and S&P 500 indices had finished at record highs ahead of the weekend - thanks to better-than-expected earnings reports from banking titans JP Morgan and Wells Fargo.
French bond yields edge up on downgrade
US equity investors enjoyed another sunny week of gains amid a fresh vow of easy money from the Federal Reserve and growing optimism about earnings season, traders said.
"The release of the second-quarter GDP report from China overnight has provided some reassurance that the ongoing economic slowdown at least in the near-term is not proving worse than expected," said Lee Hardman, currency analyst at The Bank of Tokyo-Mitsubishi UFJ.
In foreign exchange deals on Monday, the euro fell to $1.3031 from $1.3066 late in New York on Friday. The dollar grew to 99.77 yen from 99.29 yen.
"The euro is continuing to hold up relatively well despite the ECB's recent commitment to maintain present or lower rates for an extended period, and rising political uncertainty in the eurozone," said Hardman.
The French sovereign debt market fell after a decision by Fitch rating agency late on Friday to downgrade its notation of French debt from the prized triple "A" status by one notch to "AA+".
This made Fitch the third of the three main rating agencies to remove the top rating from France. The yield on French 10-year bonds edged up to 2.203 per cent from 2.193 per cent.
However, analysts said that investors scarcely reacted to the rating decision which they had expected.
The price of gold climbed to $1,282.36 an ounce from $1,279.75 Friday on the London Bullion Market.
"With the Chinese economy still expanding at a healthy pace, it looks as if demand for raw materials will not drop off in the near term," said Chris Beauchamp, market analyst at IG trading group.