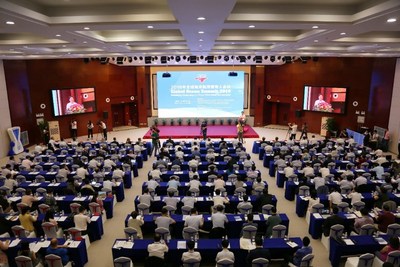 QINGDAO, China, July 18, 2018 /PRNewswire/ -- During 3-5 July 2018, co-organized by Qingdao National Laboratory for Marine Science and Technology (QNLM), Department of Science and Technology of Shandong Province, and Science/AAAS, the 2nd Global Ocean Summit (hereinafter referred to as GOS 2018) was successfully held at Qingdao with more than 150 representatives from 118 marine research institutions of 24 countries and 5 international organizations.
The theme of GOS 2018 was "Building the Partnerships on Ocean Observation and Research" focusing on four respects, namely, ocean observation and prediction, deep-sea research, polar seas research, and sustainable development of oceans. In GOS 2018, scientists exchanged experience on marine science and technology and discussed the sharing of knowledge, technology, and infrastructure, and explored solutions to challenges in marine science and technology resulted from economic development and global change. GOS 2018 promoted cooperation between institutions and organizations.
The chairperson of GOS 2018 was Angela Hatton, holding a number of prominent titles such as director of Science and Technology in British National Oceanography Centre (NOC), Chair of Natural Environment Research Council (NERC), member of the Future of the Sea: Foresight Project Advisory Group, the Research Councils UK (RCUK) Individual Merit Promotion Panel and the G7 Future of the Oceans Science Advisory Team. Keynote speeches were delivered by such experts as WU Lixin, director of QNLM executive committee and academician of Chinese Academy of Sciences and Guy Masters, deputy director of Woods Hole Oceanographic Institution, etc. Representatives made in-depth discussions on the sharing of resources, knowledge and experience for the advancement of innovative development of marine science and technology for the shared future for mankind.
Image Attachments Links:
http://asianetnews.net/view-attachment?attach-id=316303  

View original content with multimedia:http://www.prnewswire.com/news-releases/gos-2018-successfully-held-for-a-shared-future-for-mankind-300682894.html