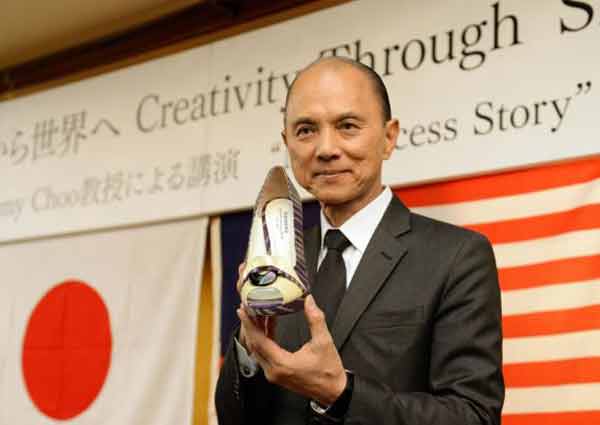 Mention 'Jimmy Choo' and elegant, exquisitely crafted shoes come to mind. Famed for making footwear for the late Diana, Princess of Wales, Prof Jimmy Choo OBE's creations have adorned the feet of royalty, pop stars, and certainly every member of the cast of Sex and the City.
Wiry and birdlike in the flesh, Buddha-level serene in the face, abuzz with positive energy, in his late sixties Choo is still making shoes. But things are now very different.
"What I learned from my father and my mum is that you've got to be happy and never be greedy," he reflects at our meeting at the British Council headquarters in Hong Kong. "Nothing can make me bitter in life. Whatever you do, it's your choice, you have no right to have envy. Am I right?"
Malaysian-born Choo is reflecting, in his typically enigmatic way, on the feud that took place with his Jimmy Choo Ltd co-founder, Tamara Mellon, that culminated in his exiting his eponymous business 16 years ago.
When Mellon and Choo first started working together it was out of Choo's cramped workshop in the East End of London, where he had started to make a name designing bespoke shoes for society ladies. As Mellon describes it, "it was hideous, but the Bentleys would pull up, the ladies would sit down and draw their feet on a piece of cardboard, and their shoes would be ready in time for the coming-out party".
At that time in the early 1990s, the only other fabulous shoes being sold in London came from Manolo Blahnik. Mellon, who had just left her job as accessories editor at British Vogue, spotted an opportunity to go into business with 'the Chinese cobbler'.
With a loan from her father, Mellon and Choo set up Jimmy Choo Ltd. But their working relationship deteriorated until, eventually, in 2001, Choo sold his 50 per cent stake to private equity company Phoenix Equity Partners for £10 million (S$17.50 million).
16 years later and Jimmy Choo Ltd is turning over US$500 million (S$701 million) annually, having diversified into ready-to-wear, fragrances, eye-wear, menswear, accessories and handbags.
Choo, meanwhile, is crafting just a handful of shoes a year for close family, friends and selected clients. Now his footwear bears the label Zhou Yang Jie, his Chinese name. "I don't use Jimmy Choo anymore, I use my Chinese name, because I am not part of Jimmy Choo and I don't want to confuse people. I am not in competition with these people. I'm proud of what I am," he explains.
Animosity seems evident between Jimmy Choo Ltd and its co-founder. (It is the first interview where I have been asked to sign an acknowledgement form - and include my passport number - that Prof Jimmy Choo's views are not representative of his former company.)
How does he feel about Mellon, who repeatedly slated him? "I respect her. What she do, it's what she want to do (sic). What she talk is what she want to talk. In my heart I respect everyone," he says.
In hindsight, would he do things differently?
"I don't feel sad," Choo insists. "I didn't study law, I didn't understand accountancy, I studied shoe design and that's in my heart. I didn't understand business. So if you sell the business, you sell.
"Selling the business was good for two things. It allowed me to spend more time with my children. Before, all the time I was in the workshop, I was never able to see them. I couldn't take them on holiday. Yes, I could provide school fees, but that is not love. They need to know they have a father."
He takes out his phone to show me photos of Danny, a successful entrepreneur selling 'Smart Dolls' - think adult ball-jointed Barbies made of durable vinyl - in Japan; and Emily, who makes upper-crust cakes for a living. He is also proud of his niece Lucy Choi, who runs a high-end shoe boutique in the same store on Connaught Street that he once inhabited.
Of his other niece, Sandra Choi, he is tight-lipped. "She is very busy; we don't see each other much." Choi started work alongside Choo and Mellon in 1996. After Mellon left in 2011, Choi is the only one left of the original team, and now the eminently successful creative director, recently named on Business of Fashion's Power 500 List.
Choo says he has also been able to indulge in his other passion: mentoring budding shoe designers. "You have to give back to society, it's the Chinese way," he explains. He is in Hong Kong on behalf of the British Council for whom he is an ambassador, helping to promote British education for foreign students. "I found my 'feng shui' in London," he says. "A British education changed my life. If I had stayed in Malaysia I would have been nobody."
Having come full circle at home in Mont Kiara, a gentrified neighbourhood of Kuala Lumpar, Choo has a surprisingly modest wardrobe of around 75 pairs of shoes. Most of them are his own designs.
"I give a lot of shoes away to my friends. I don't like to have too many."
His clothes are all custom-made by his favourite local tailor, Lord's - "better than Savile Row", he says, wriggling his shoulders in a vivid-blue silk jacket embroidered on the pocket with a blooming white hibiscus and an emerald humming bird. He peels back the jacket to reveal the label, personalised with his full name and title stitched inside. His shirt is beautiful crisp cream silk made by Lord's, while his almond-shape loafers are a caramel-brown kidskin.
For all the twists and turns in his life, Choo seems to be a man at peace. He puts it down to regular meditation and a devotion to God. "Buddist, Taoist, Christian, whatever, I am 100 per cent religious. That means be nice to people, don't cheat people, be honest. Whatever you do, do something good."
Championing leadership, passion and innovation, Billionaire Singapore is a community and the indispensable lifestyle resource for business leaders, investors, entrepreneurs and creatives.