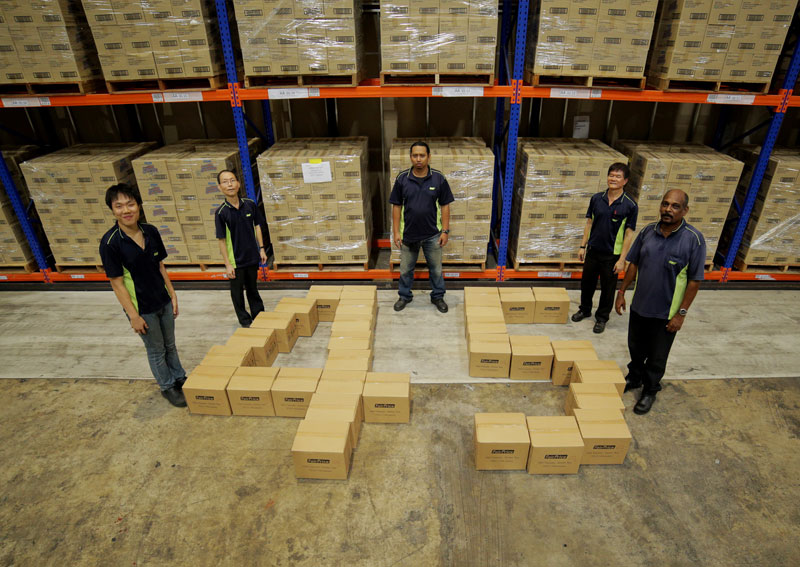 CHINESE conglomerate HNA Group's S$1.4 billion privatisation offer for Singapore-listed CWT Limited will likely help the aviation giant grow its presence in the logistics industry in South-east Asia and globally, but the deal was about more than that, analysts said on Monday.
They noted that though CWT is one of the major logistics players here, its other businesses such as commodities trading could potentially have synergy with several other business segments in HNA's sprawling empire, built on the back of a shopping spree that has lasted over a year - and left many wondering who HNA's deep-pocketed backers are.
CWT shares jumped 9.2 per cent or 19 Singapore cents on Monday to finish at S$2.26 with 12.9 million shares changing hands after the stock resumed trading following a halt that began early afternoon last Thursday. This was after CWT said in a Singapore Exchange filing on Sunday that HNA had launched a general offer for the company at S$2.33 per share, valuing its roughly 600.3 million shares outstanding at roughly S$1.4 billion in total.
HNA's offer comes after nearly a year of exclusive talks that began in May 2016. CWT chairman Loi Kai Meng and his son Loi Pok Yen, who is group chief executive; the family of Stanley Liao; and the family of Lim Soo Seng altogether own 65.1 per cent of the company and have undertaken to accept the offer.
The Hainan, China-based conglomerate, run by billionaire Chen Feng, has a complex, many-tentacled corporate structure that includes more than 450 entities at the end of 2015, according to a Nikkei Asian Review report that cited a Chinese credit rating agency, Shanghai Brilliance.
Its businesses include aviation, hospitality, finance, logistics, property and even media. It was recently reported by Reuters to be in talks to snap up Forbes, a magazine that publishes an annual list of the world's mega rich.
It said in its offer document that it wanted to buy CWT for the company's "strong market position" in logistics and diversified revenue from engineering services, financial services and commodity marketing. The acquisition could also help it diversify its property investment business and pursue new opportunities in areas such as supply chain financing and financial technology, it said.
CWT has only two analysts tracking it according to Bloomberg data. OCBC Investment Research analyst Eugene Chua said in a report Monday that CWT shareholders should accept the offer, noting that it represented a 19.5 per cent premium to his S$1.95 target price for the stock.
Local analysts who declined to be named said the deal did not necessarily indicate more merger & acquisition (M&A) activity in the local logistics sector but more could come. Smaller, tightly held logistics plays here include Vibrant Group.
"I wouldn't be surprised if there are more," said one at a local brokerage. "The logistics market has been pretty active in M&A. What HNA is doing is building up a whole chain in logistics ... CWT would give them a presence in Singapore."
A Religare Capital analyst said CWT's logistics arm was probably not the main driver for HNA's acquisition and its other businesses could integrate into the conglomerate. But it will likely take some time to determine how synergies could occur, he said, adding that HNA might potentially want to "trim off unnecessary portions" in future.

This article was first published on Apr 11, 2017.
Get The Business Times for more stories.