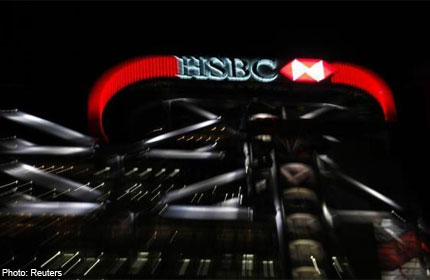 LONDON - HSBC Holdings Plc is considering floating up to 30 per cent of its British retail and commercial banking arm to help meet UK regulation and unlock value for shareholders, the Financial Times said on Monday.
British banks now have to ring-fence their retail banking units from riskier investment banking under new rules designed to give more protection to depositors and taxpayers should any more bailouts be needed. A listing would be a logical move to meet that requirement.
The FT, citing three people familiar with the project, said the plan was at an early stage but the matter had been discussed with investors and informally at board level.
HSBC declined to comment.
HSBC is Europe's biggest bank with a market value of $200 billion and its UK arm is estimated to be worth about 20 billion pounds ($32.7 billion). "Such a move would crystallise a higher rating for the whole group, especially in the light of buoyant investor sentiment on the UK economy," said Shailesh Raikundlia, analyst at Espirito Santo.
By 0930 GMT HSBC shares were up 0.2 per cent 660.9 pence, in line with a slightly firmer European banking index.
If HSBC listed its UK arm it would partially reverse its takeover of UK bank Midland more than 20 years ago, which resulted in it moving its stock market listing to London from Hong Kong.
There is frequent speculation the bank could move its headquarters back to Asia, and spinning off its retail business into a separate UK listing may make that prospect more likely, analysts said.
HSBC is structured as a collection of country based subsidiaries, and the holding company wholly owns its businesses around the world. The main exception is its 62 per cent holding in Hong Kong bank Hang Seng.
The bank has been cleaning up its structure and selling minority holdings such as its stake in Chinese insurer Ping An as part of a far reaching restructuring by Chief Executive Stuart Gulliver since he took the helm at the start of 2011.
Gulliver has stressed in recent results that Hong Kong and Britain are its twin "home markets", together accounting for more than half of profits so far this year. Profits in Britain have rebounded after several difficult years when the domestic economy slowed.
Britain is forcing banks to safeguard their retail and commercial operations after recommendations in the Vickers report, an independent review on the structure of banking, although the changes are not due to come into force until 2019.
Investors could be attracted by a new listing to rival Lloyds Banking Group, which is currently seen as the only listed bank almost purely focused on UK banking.
But that space is set to get more crowded with other UK banks earmarked to list in the coming years, including TSB and Williams & Glyn's - which are respectively being spun out from Lloyds and Royal Bank of Scotland - Santander UK , Virgin Money and other smaller lenders.