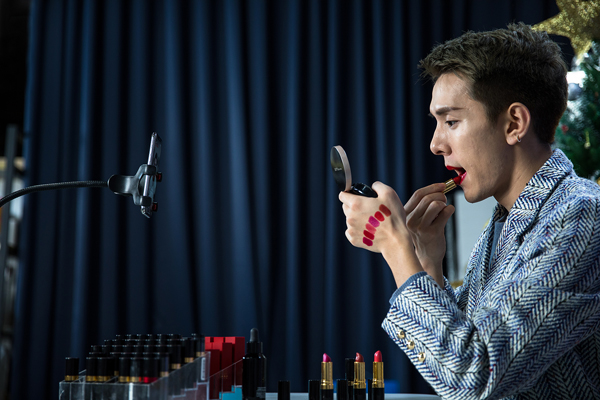 China's post-95 generation, who were born between 1995 and 1999, spend more on beauty and cosmetics products than other age groups, and the consumption of masks, skin care products and face cleansers for men is expected to usher in explosive growth in the sector, according to a new report.
The report jointly issued by Chinese online discount retailer Vipshop Holdings Ltd and market research firm iResearch, said the sales of beauty and makeup products for post-95 men increased 60 percent in 2017 compared with 2015, and BB cream, lipsticks and eyebrow pencils are favored by post-95 men.
"We find that 18.8 percent of the surveyed post-95 men use BB cream, 18.6 percent use lipstick, while 8.8 of young boys use eyebrow pencils and 8.5 percent use eyeliner," said Wu Yiran, the general manager of iResearch in the South China region, adding it seems that they are pursuing a more exquisite lifestyle.
In general, 44.8 percent of those interviewed use lip-stick every day, 11.8 percent higher than other age groups, and nearly 50 percent carry lipsticks with them. More than 20 percent own more than five lipsticks.
Luxury products such as watches, bags and luggage are also popular among post-95 men, and 32.7 percent of those interviewed showed an interest in new products, according to the report.
Moreover, the post-95s are willing to try products that gain popularity online and keep themselves up to date, and their pursuit of brands is personalized and diverse, said Wu. "More than 60 per-cent of the post-95s browse e-commerce platforms at least once every day, and about 10 percent of them place an order every day."
The post-95 generation grew up during China's fastest period of economic growth and the information age. Many were born in cities and have grown up exposed to television, the internet, and social networking platforms. They are now becoming a main consumer group.
"We will continue to focus on youths and the post-95s, and step up efforts to promote the sales of brands that are favored by them by observing changes in users' consumption behavior, and information from major consumer groups," said Huang Hongying, vice-president of Vipshop, adding they are dedicated to providing global and fashionable products for young consumers.
Vipshop offers high quality and popular branded products to consumers throughout China with significant discounts on retail prices. Since it was founded in August 2008, the company has rapidly built a sizable, growing base of customers and brand partners.