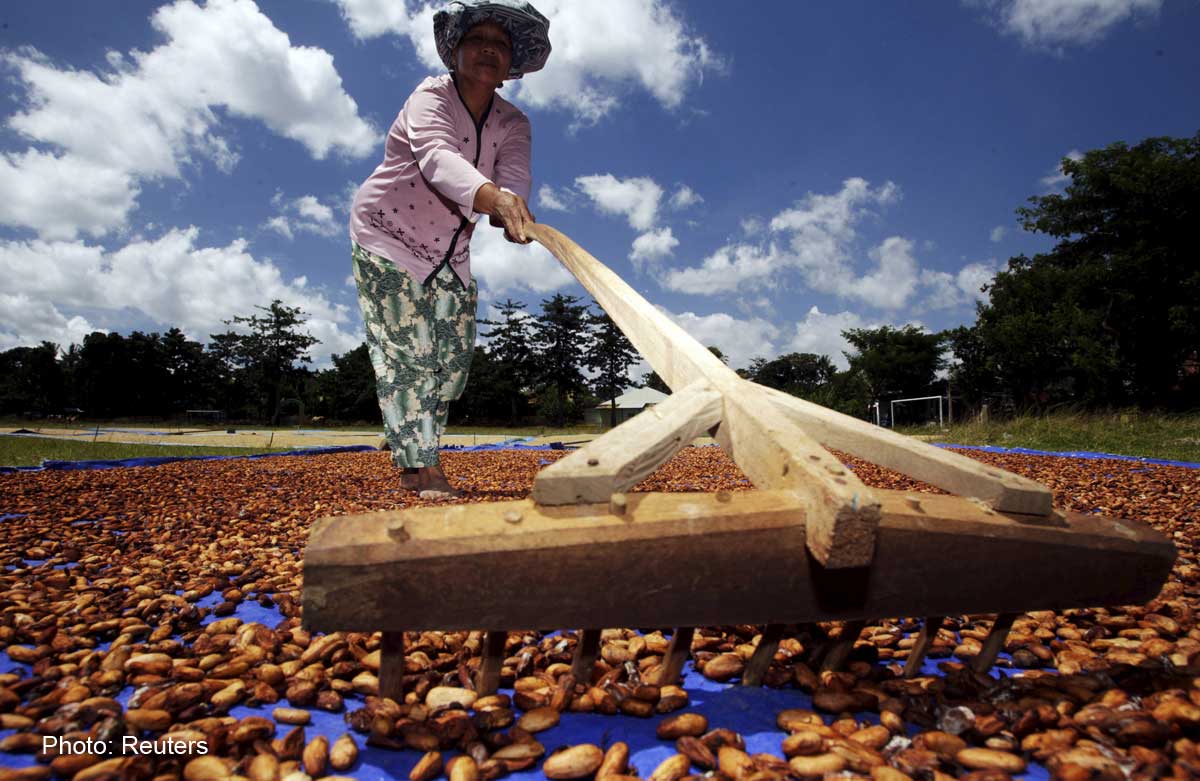 JAKARTA - Eight years after turning his back on cocoa following a string of harvest failures, Andi Asri has returned to the crop and is enjoying bumper production and profits thanks to a tie-up with a major chocolate maker that wants to secure long-term supplies.
Asri's plantation on the Indonesian island of Sulawesi is at the heart of Asia's largest cocoa producing region, and is where some international confectioners are looking to boost output to feed growing demand for chocolate in the region.
Yet they must first reverse a years-long decline in Indonesian output caused by pest problems, a shortage of expertise and competition from other crops such as palm oil that cost less to grow and earn higher returns.
"Pests and diseases made us stop," said Asri. "After we stopped, we changed to plant crops like corn and beans."
But he came across a cocoa mentoring programme run by chocolate giant Mars Inc, and was impressed enough by what he saw to switch back to his original crop several years ago.
His cocoa planting area has since risen 75 per cent and profits more than double what they were two years ago.
As wealth has increased to open up new chocolate frontiers in Asia, Indonesia attracted millions of dollars in grinder investments to add value to exports by processing cocoa.
At the same time, however, cocoa output in the world's third-largest producer struggled to keep pace.
Tackling the problem is not easy. Successive Indonesian governments spent millions of dollars in attempts to improve yields and ensure domestic supply for the new grinders.
But growing cocoa trees is labour intensive and many of Indonesia's more than one million smallholder cocoa farmers have become frustrated by years of battling pod diseases that increase wastage and hurt profits.
"In Indonesia now there is not nearly enough cocoa for the amount that's required," said cocoa consultant Marc Donaldson. "It would be a good thing if they were producing quality cocoa, but they're not."
DOCTOR'S ORDERS
Mars has taken a direct approach to ensuring quantity and quality in Indonesia through a programme to develop "cocoa doctors" who teach farmers modern production techniques.
Formally launched just over a year ago after a decade of planning, the scheme's focus is on giving cocoa farmers bigger yields and profits to attract the next generation of producers.
Mars is seen as an industry leader on cocoa sustainability, benefiting from being able to take longer-term investment decisions that listed firms sometimes cannot.
Indonesian cocoa farmers can now attend its new Sulawesi cocoa academy that can teach up to 250 people a year about the latest agronomic techniques.
Graduates may go on to become "cocoa doctors" like Asri, who not only grow cocoa, but also sell modern seedlings and pesticides and offer tree rehabilitation tips. Farmers using the cocoa doctors may sell their output to any buyer they choose.
"In order for my business to thrive I need farmers," said Asri. "That's the most important thing that we do as cocoa doctors; we mentor the farmers."
There are now 30 such "doctors" trained by Mars, and each is expected to support a minimum 100 farmers in the field.
Mars hopes to have 150 "doctors" by 2017 and aims to triple this by working with partners like Ecom, Olam and Cargill.
"The situation in Indonesia remains challenging," Mars' Asia Cocoa Director Fay Fay Choo said at a recent Jakarta event.
"We either need to do something differently or we've got to collaborate differently. We believe it's in the way we are going to collaborate into the future."
WANTED: ANOTHER INDONESIA
Demand for cocoa globally has grown at an average 3 per cent a year over several decades, according to industry estimates, meaning an extra 500,000 tonnes of cocoa will be needed by 2020 to avoid a potential supply crunch.
Despite scope for output improvements in Ivory Coast and Ghana, the top cocoa producing countries, buyers are wary of potential disease outbreaks, government policy shifts or civil unrest, and recognise the need to diversify supplies.
As well as being well placed geographically to feed Asian demand, Indonesia boasts a good climate, rich soil and a long history of producing cocoa.
"We need another whole Indonesia to meet the demand over the next five years," added Choo.
Cocoa firms like Mars, Cargill, Nestle and Mondelez International are now scouring key cocoa regions, often competing to try and attract farmers to improve and secure supplies.
Such sustainability schemes can differ in focus, to include output improvements, health and working conditions for cocoa farmers, fair-trade certification and pay.
Failure to keep pace with rising demand could mean confectionery makers facing higher input costs or tinkering with recipes, and in doing so risking the ire of consumers who can be picky about their favourite snacks.