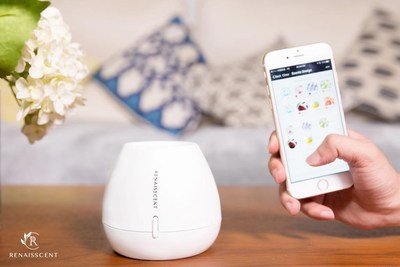 SHANGHAI, Oct. 10, 2017 /PRNewswire/ -- Research done by NDP Analytics, an economic research firm, in 2016 shows that the household fragrance diffuser market is growing through the 2015-2020 period and expected to hit a net worth of US$10 billion, with Europe and North America holding the greatest market shares. 

The Renaisscent Waterless Smart Diffuser enables you to design your own scents via Renaisscent App for healthier and happier mood.
Demand has risen over the last ten years, yet the fragrance industry hasn't made innovative breakthroughs in terms of personalized designs and sensory experience. 
Based on everyday environments, Renaisscent has done extensive research on consumer reliance on fragrances and user interface, pairing with the world's largest fragrance company to develop high-equality fragrance capsules for the Renaisscent digital fragrance diffuser, enhancing the household experience and personal health. 
Renaisscent has developed four different series of fragrance capsules using high quality and eco-friendly materials. Four series of capsules are Relaxation, Oriental Meditation, Attractive Sensuality, and Cosmopolitan cites. Each Renaisscent fragrance capsule comes with three different aromas for a total of twelve options as if you have twelve different bottles of essential oils at more reasonable prices.
After putting the different capsules into the smart diffuser, the Renaisscent app linked with the diffuser is able to recognize the capsules within three seconds and show the fragrance icons on the smartphone screen. Then the diffuser can diffuse fragrances per your designed configuration. Also, the app can be customized to mix and match the types of fragrances, as well as the density and duration of diffusion. For example, it can diffuse rose and fig aromas for five minutes, then lemon and grapefruit, automatically switching fragrances like playing a symphony.
You can also use internet to remotely control your Renaisscent fragrance diffuser on the way home, so you can immediately feel comfortable the moment you walk through the front door. You can also set an aromatic reminder with the alarm function, dispensing the fragrance of roses and lavender to relax and comfort the mind, telling you it's time for bed. 
The Renaisscent smart fragrance diffuser can be used in various environments as it does not use water and thus does not generate ephemera, nor does it have any risks of overheating. Through airflow pathway design, Renaisscent smart diffuser uses the most nature way for breathing in the fragrances. It is also convenient to use and Micro-USB chargeable.
Renaisscent will be selling digital fragrance products on Indiegogo starting October 18th 2017. Sign up for your chance to win a Renaisscent diffuser and get 42% off when we launch. For more information
https://producthype.co/renaisscent/
https://www.facebook.com/Renaisscents/
Renaisscent is also swiftly cooperating with brand hotels, who place our fragrance machines in hotel rooms to help guests rest and relax. Renaisscent aims to design high quality fragrances applied with smart technology to help people conveniently adjust their mood -- so they are healthier and happier -- in their daily activities. 
About Renaisscent
Renaisscent is committed to designing high quality fragrances applied with smart technology. We hope to provide positive experiences of conveniently adjusting people's mood and improve health and happiness in their daily activities. For more information about Renaisscent, visit www.renais-scent.com.
Alston 
Email: alstonwu@renais-scent.com
Facebook: Renaisscent

Economic and Eco-friendly fragrance capsule design, the high quality fragrances care your well being and comfort your moods.
View original content with multimedia:http://www.prnewswire.com/news-releases/intelligent-living-has-become-the-modern-mainstream-renaisscent-digital-fragrance-diffuser-has-unlimited-potential-300532943.html