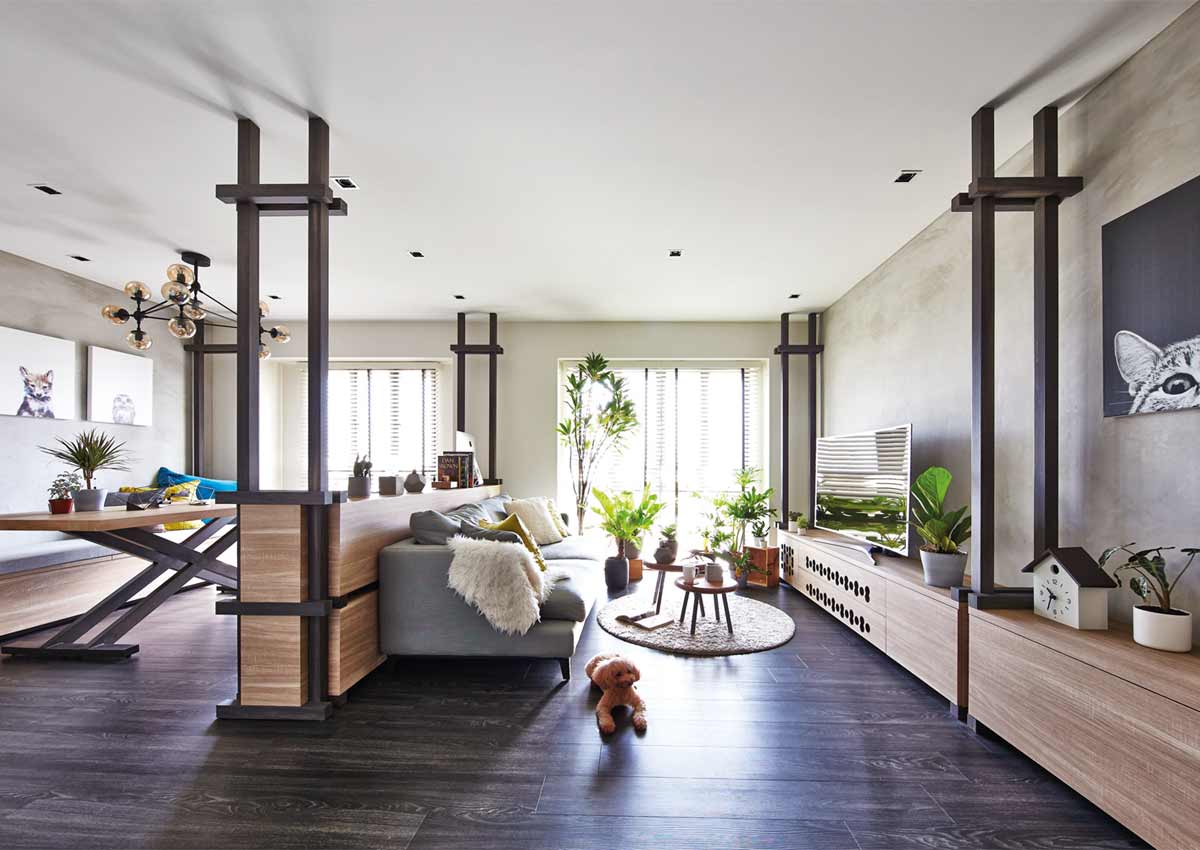 Who: A couple in their 30s
Home: Four-room HDB Build- To-Order apartment at Dawson Skyville
Size: 936 sqf
Newlyweds Royce Fam and Irene Li fell in love with their new flat in Dawson Skyville, for the great views they enjoy from their 23rd-floor unit.
For its interiors, the couple had approached long-time friend Cynthia Liau, director of interior design firm The Inside Job, to create an industrial-style home for them, with elements such as concrete screed finishes.
"I like designs that are timeless and endearing," says Cynthia, who advised the couple not to go for a full-on industrial look, which may be overbearing, but adopt some elements from their preferred style instead. Utilising her architectural background, Cynthia's strategy was to utilise simple forms to express construction aesthetics. The renovation (excluding furnishings), came up to $50,000.
The living and dining areas are kept open to make the home look spacious and bright. To add warmth to the spaces, cabinetry designed to resemble wooden rectangular boxes are clad in wood-look laminates from Lamitak. The cabinets help hide clutter and audiovisual equipment, as well as power points, routers, and gaming consoles. Cynthia added a pattern of cut-outs to some of the cabinet door panels to ensure that the sound from the speakers within would not be obstructed, as with remote control signals to the cable boxes.
The dark wood-look vinyl flooring in the living room complements the home's lighterhued furniture, such as the coffee table from CB2, and the grey sofa from Etch and Bolt.
For visual impact, and to zone the areas in the home, Cynthia designed full-height towering black frames for the space, which also hint at an industrial influence. Art pieces depicting animals showcase the homeowners' love for creatures - they have a dog and a kitten as pets!
The most decorative element of the home is hidden in the master bedroom. Cynthia incorporated a glass light feature into the structure of the built-in wardrobe - when lit from inside, floral artworks appear, acting as unique night lights. When not lit, the surface appears to be a plain mirror.
Read also: Dawson estate realises "housing-in-a-park" vision
Where to go: The Inside Job, Tel: 6493-5216
| | |
| --- | --- |
| | Home & Decor, Singapore's #1 interior decor magazine is now available in both print and digital formats. Log on to www.homeanddecor.com.sg to subscribe! |
AsiaOne is looking to feature our readers' renovations and beautiful homes. If you have a HDB or condo flat that you would like to be featured, send along photographs of the home, along with your name and contact number, to a1photo@sph.com.sg, with the email subject: "Home Works", and we will be in touch.