RAFAEL AZIZ, the dynamic, European-inspired, New York City-based apparel brand, unveils its new, captivating collection of luxury men's and women's socks.
New York, NY, United States - May 26, 2023 —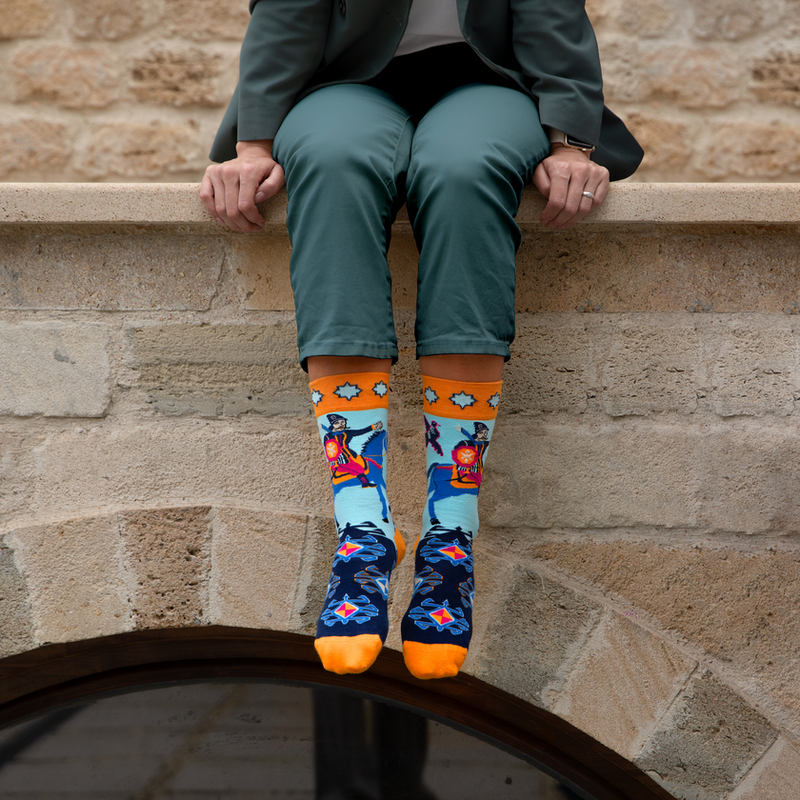 Today marks an exciting milestone in the fashion world as RAFAEL AZIZ, the dynamic, European-inspired, New York City-based apparel brand, unveils its new, captivating collection of luxury men's and women's socks. At the emerging brand's helm is Azerbaijani entrepreneur and visionary Rafael Aziz, whose success in software engineering, e-commerce, and venture capitalism has led him to his latest endeavor: fashion.
In 2023, clothing has evolved beyond being a necessity or formality—it's an expression of self. Gone are the days of muted grays, blues, and blacks. We live in an era of externalized self-expression, and RAFAEL AZIZ socks are fully in line with the zeitgeist. More than merely a conduit between the trouser and the shoe, each RAFAEL AZIZ sock, with rich historical narratives weaved into its bright, colorful super-soft fabric, tells a story.
Designed by Aziz himself, the patterns in each sock are inspired by the exquisite, painstakingly detailed carpets he watched his grandmother hand-weave as a child growing up in Baku, the capital city of Azerbaijan. He recalls feeling a deep sense of pride in her compositions and a stunning realization of how such rich historical storytelling and preservation could be weaved into a functional object. He carried those memories with him throughout his life, dreaming of ways he could honor her legacy and share his heritage with the world. It was in 2018, when he moved to New York City, one of the great fashion capitals of the world, that Aziz finally decided to turn his dream into a reality. After years of research and development, RAFAEL AZIZ was born.
RAFAEL AZIZ encompasses much more than just a pair of socks as it represents a journey through time and culture. His goal is to empower individuals to express themselves authentically, while also honoring the centuries-old traditions that have shaped our world. With his socks, wearers become storytellers, taking strides that bridge the gap between the past and the present.
Some RAFAEL AZIZ socks, like the "Mariam", feature literal works of art. Others, like the "Sham," add that perfect whimsical touch to spice up any outfit. RAFAEL AZIZ socks are loud, they're bold, they're fun, but most importantly to Aziz, they honor the centuries-old Azerbaijani traditions that have helped shape the modern world. RAFAEL AZIZ socks are not only fashionably functional—they're culturally conscious.
RAFAEL AZIZ is an amalgam of its founder's greatest passions: design, entrepreneurship, and preserving the rich culture and history of his country of origin. By intertwining the ancient and contemporary, Aziz aims to empower his wearers to showcase their unique fashion sensibilities while paying homage to the rich tapestry of his Eastern heritage.
In addition to his socks, Aziz plans to eventually expand his brand to include luxury shirts, shoes, underwear, and fragrance. With vibrant, unique designs that appeal to the globally-minded and curious consumer, Aziz aims to revolutionize the clothing industry by combining premium quality everyday apparel with compelling narratives and timeless aesthetics. Though thoughts of expansion are on his mind, Aziz is committed to maintaining a high standard for each of his products. Consumers can be confident that each RAFAEL AZIZ product comes with a guarantee of unparalleled comfort, innovative artistry, and detailed craftsmanship.
RAFAEL AZIZ socks are available for sale on Amazon and www.rafaelaziz.com.
---
Check the latest updates on Instagram
-
About Us: RAFAEL AZIZ is a luxury socks brand based in the heart of New York City. Established in 2021, we pride ourselves on crafting premium men's and women's socks that combine unparalleled comfort, exceptional quality, and trendsetting style. Our designs are meticulously created to make a statement and elevate your everyday look. Using only the finest materials and employing expert craftsmanship, we ensure that every pair of RAFAEL AZIZ socks exceeds expectations in both comfort and durability. Each design is carefully curated to embody the spirit of modern elegance, blending classic and contemporary aesthetics seamlessly. Visit our website at rafaelaziz.com to explore our exquisite collection of luxury socks. Join us in embracing the art of self-expression and step into a world of unparalleled comfort and style with RAFAEL AZIZ.
Contact Info:
Name: Evan Andersen
Email: Send Email
Organization: RAFAEL AZIZ, LLC
Website: http://www.rafaelaziz.com

Release ID: 89098513
If you detect any issues, problems, or errors in this press release content, kindly contact error@releasecontact.com to notify us. We will respond and rectify the situation in the next 8 hours.