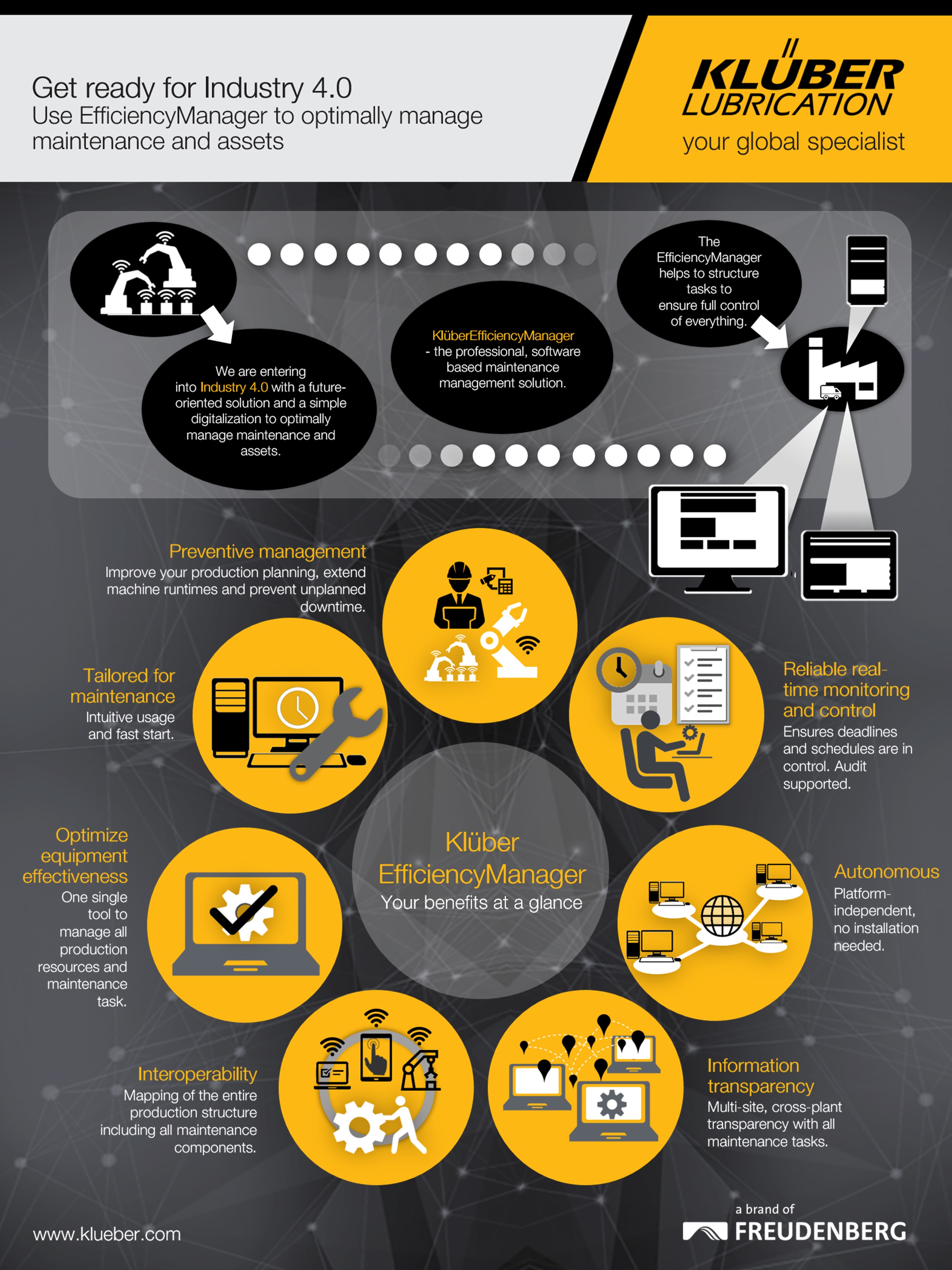 The EfficiencyManager from Klüber Lubrication for transparent process planning
KUALA LUMPUR, MALAYSIA - Media OutReach  - 5 June 2018 -  In the age of Industry 4.0 manufacturing companies have to deal with increasingly complex machinery and maintenance procedures. Tighter schedules and optimised maintenance intervals are to be met as well as legal regulations and documentation requirements. All this calls for more efficient processes and optimised planning.
KlüberEfficiencyManager - for transparent process planning to optimize production efficiency
Klüber Lubrication now offers a software which enables manufacturing companies to efficiently align structure increasingly complex structures in the networked plant: the EfficiencyManager. It provides companies with an overview of all the the machines, appliances and equipment relevant for the production process. "The EfficiencyManager offers many options to increase efficiency in production", explains Fritz Bischof, Manager Digital Transformation at Klüber Lubrication. It provides companies with a transparent overview of their potential for optimisation. Potentials for increasing efficiency can be ideally multiplied, e.g. in the form of energy efficiency projects, the optimisation of spare parts life or the reduction of defects and hence maintenance activities."
Companies can use the EfficiencyManager online and enter all the information required for a trouble-free production. This includes for example data on relubrication and maintenance, deadlines for calibrating scales or inspecting fire extinguishers. "Thanks to accurate documentation of all details perceived by the customers as significant, our EfficiencyManager has become an important, indeed vital source of information. It also provides valuable support for preparing and conducting audits, for example," says Fritz Bischof.
Via the cloud-based EfficiencyManager multilocation companies can exchange Best Practices and ensure transparency across all locations. A dedicated authorisation system makes sure that each user can only see the relevant section and perform the activities for which he/she has been authorised. The data concerned are stored securely on a server in Germany. User guidance is browser-based.
About Klüber Lubrication
Klüber Lubrication is one of the world's leading manufacturers of speciality lubricants, offering high-end tribological solutions to virtually all industries and markets worldwide. Most products are developed and made to specific customer requirements. During its more than 80 years of existence, Klüber Lubrication has provided high-quality lubricants, thorough consultation and extensive services, which has earned it an excellent reputation in the market. The company holds all common industrial certifications and operates a testing section hardly rivalled in the lubricants industry.
Klüber Lubrication, set up as a retail company for mineral oil products in Munich in 1929, is today part of Freudenberg Chemical Specialities SE & Co. KG, a Business Group of the Freudenberg Group, Weinheim. Klüber Lubrication has about 2,000 employees in more than 30 countries.
For further information, please click http://www.klueber.com
About Freudenberg Chemical Specialities
Freudenberg Chemical Specialities develops, manufactures and markets chemical specialities. In order to be as close as possible to customers, the company has a global market presence comprising five brands: Klüber Lubrication, Chem-Trend, OKS, SurTec and Capol. Freudenberg Chemical Specialities is one of the world's leading manufacturers of speciality lubricants, release agents, chemotechnical maintenance products as well as surface treatment and electroplating solutions. Headquartered in Munich, Germany, Freudenberg Chemical Specialities operates in about 40 countries via its own companies. In 2015, the Business Group employed a workforce of around 3,300 and generated a turnover of approx. Euro 960 million.
For further information, please click
http://www.fcs-muenchen.dehttp://www.fcs-muenchen.de