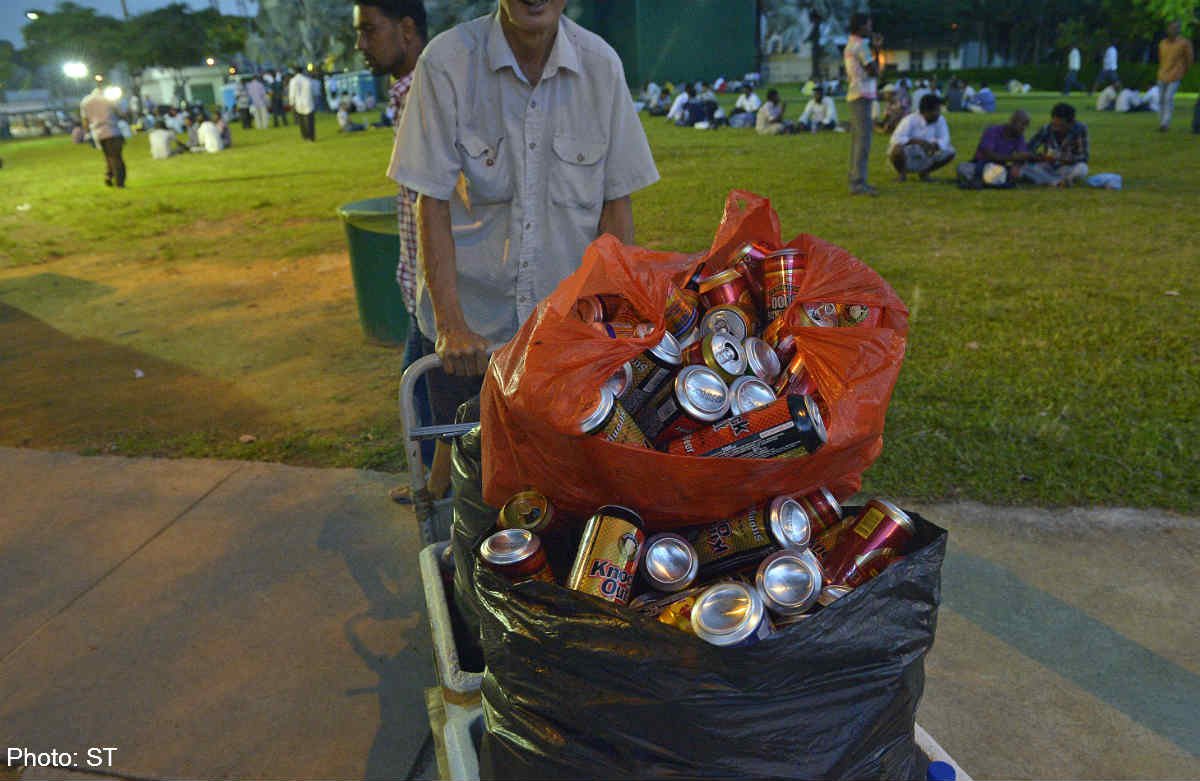 Liquor restrictions at drinking hot spots and stricter enforcement of laws against public intoxication will prevent a breakdown of public order like that during the Little India riot on Dec 8 last year, the Committee of Inquiry (COI) said.
Its investigation into the fracas established that alcohol was an aggravating factor leading to its escalation of violence, after a fatal bus accident triggered the riot. The four men convicted of rioting so far had all consumed alcohol, the committee said, with one of them "so drunk that he did not remember what he had done until he was later shown video footage".
In restricting alcohol sales, "simply limiting the number of liquor licences in the area is not the solution", the committee said.
It noted that public intoxication has been an increasing problem in Little India in recent years - despite a fall in the number of liquor licences.
An islandwide ban on public liquor consumption is also unwarranted, the COI said. Rather, measures should be implemented at hot spots where "large crowds typically indulge in heavy drinking", such as Little India and Geylang.
These include stricter enforcement of Section 18 of the Miscellaneous Offences (Public Order and Nuisance) Act, which criminalises public drunkenness.
First-time offenders face up to one month in jail and a $1,000 fine. Subsequent convictions carry a maximum $2,000 fine and three months behind bars.
The COI said: "More vigilant enforcement would help to mitigate the effects of excessive drinking and the public order threat this presents."
It also supports restricting at hot spots the hours in which people can drink alcohol publicly and the areas where they can do it. Such restrictions were imposed in Little India after the riot.
There were 321 liquor licences in the area as of June 16, 10 less than last year. Some 149 people have also been issued advisories for drinking outside permitted hours under the Public Order (Additional Temporary Measures) Act (POATM).
The Ministry of Home Affairs had already started a public consultation exercise on alcohol measures before the Dec 8 riot.
That exercise is now in its second phase, in which it is calling for views from the public via government feedback portal Reach.
In this phase, which ends on July 31, feedback is being sought on the methods used overseas to limit public drinking.
The Straits Times understands that in reviewing the liquor regulatory framework, measures tailored for problem hot spots are being considered.
Moulmein-Kallang GRC MP Denise Phua, who oversees part of Little India, said: "If the strict measures under the existing POATM remain, then the number of liquor licences in Little India need not be drastically reduced."
She emphasised the need for varying degrees of restrictions on alcohol consumption at public places, with the strictest measures taken in residential areas.
Mr Edwin Tong, who oversees several lorongs in Geylang as MP for Moulmein-Kallang GRC, said: "This is a sensitive issue and there is a need to strike a right balance.
"The rules have to be defined more strictly and we have to learn from experience to identify high crime areas to prescribe rules for these areas."
The lawyer said stricter enforcement against public intoxication may be needed. "A lot of leeway was previously given and we don't see much prosecution there, which is something to consider."
waltsim@sph.com.sg

This article was first published on July 01, 2014.
Get a copy of The Straits Times or go to straitstimes.com for more stories.