LoriGPT's Siri-integrated GPT client brings advanced AI chatbot tech to iOS with natural language processing and a sleek interface.
Berlin, Germany - March 18, 2023 —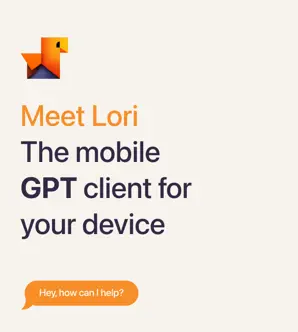 The growing use & widespread popularity of AI Chatbots in wide-ranging, innovative methods has surprised tech users and enthusiasts across the globe. The world of AI Chatbots has gotten much more exciting with the hyped launch of LoriGPT, a ground-breaking app that integrates ChatGPT through Siri on all Apple & iOS.
With Lori, users can experience the full power of GPT technology in a sleek, modern interface that is easy to navigate. Using customizable themes and colors, you can transform Lori how you want to and personalize your chat experience. With Siri integration, the use of the AI assistant to aid in a task of any nature or have fun by conversing with a virtual friend, everything is made easy and fun. 
What sets Lori apart from other chatbots is its advanced natural language processing capabilities. With Lori, you can have a conversation just like a human, and the app will understand and respond to your messages accordingly. And with machine learning algorithms, Lori will improve over time, learning from every conversation.
Lori is the brainchild of a team of experts in artificial intelligence who sought to create a chatbot that can deliver an unmatched level of natural language processing capabilities while being beautiful and intuitive. "LoriGPT has been designed to offer users an unparalleled AI chatbot experience. With natural language processing and a sleek interface, LoriGPT is set to transform how we use Siri forever. Users can now enjoy a seamless and intuitive experience, asking Siri to initiate conversations with LoriGPT or vice versa for added convenience." said Stefan Liesendahl, the app's developer.
"We're thrilled to launch LoriGPT with Siri integration and can't wait for users to discover its full potential. We wanted to create an app that delivers cutting-edge AI technology and looks and feels amazing to use. We're confident that users will love Lori and all it offers." Stefan added.
With a one-time purchase cost, LoriGPT can be downloaded in a few clicks from the App Store. No subscription is required to continue using LoriGPT, continuously saving the users the cost of un-desired charges.
LoriGPT has gathered an excellent rating of 4.9 on the App Store. One of the satisfied users shared, "Hi, I just wanted to take a moment to express my gratitude for creating LoriGPT. This app has benefited me, and I can't thank you enough for bringing this advanced AI chatbot technology to iOS devices. It's amazing how LoriGPT can understand and respond to my messages just like a human would. Thank you for making my chatting experience so seamless and intuitive!"
Start chatting with the most advanced AI chatbot today by downloading LoriGPT on App Store.
To learn more, visit: https://www.lori-gpt.com or send an email to info@lorigpt.com
Contact Info:
Name: Marc Liesendahl
Email: Send Email
Organization: LoriGPT
Website: https://www.lori-gpt.com/

Release ID: 89092244
If you detect any issues, problems, or errors in this press release content, kindly contact error@releasecontact.com to notify us. We will respond and rectify the situation in the next 8 hours.