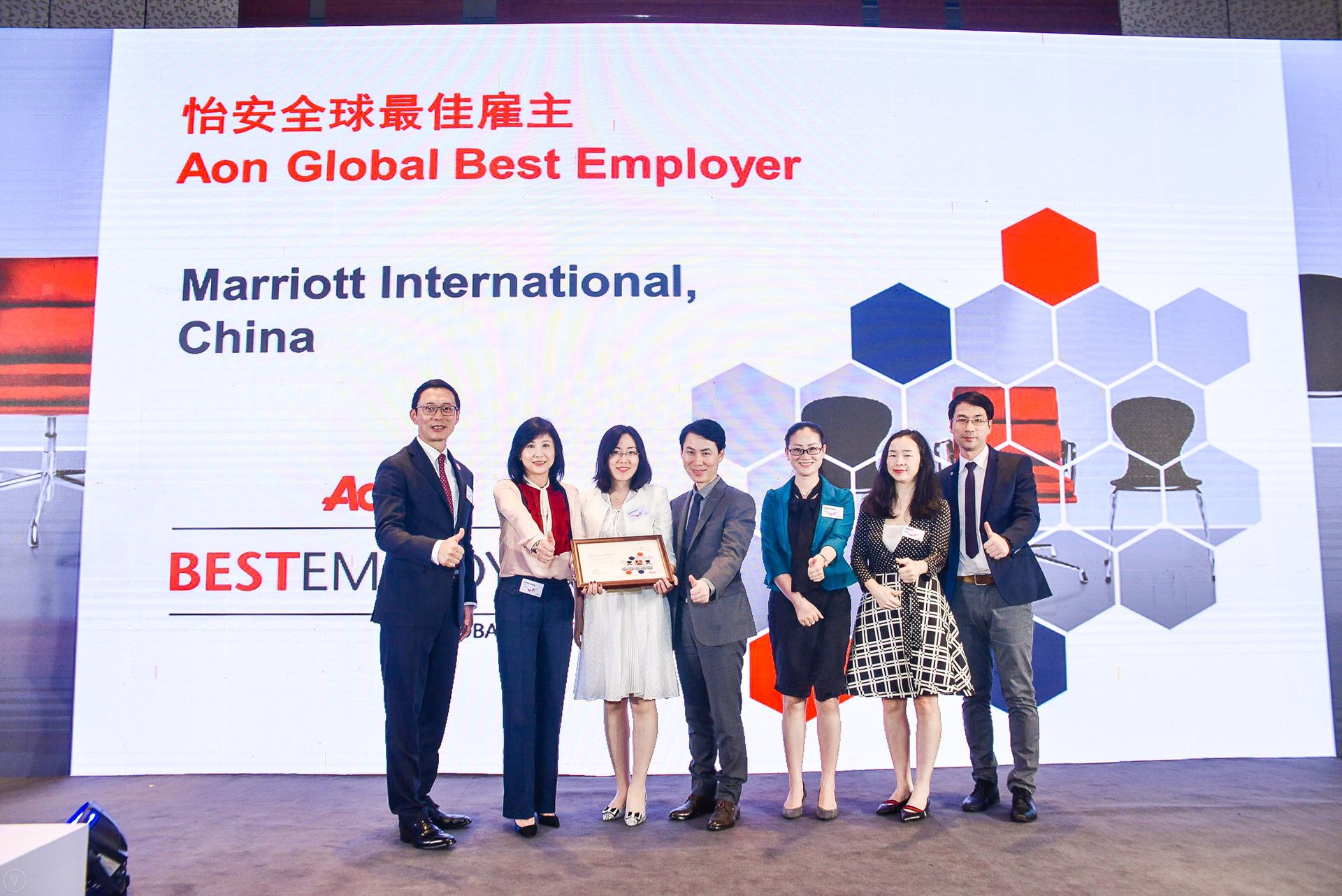 Marriott International continues to gain recognition for its putting people first culture
HONG KONG, CHINA - Media OutReach  - 31 October 2018 -  Marriott International has once again been crowned Best Employer Asia Pacific by Aon plc (NYSE: AON). The company was also recognized as Aon Best Employer in 17 markets across APAC -- an increase in four markets from last year. The accolades are testament to Marriott International's commitment to its people and its active encouragement for them to be their best in both their professional and personal lives.
Craig S. Smith, Marriott International's President and Managing Director for Asia Pacific, said, "At Marriott International we put people first and take care of our associates so that they, in turn, take care of our guests. We are thrilled that this commitment to our people, which has been embedded in the company's DNA from the outset, has been recognized yet again by Aon. We focus on training, developing and retaining our associates, creating a loyal and passionate workforce that is committed to offering the best service and experiences to our guests."
Marriott International was recognized as Best Employer in 17 markets it operates in across APAC. These are: Australia, Bangladesh, Cambodia, Mainland China, Fiji, Hong Kong, India, Indonesia, Japan, Macau, Malaysia, Maldives, Philippines, Samoa, Singapore, South Korea, and Thailand.
With over 680 properties across 23 brands in more than 20 markets and a further 530 plus properties in the pipeline, Asia Pacific is Marriott International's second fastest-growing region. The organization's approach to developing talent is central to this growth as increased opportunities in the company enable associates to progress their careers from within, retaining not only talent but also the legacy of service values and commitment to excellence throughout the entire operation.
" We implement a systematic and purposeful approach to enable associates to realize their full potential through a structured human capital planning process ," said Regan Taikitsadaporn, Chief Human Resources Officer for Asia Pacific at Marriott International . "We see it as important to nurture and groom our talent with comprehensive training and leadership development programs to enable career growth and facilitate internal promotions that will empower the growth of our company. These initiatives help us attract best-in-class talent as well as create a positive and nurturing environment for all associates."
Marriott International also offers professional development programs for associates at every stage of their career, from the Global Voyage Leadership Development Program for recent university graduates to the Marriott Development Academy, which helps prepare aspiring and new managers for the leadership role of general managers. As part of its commitment to diversity and inclusion, Marriott also focuses on promoting and developing women leaders. In 2018 alone, the Asia Pacific region saw a 12 percent increase in the number of women general managers across Asia Pacific.  
Marriott International is the only company to receive global recognition consecutively since Aon began the program in 2014 -- a testament to the group's commitment to putting its people at the core of its business. In 2018, Marriott also achieved certification as Best Employer globally.
With more than 15 years of experience in best employer studies across the world, backed by more than 20 years of experience in employee research, the Aon Best Employer program recognizes the achievements of organizations that demonstrate excellence in the workplace .
The company's research proves that Aon Best Employers drive a committed workforce and performance through a compelling employer brand , effective leadership, and a high performance culture and level of employee engagement .
Engagement: Employees speak positively about their employer, intend to stay, and are motivated to exert extra effort at work.
Leadership: Leaders treat employees as valued assets, engage employees in the vision, and lead the organization to success.
Performance Culture: Employees are aligned to organizational goals and are rewarded and recognized for their contribution.
Employer Brand: Employees are proud of being part of their organization and can clearly explain what makes their employer different from others.
Please see the awards list in full here.
About Marriott International, Inc. Marriott International, Inc. (NASDAQ: MAR) is based in Bethesda, Maryland, USA, and encompasses a portfolio of more than 6,700 properties in 30 leading hotel brands spanning 130 countries and territories. Marriott operates and franchises hotels and licenses vacation ownership resorts all around the world. The company also operates award-winning loyalty programs: Marriott Rewards®, which includes The Ritz-Carlton Rewards®, and Starwood Preferred Guest®. For more information, please visit our website at  www.marriott.com , and for the latest company news, visit www.marriottnewscenter.com . In addition, connect with us on  Facebook  and @MarriottIntl on Twitter  and  Instagram .