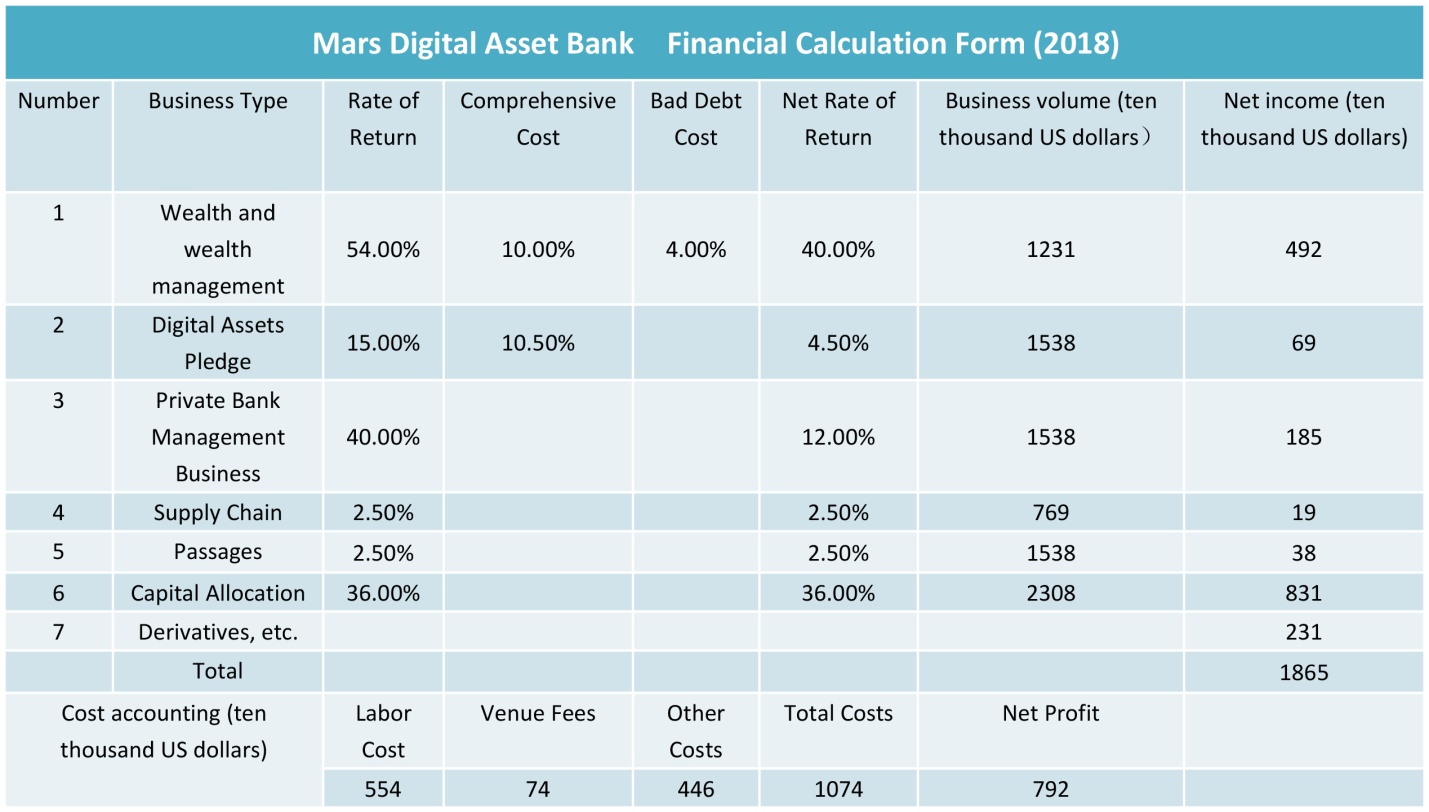 HONG KONG, CHINA - Media OutReach  - 17 September 2018 - Mars Digital Asset Bank  is registered in Colorado, USA. It is the only decentralized bank of its kind in the world. With the mission to facilitate: pledge, quantification, capital allocation, derivatives, asset securitization, remittance, arbitrage and other businesses surrounding digital currency assets. Mars Digital Asset Bank provides users with first-rate digital asset financial services.
As can be seen from the table above, By the end of 2018 ,the company's business profit of 18.65 million US dollars and its net profit of 7.92 million US dollars, is according to the bank 15 times PE calculation. Mars Digital Asset Bank valuation is at 119 million US dollars. The first phase released 8% shares and raised 9.5 million US dollars for technical security, global promotion, team building, related licenses, bank turnover provisions, and other working aspects.
It is estimated that at the end of 2018 the registered users of Mars Digital Asset Bank will exceed 1 million users. The scale of business will expand and the marginal cost will gradually decrease, and the bank's income and net profit will show a larger growth trend.
For more information on the prospectus please click on the link(http://39.106.177.30/ftp_user/banner/1536998682311.pdf ). Before making an investment decision investors should first read the full text of the prospectus and use the full text as the basis for investment decisions.
Contact person: Timothy wang
Email:lotec@163.com
Phone: 0086-13823289945
City: Seoul, Hong Kong
Website: http://marsbank.vip
Company name: MARS DIGITAL ASSET BANK CO.,LTD.