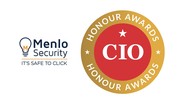 SINGAPORE - Media OutReach  - 18 October, 2018 - Menlo Security, a leader in Advanced Threat, has received the top honour from Singapore's influential CXO community in the Remote Browser Isolation System category at a glittering RED CARPET HONOUR® event held to celebrate the CXOHONOUR® AWARDS 2018 edition.
The CXOHONOUR® AWARDS is a powerful endorsement promoted by CXOHONOUR® , a recognised enterprise tech industry platform amongst the CXO community in Singapore. The Top Honours were endorsed by an independent advisory council of eminent CXOs comprising of CIOs, CFOs and CISOs based on the results from an industry wide CXOHONOUR® PULSE Poll that was made available to over 500+ CXOs in Singapore.
On winning this award, Stephanie Boo, APAC Managing Director, Menlo Security said, " We feel extremely honoured and delighted to be considered as a Top leader in Remote Browser Isolation System by Singapore's CXO community.  We wish to thank all CXOs and key decision makers -- including our customers and partners for their continued support and trust -- and the distinguished CXO Advisory Council for endorsing us. This platform has not only helped us to connect with the CXO community at large, it has also given us an edge in the market as one of the most sought-after brands. We will continue our efforts to deliver on our promise to our customers and partners as one of the most reliable brands in the market."
The CXOHONOUR® ( www.cxohonour.com ) is an innovative platform that promotes Recognition for Excellence in the enterprise tech industry and enables greater engagement between new and emerging tech solution providers and the enterprise C-level decision makers to help drive innovation and transformation within the enterprises in Singapore and beyond. The CXOHONOUR® AWARDS program is uniquely positioned to capture the preferences and the opinions of the relevant C-level suite about their enterprise tech vendors. Because the endorsements are viewed as peer recommendations, the community considers it as a very valuable and trusted local source for the future buying needs. 
CXOHONOUR® Supporting partners:
Ideation Edge Asia ( www.ideationedgeasia.org ), or IDEA for short, an Industry Association of C-level senior business leaders interested in fostering a business community to further their understanding of technology trends that shapes business, societal, environmental & economical changes in Asia.
The Singapore Chapter of ISACA ( www.isaca.org ), an independent, nonprofit, global association that engages in the development, adoption and use of globally accepted, industry-leading knowledge and practices for information systems.
About Menlo Security
Menlo Security protects organizations from cyberattacks by seeking to eliminate the threat of malware from the web, documents and email. Menlo Security's cloud-based Isolation Platform scales to provide comprehensive protection across enterprises of any size without requiring endpoint software or impacting the end-user experience. Menlo Security is trusted by major global businesses, including Fortune 500 companies and financial services institutions, and backed by General Catalyst, Sutter Hill Ventures, Engineering Capital, Osage University Partners, American Express Ventures, Ericsson Ventures, HSBC, and JP Morgan Chase. Menlo Security is headquartered in Palo Alto, California. For more information, visit https://www.menlosecurity.com or @menlosecurity.