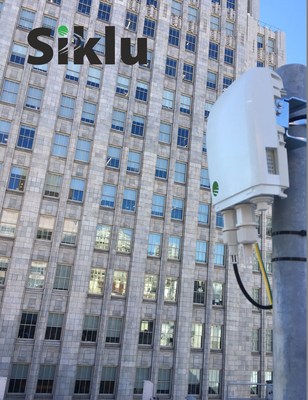 FORT LEE, New Jersey, Oct. 11, 2017 /PRNewswire/ -- Monkeybrains, an innovative San Francisco based wireless service provider, serves over 5000 locations, with 25 new locations coming online every week. They are focused on bringing affordable, hassle-free, month-to-month internet service to the residents and businesses of San Francisco.
Monkeybrains, a San Francisco ISP, Upgrades Small Buildings to Gigabit Connections with Siklu's Multihaul™
Monkeybrains is unique in its ability to install quickly, with minimal wait time from lead to install. Monkeybrains adopted Siklu's MultiHaul™, a multi-gigabit point-to-multipoint system over 60GHz, unlicensed millimeter wave spectrum, to upgrade small multi-tenant dwelling units (MDUs) to gigabit connectivity. The MultiHaul™ enables Monkeybrains to deliver a profitable gigabit service to buildings with just a handful tenants, replacing sub-6GHz radios that are capable of providing only 30 Mbps.
Monkeybrains has been delivering gigabit services using Siklu equipment for a number of years. However, services were limited to large MDUs or premium customers. Customers located in smaller MDUs were still serviced with sub-6GHz radios, but the increasingly congested band was out of date with its 20-30Mbps capabilities.
When the MultiHaul™ was released, Monkeybrains immediately started deploying it to replace sub-6 GHz links and gain a competitive edge in the market place. Each MultiHaul™ is deployed in roughly 30 minutes, and coupled with the equipment savings from implementing a point-to-multipoint system, results in a positive ROI within months. Monkeybrains was able to upgrade MDUs with as few as 10 tenants from 30Mbps to 500Mbps. "It's like night and day" said one Monkeybrains customer.
Dozens of MultiHaul™ systems have been deployed to date. "The MultiHaul fills an important need for us," says Rudy Rucker, Owner of Monkeybrains. "Having an affordable, high speed, multipoint antenna makes it possible for us to provide gigabit class speeds to smaller apartment buildings! Before the MultiHaul it was impossible to roll out gigabit broadband services to these markets profitably."
"The MultiHaul gives a competitive edge to service providers in dense urban areas," said Eyal Assa CEO of Siklu. "We've combined multi-gigabit capacity, automatic installation and the cost advantages of a point-to-multipoint system. It makes a very attractive infrastructure for gigabit 5G fixed wireless access, and a huge step up over the limited capacity offered by sub-6 GHz PtMP systems."
Siklu is showcasing the Multihaul™ point-to-multipoint mmWave radio at Wispapalooza 2017, October 10-13, Las-Vegas, NV, booth #451.
About Siklu
Siklu delivers multi-gigabit fiber-like wireless connectivity in urban, suburban and rural areas. Operating in the millimeter wave bands, its wireless solutions are used by leading service providers and system integrators to provide gigabit services, 5G fixed wireless and in safe city and smart city projects. Tens of thousands of carrier-grade systems are delivering interference-free performance world-wide. Easily installed on street-fixtures or rooftops, the price-competitive radios have proved to be ideal for networks requiring fast and simple deployment of secure, fiber-like and future-proof connectivity.www.siklu.com.
Press Contacts
Eran Sagi
Head of Marketing, Siklu   
eran.s@siklu.com