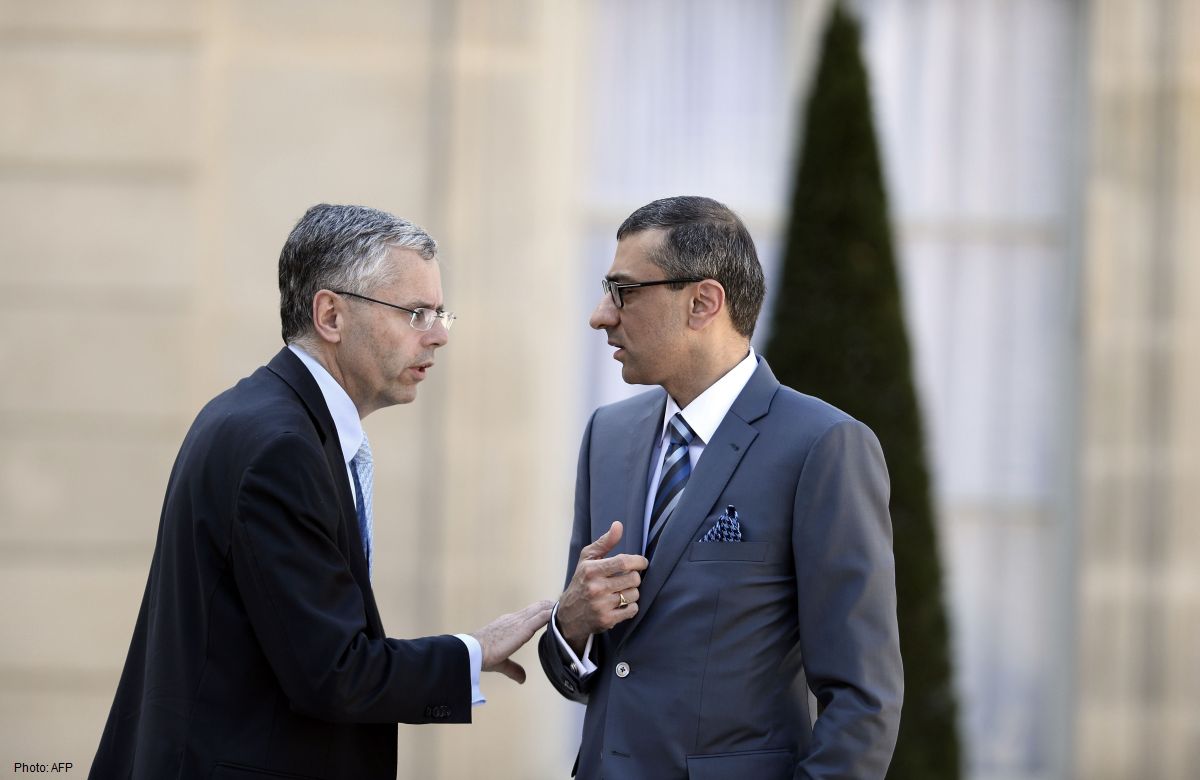 PARIS - Finnish telecoms equipment maker Nokia said Tuesday it was in talks to purchase all of its Franco-American rival Alcatel-Lucent, sparking a quick reaction from the French state.
Keen to protect French jobs in the event of a merger, French President Francois Hollande was to meet with the chief executives of Nokia, Rajeev Suri, and Alcatel-Lucent, Michel Combes, at the Elysee palace during the afternoon, the Elysee announced.
"I will be extremely vigilant about preserving jobs and all French factories," Economy Minister Emmanuel Macron told AFP.
He said he was keeping in close touch with Alcatel executives about the possible deal, and would also strive to ensure the company's research and development sites wouldn't be hurt.
Earlier the companies announced in a statement "...that they are in advanced discussions with respect to a potential full merger, which would take the form of a public exchange offer by Nokia for Alcatel-Lucent." However they added that "there can be no certainty at this stage that these discussions will result in any agreement or transaction." The Finnish company was the world's biggest mobile phone maker for more than a decade until it was overtaken by South Korea's Samsung in 2012.
Then in 2014, Nokia sold its mobile phone and tablet division to US software giant Microsoft, and the company now develops mobile and Internet network infrastructures for operators.
Its focus is now on mobile technologies such as LTE and 4G, and its mapping and location system subsidiary called HERE.
Tuesday's announcement came a day after reports that Nokia was in talks to acquire Alcatel-Lucent's wireless infrastructure business.
Rumours have swirled since December of a possible deal between the two firms, with France's Les Echos reporting on Monday that executives had been in negotiations since January.
The French government said Tuesday it was concerned about jobs disappearing in France if the merger were to go through.
A merger would however represent a significant boost in market share for Nokia. The Alcatel-Lucent wireless infrastructure unit alone accounted for 36 per cent of total sales for the Paris-based company in 2014, according to Bloomberg, generating 4.7 billion euros ($5 billion) in revenue.
The deal would help Nokia bolster its mobile infrastructure business against Swedish arch-rival Ericsson and China's Huawei, profiting from Alcatel's position as a leading supplier of 4G and LTE mobile networks and related services.
Merger history 'scary'
But the Finnish market did not welcome Tuesday's news. In Helsinki, the Nokia share was down by 6.76 per cent three hours after the announcement, before recovering some ground. At 1250 GMT, the share price was down by 2.90 per cent.
On the Paris stock exchange however, the Alcatel-Lucent share shot up by 13.90 per cent.
In Stockholm, shares in Ericsson rose by 1.80 per cent.
Imran Choudhary, telecoms analyst at Kantar Worldpanel, said the potential involvement of the French government and regulators could scare Nokia's investors off.
"It does not come as a surprise that this could be very tricky for Nokia to pull off and to deliver gains on, which would explain why investors have not reacted positively," he said.
Craig Erlam, markets analyst at trading firm Oanda, agreed, noting that some 6,000 jobs could be at risk in France.
"On the face of it, it looks like a good deal for both companies. They are both currently two of the weaker players in the industry right now and a merger could enable them to cut costs and consolidate the business," Erlam said.
However, "given that Alcatel-Lucent develops products that are in direct competition with Nokia, it seems safe to assume that any deal would mean job losses in France, something the French government would likely oppose." Nokia employs some 55,000 people worldwide, while Alcatel-Lucent employs almost 53,000.
Finnish equity research firm Inderes said Nokia was taking a "risk". In the technology sector, "the history of mergers is scary," it wrote on Twitter.
The merger of France's Alcatel with US Lucent is a case in point: since merging in 2006, the company has posted losses every year with the exception of 2011.
Alcatel-Lucent has undergone numerous restructuring programmes, including the current "Shift" plan launched in June 2013 focusing on its IP services, "cloud" storage services, and mobile and landline broadband.
The Finnish group, which has sat on most of the 5.4 billion euros made from the sale to Microsoft, has been trying to rebuild its finances after incurring several years of losses in its former mobile phone division.
The three main credit rating agencies still rate Nokia as a "junk bond", meaning it is a risky investment for its creditors.
In 2014, Nokia posted a net profit of 1.16 billion euros, a five-fold increase over the previous years owing largely to a tax gain.