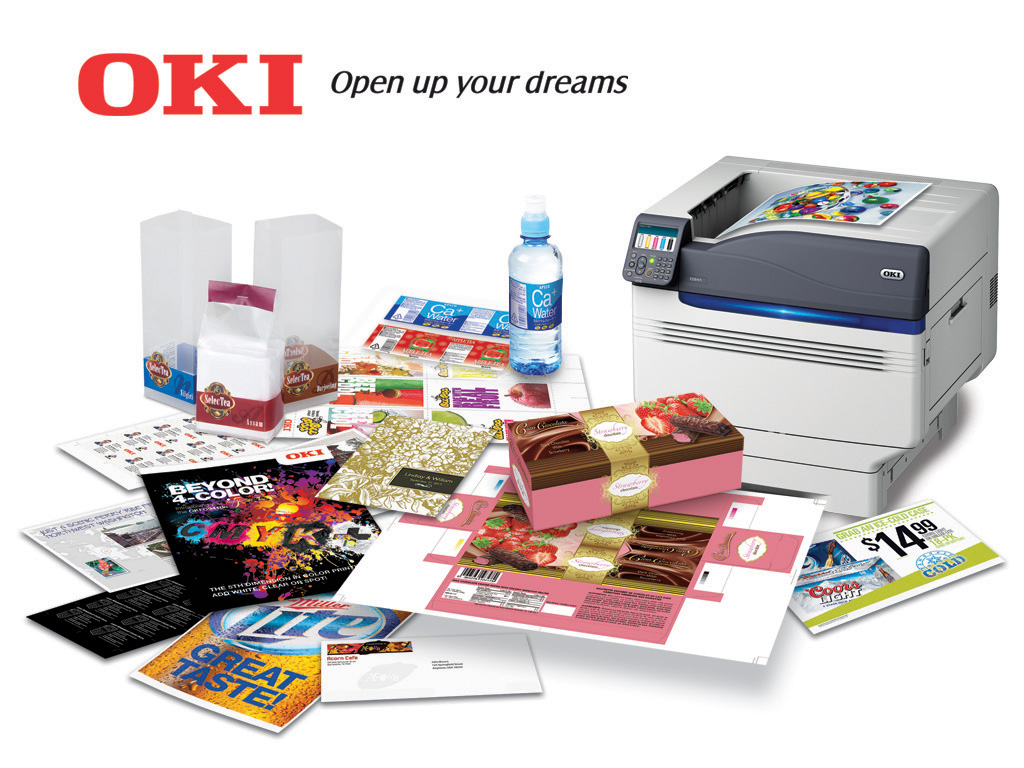 SINGAPORE - Media OutReach - 18 July 2017 - A global leader in specialised printing technology, OKI from Japan, is bringing its expertise to show at PrintPack+Sign 2017. This major annual trade show, which is Singapore's only dedicated event for printers, print buyers and end-users, is taking place at the Marina Bay Sands Singapore, Level 1, Hall C, from 26 to 28 July. OKI is located at booth number CC28.
OKI will showcase five of its latest graphic arts printers that are built specifically to meet the wide range of needs of graphic arts industry stakeholders. Primarily, these innovative printers are targeted at businesses involved in producing professional T-shirt designs and other garment decoration, packaging designs, product and gift decoration, point-of-sales displays, and even window graphics and decals. To those new to OKI, this line of professional graphic arts printers are in a special category of printers created by OKI and is identified as the "Pro Series".
Built for fast, shorter print runs and low capital outlay, the Pro Series printers would essentially benefit many small and medium-sizes companies by driving their overall costs down and improving lead times, especially when used for creating proofs and mock-ups, as well as for short production runs. The print-media capabilities of the Pro Series printers also give businesses real flexibility for meeting end-users' requirements.
The Pro Series printers from OKI are an exceptional solution for the graphic arts printing business. At a time when the printing industry is going through fast-paced changes, OKI has made big leaps in the graphic arts segment for printing over the last few years. On the foundation of its award-winning, time-proven printing technologies and renown reliability, OKI is using its strengths to take advantage of industry changes and to meet users' increasing demands.
Past and existing users of OKI's business and office printers will know of their printer's user-friendliness, functional simplicity and especially its reliability. With the Pro Series graphic arts printers, OKI Singapore is confident that users similarly will gain a positive experience.
Ultimately, OKI Singapore hopes to bring a much better graphic arts printing experience to users and print businesses of all sizes. For those interested in the Pro Series printers, they are invited to experience OKI at the OKI booth (CC28) during the PrintPack+Sign show and they may request a live demonstration. Staff from OKI and its appointed partners will be on hand to help with all the queries.
The following Pro Series graphic arts printers will be exhibited at PrintPack+Sign 2017:
Pro6410 NeonColor
- Professional A4 device that prints neon colours for garment and product decoration, as well as point-of-sales displays.
Pro7411WT
- A white toner printer that offers users the ability to extend their use of A4 coloured media with dark backgrounds, clear film and transfer media.
Pro8432WT
- Does what the Pro7411WT does but on even bigger A3-sized media. This professional A3 printer is purpose-made for garment and product decoration, point-of-sales displays, as well as window displays.
Pro9541dn
- A3+ graphic arts multimedia platform that produces output in the full range of process CMYK colours, plus White or Clear gloss printing, which gives stunning vibrancy to production onto coloured, dark or transparent media.
Pro9542dn
- 5-colour station A3+ graphic arts multimedia platform with White spot colour capability for printing on darker media, thus offering outstanding print quality, higher print speeds, lower total cost of production plus complete media flexibility.
Interested parties can call OKI @(65) 6221-3722 (main line) or write to odsp-sales@oki.com
Visit OKI Singapore website:
http://www.oki.com/sg/printing/products/colour/graphic-arts/index.html
http://www.oki.com/sg/printing/about-us/news-room/events-and-tradeshows/PrintPackSign2017/index.html
About OKI Data Corporation
OKI DATA CORPORATION is part of the OKI Electric group of companies operating as an independent company since 1994 and has operations across 100 countries around the world, including manufacturing sites in Fukushima, Japan, Thailand, UK and China.
OKI Data is a manufacturer and provider of a wide range of award winning printers and printing solutions, from high-performance, high definition colour printers for desktop publishing and creative industries to printers and multifunction printers for general office use. OKI Data prides itself in developing innovative printing technology that addresses the specific challenges of a business customer, saving time and money, improving their customer satisfaction and delivering value to their business all through cutting-edge printing technology.
About OKI Data Singapore
OKI Data Singapore is a division of OKI Data Corporation, the global printer business unit of the OKI group and subsidiary of OKI Electric Industry Co. Ltd. in Japan. OKI was first established in Singapore in 1981 and today, OKI Data Singapore is the regional office which manages operations within Southeast Asia. Currently, OKI has local sales offices in Malaysia, Singapore and Thailand, operations in Hong Kong, Indonesia, Philippines and Vietnam, as well as manufacturing facilities in Thailand.
For further information, visit: