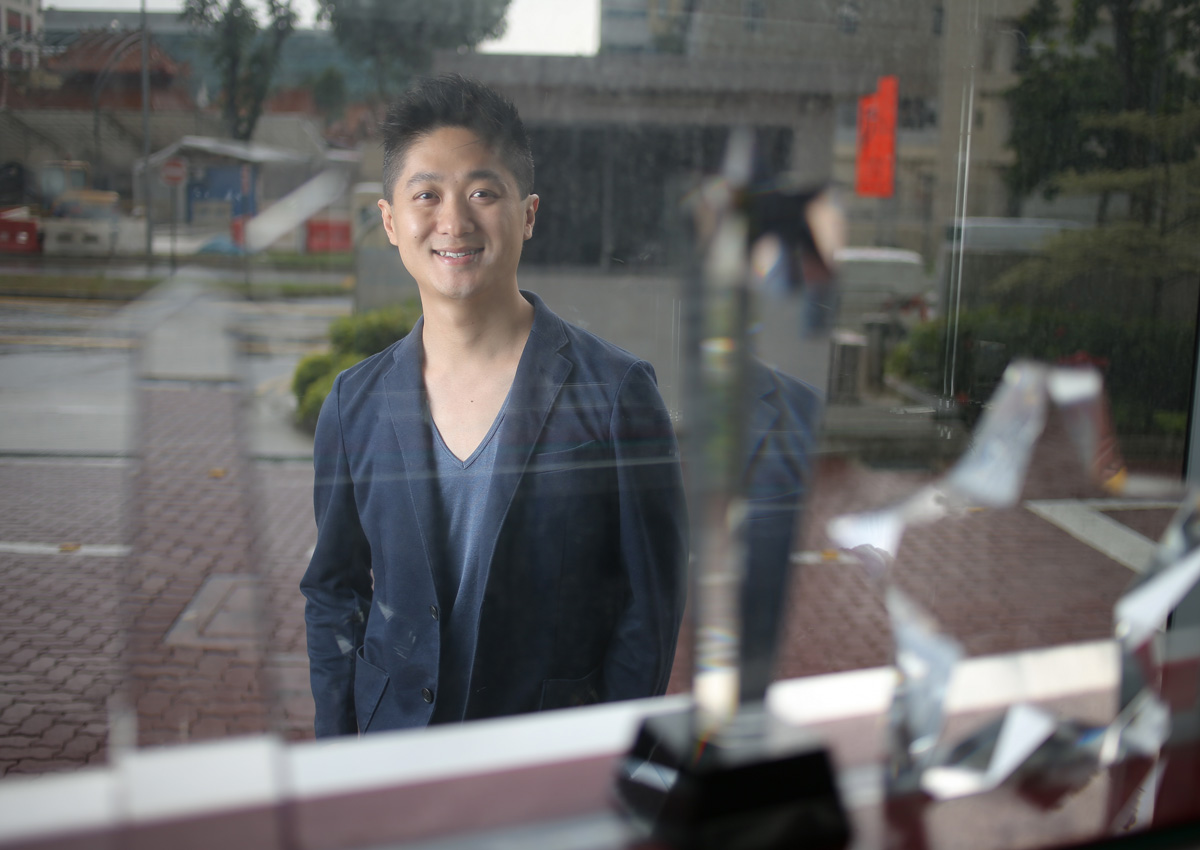 Options investor Teng Kenyuan is financially independent, thanks to the six-figure sum generated each year from his portfolio, so he plans to spend more time helping people and animals in need.
Mr Teng, 35, calls it his life mission and he spends a few hours a week on activities such as washing duties at animal shelters and giving talks about investing.
"I plan to grow my portfolio to US$5 million (S$7.2 million) in the next six to seven years because I want to fulfil my life mission," he says.
"I can't accept that the lives of animals are at the mercy of humans. A lot of my money goes to animal charities. With additional cash, I also help people in the community. I know I can't do it alone so I train others to learn about financial freedom too, so they can help others."
He harnessed the power of investing only a few years ago, seeking courses after taking over his mother's firm Yoonly Enterprise, which manufactures items such as trophies and badges.
"I dedicated all my energy to work, pulling 12 to 14 hours and feeling so tired when I was 29, and I said, 'I cannot be doing this for the rest of my life'," says the managing director, who was in the civil service for six years before joining Yoonly.
As a champion of investing, he is planning on introducing profit- sharing practices for his employees, "so they'll run the business, and I'll be spending less of my time here, and I will teach and motivate others through organisations like the Securities Investors Association (Singapore) and polytechnics".
Q Moneywise, what were your growing-up years like?
A My mum had a job and was also trying to run her own business, and my dad was working in Singapore Airlines then. My sister and I grew up comfortably.
I worked part-time, like being a bartender, only to buy branded goods like Versace jeans.
Q How did you get interested in investing?
A I started taking investing courses at 29 and spent $50,000 over three years. Some were crappy but those that were more expensive turned out to be better. But it doesn't mean that if they are expensive, they'll be good.
You won't know which courses work, so I needed to go through the cycle of trying.
I met a teacher called Sean about four or five years ago, and he taught me value investing using options. (An option is a financial derivative that derives its value from the underlying security - a stock or an index - and has an expiration date, while a stock does not.)
It was then that I realised I can use money to make money, and worked harder at investing.
When a normal retail investor buys a stock, unless he sells it, the gains are not realised. On the other hand, options provide cashflow.
Q Describe your investing strategy.
A I'm an options investor, not an options trader.
I use options like how an insurance company uses policies and premiums to earn money, to create a consistent cashflow, but you require the right knowledge and you need to understand your risks.
Insurance companies sell a lot of policies and they do have to pay out at times.
Take motor insurance, where one out of 10 drivers is likely to get into accidents two to three times a year.
But the insurers earn money overall as they are able to cover those losses while earning profits.
I do the same thing for options but on a monthly basis. I may make mistakes from time to time, but over the long term, the premiums I get should supersede those losses.
Many people look at vertical spreads or use strategies like iron condor (where you have four different bets on the same security).
I found those work nine out of 10 times, but for that one time of loss you could end up losing everything you earned before. I've been through that.
Now I just sell options - instead of buying and selling. It's not about being rich quick but increasing your portfolio over a long time.
After more than one year of losing about US$50,000, I came to this revelation.
What I look out for are certain companies like Alibaba that I understand, as my business relies on Alibaba.
When the market is unsure, the premiums are higher, as in Alibaba's case - like when the policy premiums are higher for a motorist who gets into an accident twice a year - and that supersedes losses that come my way.
I backtested my strategy on stocks which can be hugely affected by recessions, like oil companies.
I can be wrong about a stock and when it drops from US$70 to US$30, I should lose US$40.
But with options, I lose US$5 or US$10 instead, as the premiums I get month after month cover for such falls.
I settled on options as the success rate of those who learn about it tends to be higher than the success rate of those who learn about foreign exchange or derivatives like contracts for difference.
Don't even get me started on binary options as courses on those tend to be scams.
Q What's in your portfolio?
A About 90 per cent of my portfolio, which I grew from US$10,000 to US$1.5 million (S$2.2 million), is made up of options.
I look at my portfolio only once a month. I choose firms with good economic moat (a term popularised by investor Warren Buffett, referring to the competitive advantage a firm has over others in the same industry).
I study the business and ask questions like: "Is it easy for the company to be swallowed by another?"
I've got companies like Visa and Budweiser maker Anheuser-Busch InBev, which also owns brands like Stella Artois.
It's hard to penetrate the market they are in. I like Facebook as it has no competition and it also buys competitors all the time.
The only threat is Snapchat.
I've two properties in Britain - a terraced house I bought in 2014 for $100,000 and I get $800 in rent each month.
I also have an airport carpark - an instrument that citizens there can also use their pension funds to invest in - which has a yield of about 8 per cent a year. I bought those to diversify my portfolio.
I've earned a six-figure sum annually for three years now.
Every year I take US$100,000 to invest in Yoonly, which has an annual turnover of seven figures.
Since I took over, it's changed from purely manufacturing items such as trophies to include services as well.
Q What's the most extravagant thing you have done?
A I stopped spending money frivolously a few years ago and I need only $30,000 a year now.
I used to spend all my salary as a civil servant and never saved.
The last time was when I bought a second-hand Honda S2000 for $100,000 about five years ago.
I still remember a brand new one was $200,000.
I sold it in 2012.
Q What are your immediate investment plans?
A I just got into an exchange-traded fund (ETF) in the emerging markets and China, which is rather undervalued now.
You can invest in sectors through ETFs.
I may be looking into the oil industry too.
Jet engines need jet fuel, there's no alternative aeronautical fuel; a plane with passengers can't be solar-powered yet.
There's still a need for fossil fuels, so for 10 to 20 years I think it'll be fine.
Q Home is now…
A A four-room flat in Sengkang.
One thing that I learnt in a property course - if the Government places a lot of cooling measures, it doesn't make sense to go against them and I can wait.
Q I drive…
A My company van, a Renault Kangoo. I'm happy driving it.
WORST AND BEST BETS
Q What has been your biggest investing mistake?
A To invest in firms I didn't understand.
One was biopharmaceutical firm Gilead Sciences, which makes a hepatitis C drug. The option's premiums looked good and I spent about US$9,000 (S$13,000) buying it, but that was more like gambling. The price tanked and it's a dead option now.
I was using a different strategy then, and I'd bought it thinking I knew how the price would move and would get a 100 per cent gain. It was about greed.
Last year, I invested in American Airlines, which is in an industry with high competition and low profits. I shouldn't have done it and I lost about US$14,000.
Q And what has been your best investment move?
A It's my portfolio that made me financially free, not a particular company.
However, the company that I earned the most from was National Oilwell Varco, where I earned more than US$50,000 over six months this year.
It has an economic moat. It makes drill bits for oil firms and has more than 50 per cent market share.
I've a friend in Keppel who told me the firm uses this company most of the time because of its service. There's an inside joke that it is also known as "No Other Vendor".
The more I studied it, the more I liked the business. There was a point when oil prices were so depressed, I went in.
I was selling the options, and premiums then were very high as the oil industry was collapsing, so I was pocketing money every month. Now oil prices have gone up so I closed my position temporarily.
I actually learn the most from my good friends and network of people who invest, and they help me build my knowledge.

This article was first published on December 25, 2016.
Get a copy of The Straits Times or go to straitstimes.com for more stories.