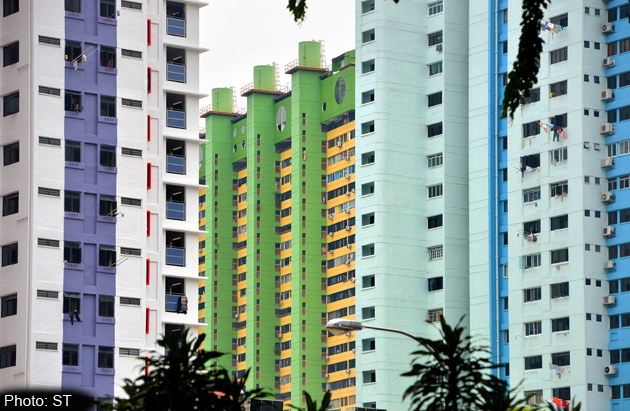 Further price falls for homes in the third quarter sparked contrasting reactions in the private and public housing market, spurring buyers back into the HDB market but sending transactions in the condominium segment to rock bottom.
Values of HDB resale flats fell by 1.7 per cent in the three months to Sept 30 compared with the second quarter, according to Urban Redevelopment Authority data yesterday.
Prices have now fallen for five straight quarters, shedding 7.1 per cent in the process.
Buyers were quick to notice, snapping up 4,513 resale flats in the period, up from 4,389 sold in the previous three months. Reactions from buyers in the private sector could not have been more different.
Prices fell just 0.7 per cent in the quarter for new and resale homes but transactions dived.
Only 1,531 new condo units found buyers - a low not seen since the 2008 financial crisis. This was also well down from the 2,665 condominium units sold in the second quarter.
Analysts blame the sagging volumes for private homes on the mismatched expectations of buyers and sellers as well as fewer launches. The tale of two markets is also likely to be a result of differing conditions.
The fundamentals of the private property market have not given investors enough incentive to leap back in, said Mr Alan Cheong, senior director of research and consultancy at Savills Singapore.
"Investors in the private home market are like a woman going on a shopping trip looking for a bargain for the sake of it," he said. "Unless you're buying a home to live in, prices have not come off to a level where investors think there's value for money, even if they can afford it."
Levies on foreign buyers and mortgage caps continued to bite, with prices down 3.9 per cent over four straight quarters.
There may have been some buyers defaulting on their mortgages for luxury homes but these remain outliers for now, said Mr Cheong.
In particular, values of non-landed homes - they account for most of the sales - have fallen at an even milder pace of 0.4 per cent compared with the overall price index, noted Mr Ong Teck Hui, national director of research and consultancy at JLL.
Consultants also said that a growing supply of new homes - an estimated 48,600 from this quarter to the end of 2016 - is worrying investors, while vacancy rates, at 7.1 per cent, are the highest since the fourth quarter of 2006, based on available data.
But HDB buyers, in comparison, have "immediate housing needs" as they cannot own more than one HDB flat or a private property at the same time.
First-time buyers are giving up their place in the queue for a new flat to buy a resale unit that they can move into almost immediately, said Mr Eugene Lim, key executive officer of ERA Realty.
In addition to falling resale prices, "buyers don't have to worry about paying high cash premiums over and above valuations to buy a resale flat, unlike before", added Mr Lim.
Resale volumes of bigger units, such as four-room flats, picked up by 5 per cent to 2,999 units in the third quarter, partly because more upgraders sold their homes to move into the increasing number of completed private homes, noted Mr Nicholas Mak, research head at SLP International.
Barring an external shock, analysts expect HDB resale prices to drop 6 per cent to 7 per cent for the full year, while private home prices could fall by 4 per cent to 5 per cent.

This article was first published on October 25, 2014.
Get a copy of The Straits Times or go to straitstimes.com for more stories.