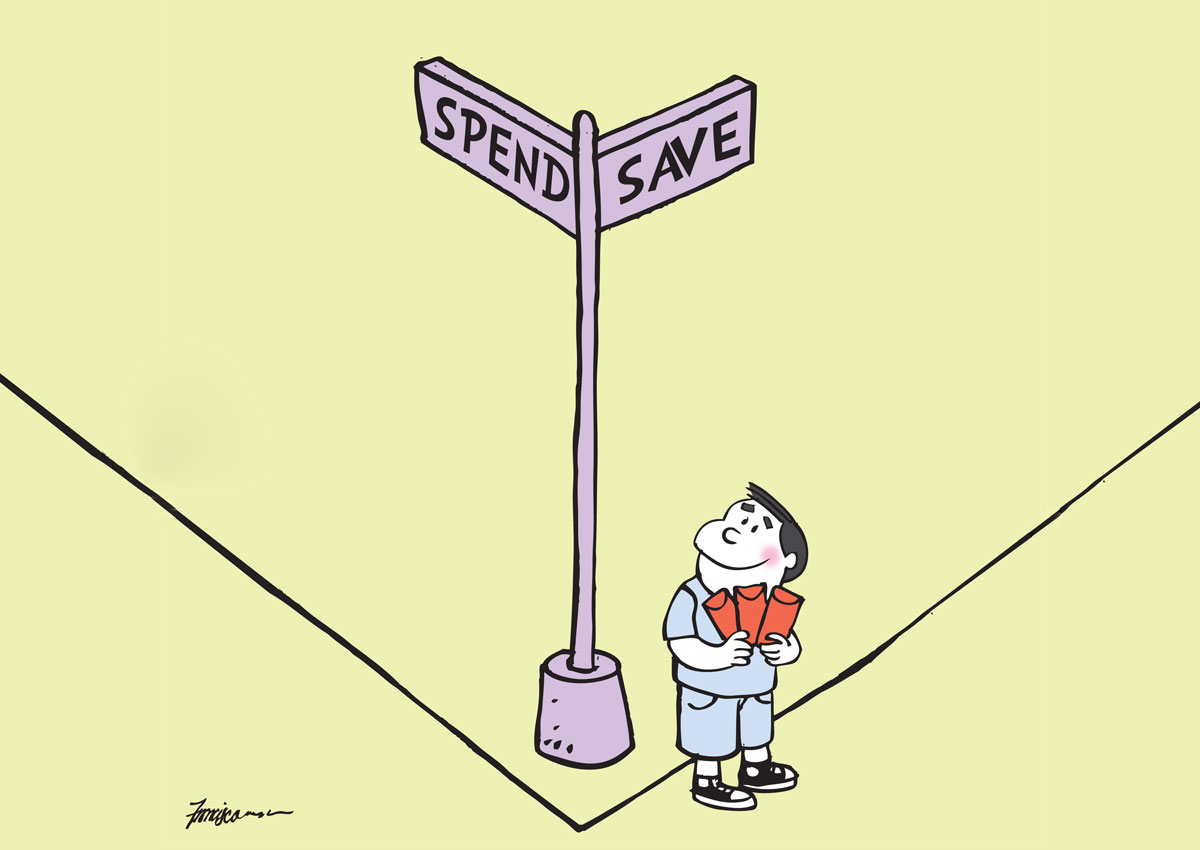 With the Chinese New Year festivities still going on, it is an opportune time to teach your children the importance of saving their hongbao money while they are still at a tender age.
If you help them pick up some prudent money management skills now, you could save yourself potential headaches when they reach their adult years.
Financial planner Ernest Tan says parents should use everyday life moments to talk to their children about money.
"Be proactive....The Chinese New Year, with its hongbao-giving tradition, is a great time to strike a money conversation with your kids," says Mr Tan, the author of Raising Financially Savvy Kids, which has sold 2,500 copies here.
Children need to understand the meaning and values behind the giving and exchanging of hongbao.
You can start by showing them hongbao or getting them involved in preparing the red packets. In this way, they would see and quickly understand that the parents are the ones putting money into the red packets, Mr Tan adds.
Mr Gregory Choy, head of wealth advisory at OCBC Bank, recommends that parents teach their children the value of forced savings by compelling them to save most of their hongbao money before they spend it all.
"Parents should also guide their kids on how they should spend their hongbao money, so that they do not spend it frivolously," he adds.
"Bad spending habits, once cultivated from young, are likely to be carried into adulthood and could result in financial problems and setbacks later in life."
Parents with older children should include them when making decisions about how to use the hongbao money, a lesson that will subtly impart financial management skills.
Many parents invest most of the hongbao money in their children's education, which can be costly especially if the children attend tuition and enrichment classes.
Still, parents should also allow their children to spend some of this cash during the school holidays as an incentive for agreeing to save most of their hongbao money for the future.
This will make learning money management skills more fun and less painful for them, and these skills would benefit them in the long term, adds Mr Choy.
UOB economist Francis Tan notes that there tends to be a spike in deposits into children's accounts after the Chinese New Year period.
"We usually notice an average increase of $100 to $200 in deposits on top of what parents regularly save for their children. At the same time, we also serve more parents inquiring about endowment plans for their children," he says.
lornatan@sph.com.sg
TIPS ON INSTILLING GOOD MONEY HABITS
1. START EARLY
It is vital to impart good money-management skills to children from an early age.
Mr Deepak Khanna, head of wealth development, retail banking and wealth management at HSBC Singapore, notes that most parents discuss financial skills with their children only during specific events or festive occasions, such as Chinese New Year or when they reach school age.
"The concept of money management can be introduced once a child understands the concept of money and is able to count," he says.
"It should also be an ongoing conversation where parents can help shape how their children manage their allowances, helping them differentiate between 'wants' and 'needs'. Parents should constantly reinforce the importance of not spending beyond your means."
2. SET UP A SAVINGS ACCOUNT
Mr Gregory Choy, head of wealth advisory at OCBC Bank, believes that this is the first step to starting your child on the road to good saving habits and investments.
"Bring your child to the bank to set up a savings account with the hongbao money they've collected," he says. "This act of giving your child the responsibility of personal ownership of the account will go a long way in instilling discipline and creates a saving mentality, which helps with their financial awareness."
It is also the first step to showing your child how saving small amounts can add up to a significant sum of money over the years. In addition, there is the excitement of earning interest that your child can start looking forward to, he adds.
3. TAKE STOCK
Just as you need to budget, your child also needs to learn to live within his or her means.
Mr Choy suggests that once the hongbao money has been collected, get your children to take stock of how much they have and how much they intend to spend on items they want to buy.
"Get them to make a list and to track it often, ensuring that their list of items does not exceed the amount of hongbao money they've collected," he says. "This will instil in them the habit of keeping track of their expenses in future. It will also be wise to first ask the child to put aside a certain percentage of the hongbao money for savings before committing to any expenditure, to instil the discipline of saving before spending."
4. MONEY JARS SYSTEM
The Money Jars System involves teaching your kids to allocate their daily or weekly allowance in these portions - 70 per cent to the "spend" jar, 20 per cent to the "save" jar and 10 per cent to the "share" jar.
Financial planner Ernest Tan, who refers to the concept in his book, Raising Financially Savvy Kids, says: "For the hongbao collection, you may want to make an allocation adjustment and advise your kids on the Money Jars ratio of 70 to 80 per cent to the 'save' jar, with the balance split between spending and sharing with someone needy during the Chinese New Year period.
"As young kids turn into teens, consider helping them to apportion 10 per cent of their allowance or 50 per cent from their 'save' jar to another jar - which we can call 'financial freedom' - for them to start a regular savings-cum-investment account with their knowledge of what you are doing for them."
Parents can also consider splitting the "spend" jar into two money jars for needs and wants, he adds.
5. LEVERAGE DAILY LIFE AND FAMILY HOLIDAYS
Parents can use daily life activities to illustrate different concepts of money, such as earning, saving, spending, borrowing, budgeting and investing.
Mr Khanna says: "Teaching through real-life situations and examples will help children better understand these concepts - where money comes from, how it is earned and how it can be used. Trips to banks, ATMs and supermarkets are a good way to help children understand costs versus value; currencies and denominations; savings versus spending.
"Parents can also use overseas family holidays to explain the concept of foreign currencies and exchange."
Ms P'ing Lim, head of deposits and secured lending at DBS Bank, says a visit to the supermarket is a great opportunity to point out value deals or promotions and help children understand what the savings translate to.
"Every 20 cents saved per day is more than $70 a year... enough to buy a toy set and still have leftover funds for rainy days. You can also use bulk purchases to teach kids about stretching the dollar and how economies of scale work," she notes.
Furthermore, teach your child how to understand value versus just the price. For instance, a 1-litre bottle of fruit juice for $2 provides better value than a 250ml bottle of fruit juice going for $1, adds Ms Lim.
6. OFFER REWARDS FOR GOOD BEHAVIOUR
Use rewards that a child can gradually convert into dollars. "For example, a parent may reward his daughter with her favourite Disney character stickers and, from there, introduce the concept of savings by using the accumulation of stickers as an example for savings," says Ms Lim.
Mr Choy recommends that to encourage saving, the rewards can get better as your child's savings grow. This will motivate the child to save more, rather than spend.
7. LEAD BY EXAMPLE
Financial experts like Mr Khanna believe that parents have great influence on their children as they tend to imitate the way their mums and dads behave.
He suggests that parents should be mindful and limit the number of shopping trips made as a leisure activity for the family. This would prevent their children from associating spending money with fun and thinking that money is unlimited.
Mr Choy says that a simple way to be a role model is to put a piggy bank beside theirs and show them that you save your loose change daily.

This article was first published on Feb 5, 2017.
Get a copy of The Straits Times or go to straitstimes.com for more stories.