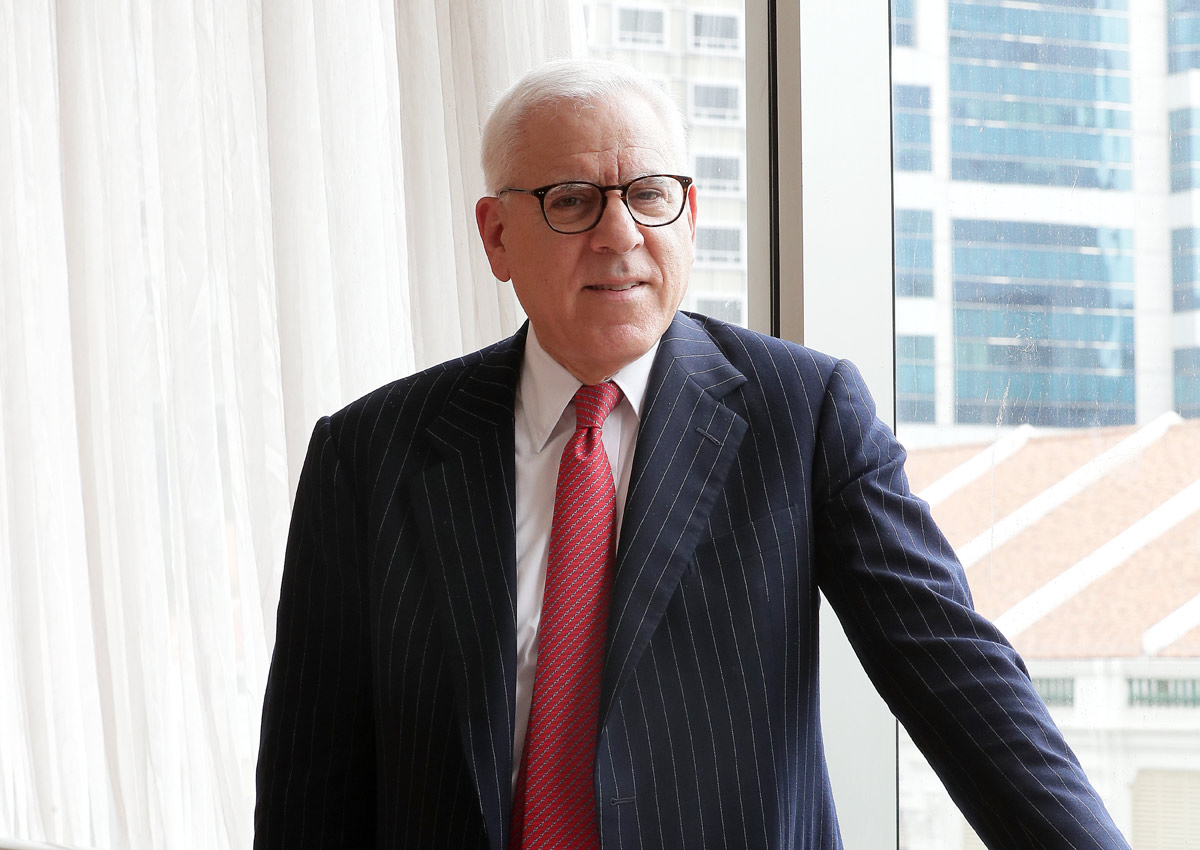 David Rubenstein's rise from modest beginnings to one of the richest men in the world is an oft-told story.
Born in 1949 in Baltimore city in the US, he was the bookish only child of a mail sorter father and a housewife mother.
He went to Duke University, then The University of Chicago Law School.
Both schools were picked because they offered the biggest scholarships.
He then worked as a lawyer, notably in former US President Jimmy Carter's administration.
Colleagues recalled him as shy.
In 1987, he decided to start a buyout company in Washington, tapping on his political experience.
The name, Carlyle, came from a fancy New York hotel.
At that time, he was, by his own assessment, not a very good lawyer.
And he was apparently intrigued by a famous buyout deal involving greetings card maker Gibson Greetings.
He also read that an entrepreneur would start his first company between age 28 and 37.
"I was 37. I said I got to do it or I'm never gonna do it," he said.
Carlyle has since grown from having a seed fund of US$5 million and 10 employees to US$169 billion of assets under management and more than 1,600 employees across 35 offices.
While the firm has been enormously successful at raising and investing money through the years, there were also a number of failures.
Recently, it has struggled with hedge fund businesses after buying majority stakes in a few from 2010 to 2012. It is now exiting a number of them.
In August last year, it sold its majority stake in the Emerging Sovereign Group (ESG).
At end-2016, it also said that another business, Claren Road, was being sold.
"It's a challenging business, we didn't do as well in it as we would like. So I think in the business world you often recognise where you did well and put more resources in it and recognise where you did poorly and maybe adapt or get out."
Asked about the firm's stock price, which has lagged behind its peers on a five-year basis, Mr Rubenstein would not be drawn to speculate on the reasons.
He would only say that stockholders look for steady, predictable returns on management fees, but investors in private equity funds want to make money on carried interest, finance jargon for the share of profits from an investment after a portfolio company gets sold.
Carried interest is more unpredictable because one does not know when one wants to sell a company, Mr Rubenstein said.
Today, he makes the news with his philanthropic activities, and is involved in a number of cultural organisations, chairing the boards of Smithsonian Institution and The Kennedy Center.
He also dabbles in TV journalism.
He hosts a show on Bloomberg TV where he interviews business personalities such as Berkshire Hathaway's Warren Buffett, Microsoft's Bill Gates and Goldman Sachs' Lloyd Blankfein.
Upcoming episodes include interviews with Apple's Tim Cook and talkshow host Oprah Winfrey.
"This is my substitute for playing golf," he quipped.
"I know these people, it's fun, the main thing is I like to get people to know about other people, and I think I can do the interviews in a way that brings out these people, and people can learn more about leadership and what makes people successful."
For himself, he was driven to build Carlyle because he wanted to prove he could do something successful.
"It wasn't the money so much. It's just the pleasure of building something from nothing," he said.
"I don't measure my self worth by my net worth. I don't calculate my net worth every hour, some people do."
Humble beginnings, he said, was a big advantage in hindsight.
"Because you know you got to make it on your own, so you work harder."
And no, he has never thought of becoming a TV journalist.
Displaying a trademark, wicked sense of humour, he said: "There's no carried interest in it."
haoxiang@sph.com.sg

This article was first published on January 24, 2017.
Get The Business Times for more stories.