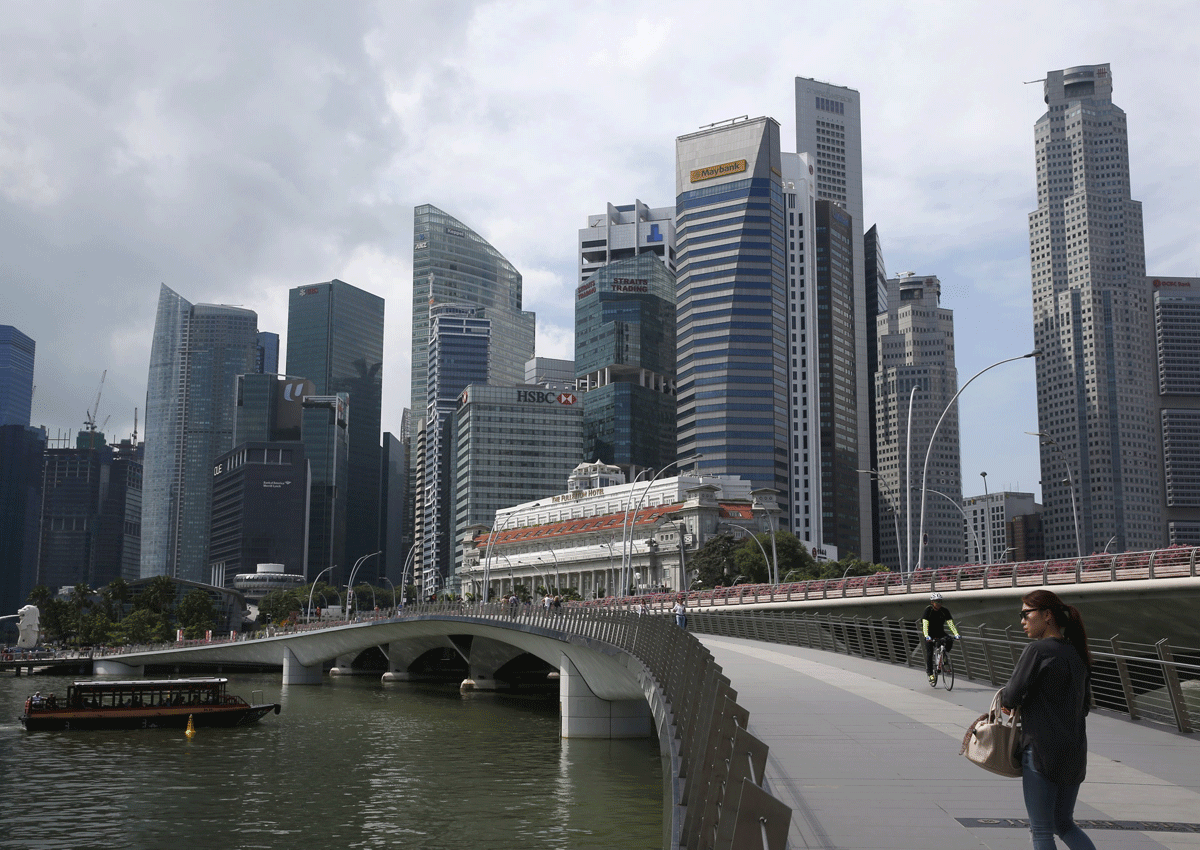 SINGAPORE shares fell into a bear market yesterday after mayhem in China, a slump on Wall Street and further falls in oil prices.
The turmoil left the Straits Times Index (STI) down 74.36 points to 2,729.91 - that is nearly 23 per cent lower than its 12-month high of 3,539.95 on April 15 last year.
A bear market is one where stocks have fallen by 20 per cent or more from a recent high.
Traders see 2,665-2,700 as the next support, as hedge funds are seen continuing to short the Singapore market.
Bourses slumped across Asia yesterday after China again guided the yuan sharply lower and Shanghai shares plunged more than 7 per cent, triggering a circuit breaker for a second time this week.
Wall Street added to the gloom, falling 1.5 per cent overnight.
"It's going to be a rough ride," UOB Kay Hian research head Andrew Chow said. "This is a surprise. Most of us felt there should be some positive effect ahead of Chinese New Year. Some big caps are getting downgraded... analysts are expected to downgrade sectors like offshore marine further."
Banks took a hit yesterday: DBS Bank sank 2.5 per cent or 40 cents to $15.70; OCBC Bank dropped 2.4 per cent or 21 cents to $8.37; and UOB fell 2.5 per cent or 47 cents to $18.38.
Other STI constituents were in the red as well. Keppel Corp fell 6.6 per cent or 41 cents to $5.82, Singtel lost nearly 2 per cent or seven cents to $3.46 and CapitaLand sank 3.7 per cent or 12 cents to $3.14.
Noble Group was the most actively traded as funds continued to jettison the commodities trader after its credit rating was slashed to junk status by Moody's. The stock plunged 9.2 per cent or 3.5 cents to 34.5 cents, with 126.5 million shares traded.
The oil price rout - prices are now at near 12-year lows - continued to weigh on energy-related plays, including Ezra, which fell 5.3 per cent or 0.5 cent to nine cents, with 37.4 million shares traded.
"A good correction will bring out buyers," said Kevin Scully, executive chairman of independent research house NRA Capital.
"The STI could hit 2,500 by the middle of the year, and that would be a good buy level."
Remisier Alvin Yong said worries over Chinese economic growth may lead to further stimulus measures being introduced.
He added that the United States authorities have signalled that if inflation stays low, it may raise interest rates at a slower pace and "that could be good for equities".
gleong@sph.com.sg

Get MyPaper for more stories.