Avosmart is an amazing and innovative app empowering parents to monitor children's digital activities, including social media, screen time, and location, ensuring safety and well-being in the digital age.
United States - March 16, 2023 —
The world and technology are developing very quickly. Communication, access to media, games, and various content are at your children's fingertips.
Parents sometimes cannot keep up with the newest technologies and sometimes mistakenly believe that if their child is close by, it will be safe. Nothing could be further from the truth. Children with access to social media are exposed to negative messaging and communication. Even on popular video streaming services, there is no shortage of influencers that discourage children from studying, present an unrealistic view of the world, and cause them to underachieve. Children who have access to bad websites, violence, and video games are more prone to become depressed and agitated and may need our help.
Additionally, your child may be exposed to threats related to web communication with strangers, who can frequently take advantage of children's gullibility by acting as their peers. 
In recent years, a major concern has been the appetite for quick attention provided by social media, which has resulted in kids sacrificing their life or health for popularity or recognition by their peers. We've all heard of incidents of people being killed or disabled as a result of social media.
Understanding the Digital Landscape
The rise of social media, online gaming, and video-sharing platforms has led to significant changes in the way children interact with technology. While these platforms offer many benefits, they also present potential risks, such as exposure to inappropriate content, cyberbullying, and online predators. As a result, parents must be vigilant and proactive in supervising their children's digital lives.
How to Assist Children
Of course, discussion and raising awareness come first, but we must also begin to examine our children's Internet and social media behavior. We cannot tolerate a situation in which we are unaware of what is happening on our children's devices, with whom they are interacting, what games they are playing, or whose social media profiles they are following. A parental control platform is extremely useful in this regard. 
Mission

Technology under parental supervision. Our mission is to assist parents in their children's digital development. We want to protect children on social media and help them develop in a healthy way, while also encouraging education and knowledge through carefully selected content.
Avosmart
Avosmart is a parental control software remote platform for protecting children on the Internet that was founded over ten years ago and has since protected millions of children worldwide. Designed by parents for parents, it is very simple and intuitive. A simple interface allows you to quickly check children's social media usage. It enables remote control from any location and device, at any stage of device usage.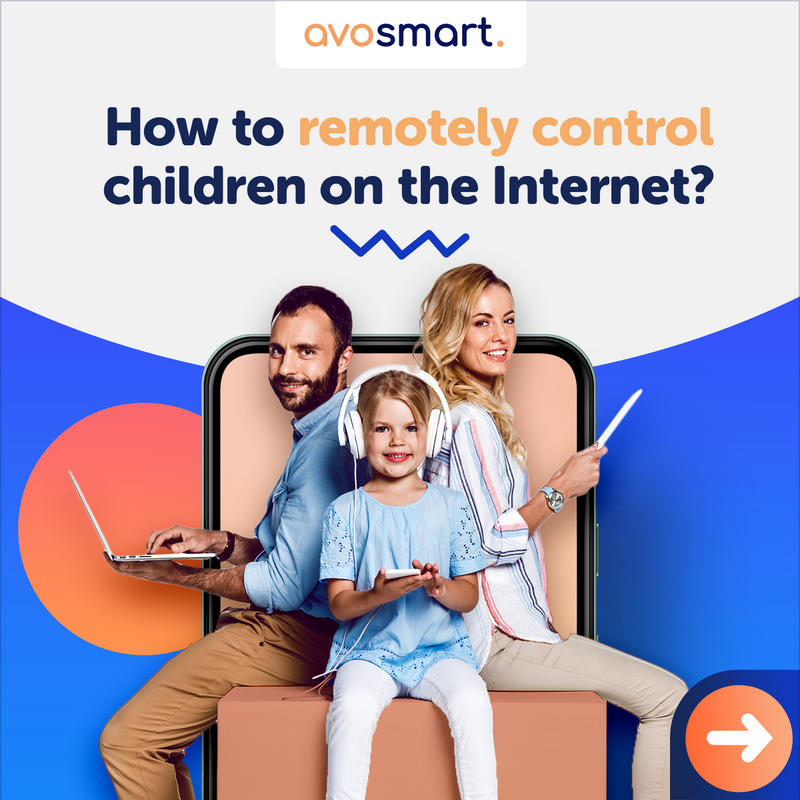 How Avosmart protects children
Avosmart allows you to preview and analyze social media platforms such as TikTok, Facebook, Instagram and many others. Additionally, it allows you to track conversations in instant messaging systems.
Avosmart empowers parents to set screen time limits for access to games, applications, and websites, ensuring a healthy balance between screen time and other activities.
App Blocking & Web Filtering
With the ability to block specific apps and websites, as well as apply content filters, parents can create a safe online environment tailored to their children's needs.
Monitoring of games and applications.
Parents can review installed games and applications and block those they find inappropriate. Monitoring your children's screen time and reviewing how much time they spend playing games or using applications is now easier.
How to put parental controls on youtube? In the panel, parents can check what videos their children watched on YouTube. They can block selected channels or videos. They can even completely disable access to YouTube and other video streaming sites.
Avosmart controls the content of the pages and, in the case of prohibited content, blocks access to those pages. Parents can add their own page definitions that can ban specific content. 
Media access time control
You can easily set screen time limits for specific games, apps, and websites in the dashboard. The time limit can be set hourly, for example. two hours a day, using a weekly schedule, or a combination. Or two hours a day, but only between 1 to 6 pm.
The app can store your child's location and route, as well as, any places they've stayed for an extended time, so you can easily see where and when they've been.
Phonecall and SMS analysis
The panel allows parents to easily view what phone calls their children made and answered. Parents also have access to sent and received SMS messages.
Detailed reports and analyses
Parents can receive reports containing specific information about their child's device activity, including what programs, websites, instant messaging, and games they used, how much time they spent on social media, and whom they chatted with. Our system has a feature that allows parents to get personalized email reports detailing their child's activity.
Education and Healthy Development
Avosmart allows a parent to pick educational programs that their kids can access at any time. Combining education with
The Importance of Parental Involvement
While Avosmart's features provide powerful tools for monitoring and managing children's digital lives, it's essential for parents to maintain an active role in their children's online experiences. By engaging in open and honest conversations about online safety, digital etiquette, and the potential risks associated with digital platforms, parents can foster a strong foundation of trust and understand with their children.
The Future of Parenting in the Digital Age
As technology continues to advance and new digital platforms emerge, the challenges faced by parents will evolve as well. Avosmart is committed to staying at the forefront of these developments, ensuring that its app remains a valuable resource for parents navigating the complexities of the digital landscape.
In an increasingly connected world, Avosmart equips parents with the tools and knowledge necessary to protect their children and foster their healthy development in the digital age. With its user-friendly interface and comprehensive set of features, Avosmart is the perfect solution for parents seeking a smarter way to supervise their children's digital lives.
Experience the benefits of Avosmart today by visiting our website and taking the first step toward a safer, more informed parenting experience in the world of digital media. Together, we can empower the next generation to thrive in an ever-evolving digital landscape.
About Us: Avosmart is a leading provider of smart parental control solutions designed to empower parents in the digital age. With a commitment to safety, innovation, and user-friendly design, Avosmart equips families with the tools and knowledge necessary to navigate the complexities of the digital landscape. Our comprehensive app offers features such as social media monitoring, screen time limits, app blocking, web filtering, and location tracking to ensure children's well-being and security online. Avosmart is dedicated to fostering open communication and responsible digital habits, creating a safer online environment for the next generation. For more information, visit our website at https://avosmart.com
Contact Info:
Name: Martin
Email: Send Email
Organization: AVOSMART Screen time & Parental control software
Website: https://avosmart.com

Video URL: https://www.youtube.com/watch?v=MptcOd-_4n0
Release ID: 89092028
If you detect any issues, problems, or errors in this press release content, kindly contact error@releasecontact.com to notify us. We will respond and rectify the situation in the next 8 hours.