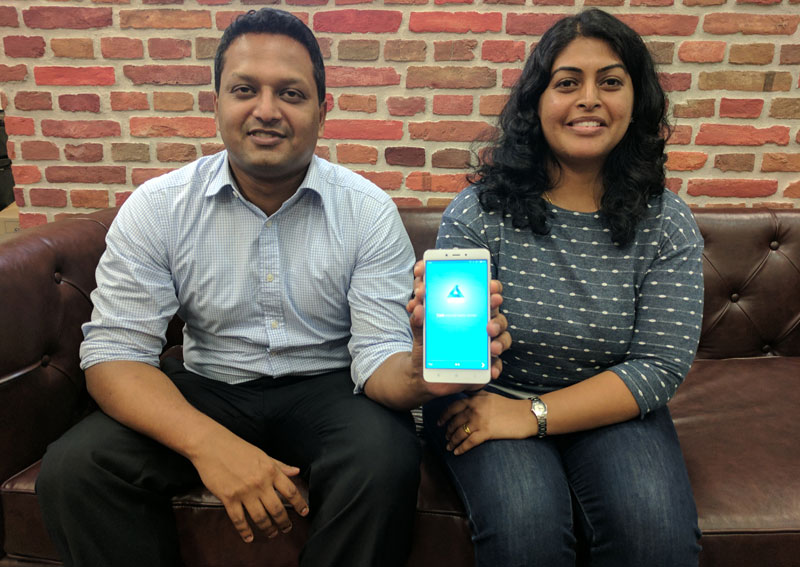 THEY live in a place where the nearest ATM is a 1.5km walk away. It was decided between him and his wife that he would withdraw the cash for the family since he worked in the bank and had easy access to the ATM there. But he would sometimes miss out on it and she would send him to the ATM near their house in Simei.
For Mr Hari Sivan, this routine was "quite painful". His wife, Mrs Rekha Hari, too, felt the frustration and one day asked: "Why can't each shop accepting cash also give out cash?"
That remark got them thinking and it bore fruit to their start-up soCash, which turns every shop into an ATM. They bounced the idea off with their friends and it appealed to them.
"We deep-dived into creating a business model and that's when we looked at the numbers by central banks in countries around the world," said Mr Hari, who has a master's in business administration from the EDHC Business School in France.
"The data on cash in circulation (amount of cash printed and distributed by banks) published by central banks in markets like the US, Australia, Japan and Singapore shows that the number has been growing by 6 to 7 per cent. While banks are saying 'go cashless', consumers are still doing a totally different thing. They are transacting the way they are comfortable with," he said.
Read also: UOB, OCBC customers can now withdraw cash from both banks' ATMs for free
For example, Mrs Rekha, 34, said: "I initially did not know that I had to pay 30 cents more when I use my NETS card to pay the taxi fare but the day I found out, I stopped using my card. Also, in future, when my child needs pocket money for school, I cannot give him the card, I will have to withdraw the money and give it to him."
In a recent report Mr Hari wrote for The Business Times, he mentioned that a KPMG report commissioned by the Monetary Authority of Singapore (MAS) in August last year noted that payment preferences still remain largely paper-based. Consumers use cash for small-value transactions such as dining out at hawker centres; cash is also used for higher-value transactions such as private tuition and to pay for domestic help. Cash remains favoured because of merchant barriers to the adoption of electronic payments.
The couple from Kerala, who have a four-year-old son, found that setting up more ATMs was not a solution.
Explained Mr Hari, 36: "They're expensive and they lock up liquidity. ATMs all over the world hold a few hundred thousand dollars, that's a lot of money sitting outside of a bank's balance sheet. Banks make money by providing loans but they can't lend this money out because it has been parked for the purpose of allowing people to withdraw it from the ATMs."
That was when Mr Hari and Mrs Rekha, who are Singapore permanent residents, saw an opportunity to build a digital cash management platform and turn every shop into an ATM.
Read also: How to make cashless king
"The problem wasn't cash but cash logistics and our focus is how can we make cash logistics efficient," added Mr Hari, who left his job as the regional head of cross border payments at DBS Bank in April last year to build soCash together with his wife using their savings and investments from prominent angel investors led by president of IT consulting services company Ampcus Inc Salil Sankaran. Last November, they also received a $200,000 grant from the Monetary Authority of Singapore. Mrs Rekha too left her job as a senior business analyst at Citibank. They work with a team of six from an office on Circular Road.
soCash is partnering with local and foreign banks in Singapore to integrate its platform into the respective banks' digital banking app. The platform finds the location of the customers and lists the shops nearby where they can collect the money from. It then notifies the merchant and the cash is exchanged after authentication and validation of digital tokens. In the background, a settlement process credits the funds to the merchants without the need for a machine, a card and a pin code.
Said Mr Hari: "The transactions are secure given that it is happening on the bank's mobile banking app. It thus completely eliminates the risk of card skimming that is common in ATMs."
Banks pay soCash and "it is significantly cheaper than ATMs and branches for cash transactions", he added.
Six hundred shops from popular coffee chains to minimarts near condominiums, grocery shops, smaller supermarkets and convenience stores have signed up with soCash to provide the service.
Said Mr Hari: "By converting their cash registers into ATMs, small merchants view us as an affordable marketing platform to attract additional footfall."
The banks are currently engaging pilot users to test the soCash system integrated on its app. According to the start-up, the withdrawal limits will be decided by the bank, just like the ATMs. The system is live and ready and Mr Hari said the banks, who will educate their customers on its use, will decide the launch date, targeted to be the middle of this year.
As the platform has not been launched yet, Mr Hari said he and his wife are using their savings that they have accumulated from previous jobs.
While the founders faced the "usual challenges of building the product, setting up a competent team, building the sales pipeline and getting regulatory approvals", they feel that the opportunity to build a platform like soCash that is relevant and helpful for the society is very rewarding.

Get a copy of tabla! for more stories.