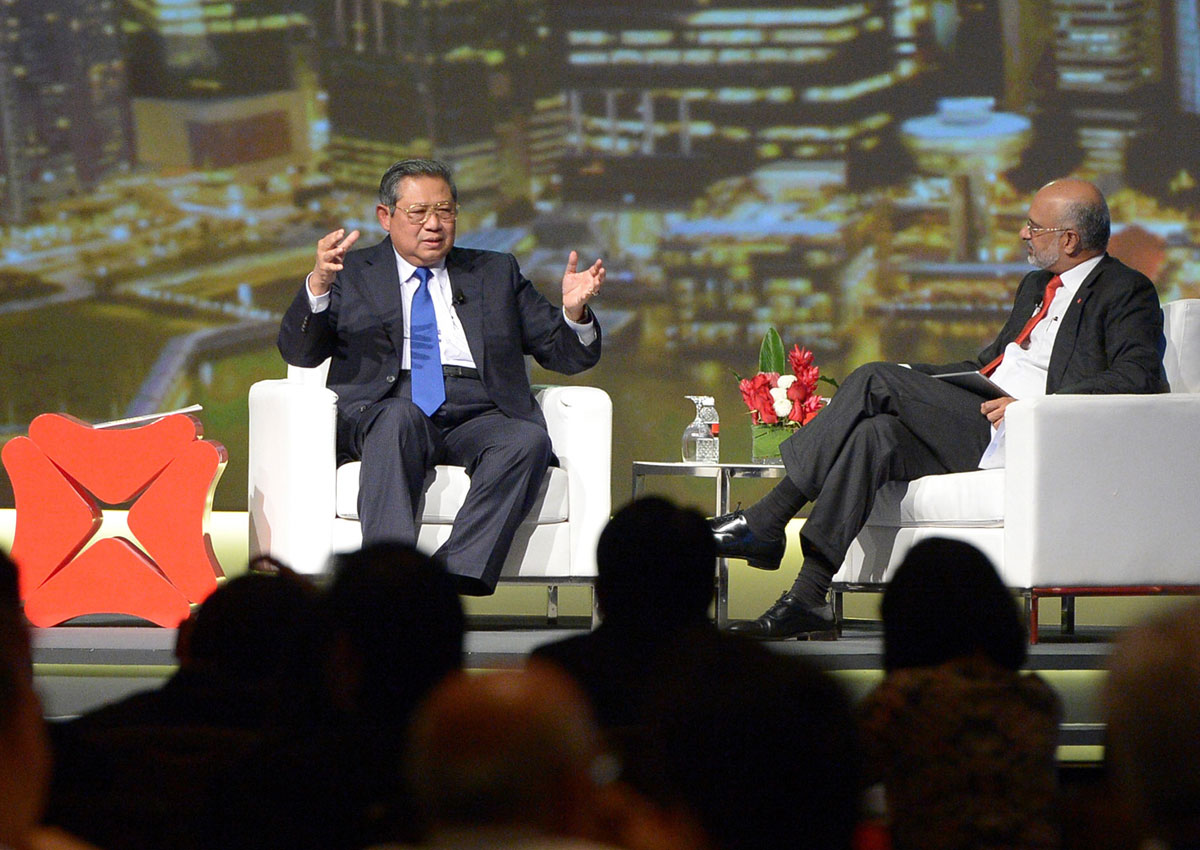 Singapore must strive to stay relevant to the region and the rest of the world if it is to keep benefiting from Asia's growth and dynamism, President Tony Tan Keng Yam said yesterday.
Dr Tan told the annual DBS Asian Insights conference that while the advanced economies of the United States, Europe and Japan continue to be Singapore's important trading and economic partners, Asia's economies will be increasingly important to Singapore.
"Asia's growth will continue to create significant opportunities for corporates, institutions and individuals," he said.
While Asia's prospects are bright, the growth is not without challenges, he noted. Income inequality and issues related to sustainable growth and development have to be addressed in tandem with economic growth so that a broader base of people in the region can see improvements in their lives.
Dr Tan's keynote speech rounded up an opening plenary discussion on how Singapore can future-proof its relevance for the next 50 years.
At the discussion, three speakers addressed issues such as how the economy should adapt and the raising of productivity.
"I think the bigger danger for Singapore, economically and globally, is whether we'll lose our relevance, whether we'll become a second-tier city-state as opposed to first-tier," said Mr Ho Kwon Ping, SR Nathan Fellow for the Study of Singapore. To maintain its relevance, Singapore needs to deepen its strengths in areas it is already proficient in, using a mix of "very careful strategic planning and a clear recognition of global market forces", he added.
"What's important is Singapore cannot keep still. We have to be very agile," said Dr Beh Swan Gin, chairman of the Economic Development Board of Singapore.
Mr Ngiam Tong Dow, adjunct professor at the National University of Singapore's Lee Kuan Yew School of Public Policy, said it was the responsibility of the upper management to improve waning productivity.
The day-long conference concluded with a dialogue with former Indonesian President Susilo Bambang Yudhoyono hosted by DBS chief executive Piyush Gupta.
Dr Yudhoyono said Asian economies had emerged as engines of global growth and remained particularly resilient through the global financial crisis in 2009. But he pointed to the geopolitical challenges posed by the rising tensions from territorial disputes in the South China and East China seas as factors that could disrupt the progress of Asia's increasingly interconnected economies.
"Despite the economic linkages among countries, this region is still fragile and vulnerable to facing conflict." To ensure that Asia remains on the path of stability and growth, he said, countries in the region should further strengthen their economic co-operation and integration.
He also acknowledged that the challenges facing Indonesia's economy were complex. Since taking office in October, President Joko Widodo has come under fire for failing to revive the economy, which is growing at its slowest pace in six years. "We know that in order to attract investments to Indonesia, we have to improve our investment climate, improve ease of doing business, and build more infrastructure, but this will take time," he said.
kohping@sph.com.sg

This article was first published on July 11, 2015.
Get a copy of The Straits Times or go to straitstimes.com for more stories.