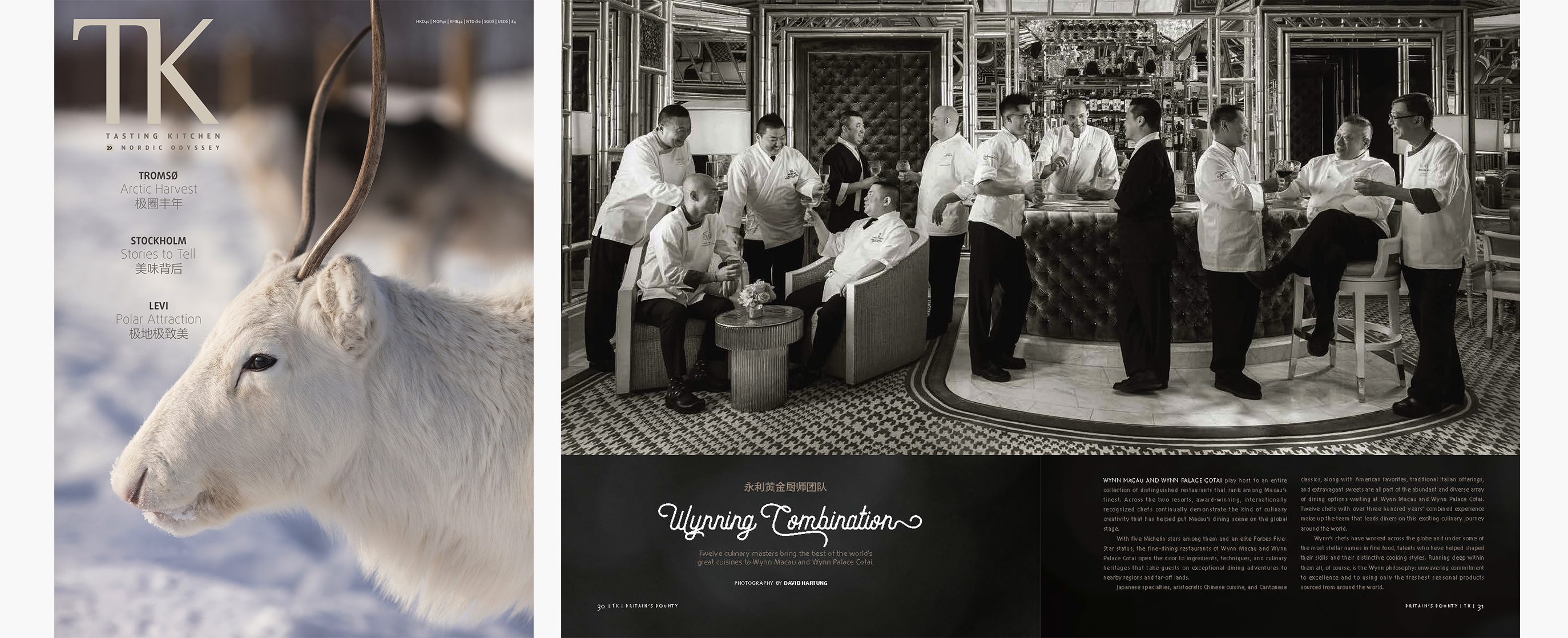 For the fourth year, recognition goes to
TK
Art Director Alicia Beebe for Excellence in Magazine Design and to
TK
Director of Photography David Hartung for Excellence in Photography.
HONG KONG, CHINA - Media OutReach  - June 28, 2018 - Tasting Kitchen  ( TK ), Asia's leading epicurean lifestyle and travel magazine, received double honors, for Excellence in Magazine Design and Excellence in Photography, from the Society of Publishers in Asia (SOPA) 2018 Editorial Awards. This marks the fourth year in which TK has been recognized, with a total of eight awards, by the region's most highly regarded publishing prize.
TK Art Director Alicia Beebe, who received the Excellence in Magazine Design award, helped launch Tasting Kitchen and continues to be the creative force behind the publication's distinctive design ethos of bold simplicity, clean lines, and elegant understatement.
"Design is never a solo endeavor," said Beebe, "so an award is wonderful recognition for all the behind-the-scenes collaborative work that goes into producing good design, including tireless and creative planning, superb writing and editing, and, of course, phenomenal photography."
The SOPA judges also recognized the journalistic interplay between the magazine's design and photography, commenting on the issue's "gorgeous, stunning photos that pop with color and add a layer of old-world sophistication to the magazine."
Beebe's beautifully integrated design scheme for TK29 Nordic Odyssey featured an arrestingly simple cover with an iconic image of a white reindeer in the snow. It perfectly conveyed the issue's message that the often-stark Nordic regions are filled with a rich natural and cultural vitality. Her design effectively projected the energy expressed in the theme of odyssey, a quest across the lands of Norway, Finland, and Sweden in search of the people, places, and distinctive cuisines that characterize the Nordic way of life.
In the words of TK Founder and Publisher Mark Hammons, "Alicia is an endlessly imaginative and thoughtful designer. She starts with a deep respect for the reader and a nuanced understanding of the content, and then combines color and shape, geometry and texture, to tell stories filled with rhythm and beauty.
TK Director of Photography David Hartung was awarded Honorable Mention for Excellence in Photography for his work in "Wynning Combination " (TK31 ). His series for "Ageless River" (TK32 ) was also among the three finalists for Excellence in Photography.
In "Wynning Combination," Hartung demonstrates his talent for portraiture. His assignment was to communicate the personalities and intrinsic creative force of twelve prominent chefs from Wynn Palace and Wynn Macau.
In the opening group shot, Hartung effectively conveys the congenial interplay among a band of professional colleagues who are also good friends. The dozen remarkable portraits that follow reveal the photographer's skill in putting each of his subjects at ease and coaxing from them a charmingly candid revelation of their inner selves.
"We see the humor and camaraderie among these men," commented the SOPA judges. "Each photo stands on its own, as a profile of the chef with his favorite tool or ingredient, and the photos work together as a body of artwork."
Of Hartung's portraits, TK Managing Editor Joey Cheang noted, "By using the more abstract medium of black and white, David has elevated the images beyond the familiar reality of the everyday world, endowing them with both the vibrant immediacy of casual snapshots and the thoughtful composition and gravitas of art."
TK 's award-winning issues and features from 2014 to 2018 are available here:
https://www.dropbox.com/sh/7gf6zq906hdvsgf/AABOpPF2qmOHDUaszWtRmrM9a?dl=0
TK 's previous SOPA awards:
2016: Excellence in Magazine Design, Honorable Mention,
TK18
Formosa Influence
Excellence in Feature Photography, Honorable Mention, " One Fish, Two Fish"
201 5 : Excellence in Magazine Design, Award for Excellence,
TK13 Fruits Flowers & Bugs
Excellence in Feature Photography, Honorable Mention, "Refined by Time
201 4 : Excellence in Magazine Design, Award for Excellence,
TK9
Treasures of the Sea
Excellence in Feature Photography, Award for Excellence, "Spice World"
ABOUT TASTING KITCHEN (TK )   Asia's leading epicurean lifestyle and travel magazine, Tasting Kitchen  (TK ) was launched six years ago. Published every two months with text in English and Chinese, TK is a celebration of the world's finest restaurants, greatest chefs, and most delicious food. TK is sold at newsstands across the region and in bookstores, wine shops, and gourmet food emporiums, with a total circulation of 20,000 in Hong Kong and 10,000 in Macau. The magazine is distributed at more than 1,500 locations in Hong Kong, Macau, and China, including 800 fine restaurants, nearly all of the region's best hotels, dozens of private membership clubs, and on ferries and in airport lounges. And with more than 48,000 Facebook fans, TK has a dynamic social-media presence as well: http://facebook.com/tastingkitchen . TK 's archives are online at  http://tasting-kitchen.com .   For more information about SOPA and the annual SOPA awards, visit  http://www.sopawards.com .