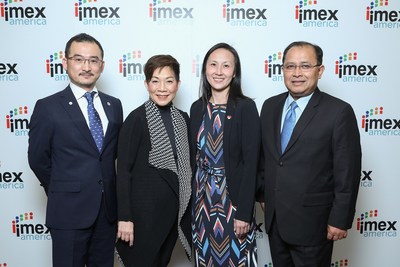 Thailand supercharges its MICE offerings through a brand new marketing campaign and the first-ever Asia collaboration.
LAS VEGAS, Oct. 11, 2017 /PRNewswire/ -- Thailand Convention and Exhibition Bureau (TCEB) launched a new marketing campaign at IMEX America that positions the country as Asia's top Bleisure destination, further strengthening the delivery of quality business venues and innovative leisure activities for US-based event organizers.

TCEB heightens MICE marketing in the US, Thailand supercharges its MICE offerings through a brand new marketing campaign and the first-ever Asia collaboration.
The US MICE market remains a major target for TCEB's promotions as it gears up a campaign that presents a simple core message; hosting business events in Thailand can be fun.
The US remains a strong market, eighth on the top-10 country list, supplying 42,681 MICE visitors in 2016. China and India topped the list. During the first three quarters of TCEB's current fiscal year (1 Oct 2016 to 30 Sep 2017) Thailand welcomed 26,735 MICE delegates from the US, predominantly for corporate meetings and conferences. This year, the country forecasts 1,109,000 international business events travellers, earning 101 billion baht (USD2.9 billion) in revenue..
Rolling out its 2018 marketing communications campaign TCEB aims to enhance Thailand's position as a destination that delivers quality business and leisure activities, capitalizing on the trend to add value to events with leisure, lifestyle, or learning experiences in the host country.
Mrs. Supawan Teerarat, VICE President of Strategic and Business Development of TCEB said, "Concentrating on quality business and leisure activities has raised Thailand competitiveness in global rankings.  It secured the 24th spot on the 'Most popular Convention destinations' global list compiled by the International Congress and Convention Association. A recent report from the World Bank showed that Thailand is ranked 46th, worldwide, for the 'Ease of Doing Business'. In the leisure travel arena, Phuket Island ranked among TripAdvisor's 25 'Top-Rated Places to Visit' worldwide."
Through the recent marketing communication campaign, "THAILAND CONNECT Your Vibrant Journey to Business Success", TCEB has been introducing key fundamental pillars of MICE industry which include a diversity of destination, business opportunities, and people of Thailand.  These strengths are well positioning Thailand as a leading destination for Bleisure activities in the region.
Moving to the next level of success, the concept of TCEB's 2018 marketing campaign is strengthened and developed to be in line with Thailand 4.0 policy. Under the title "THAILAND CONNECT Your Vibrant Journey to Business Success, decoded with chapters of possibilities", the three pillars of the country's MICE industry remain the key focus.
Strengthening into "Fascinating Destination – Business Empowerment – Professional Passion", TCEB will continue to promote theses brand pillars via the vigorous promotional activities throughout next year.
But it also highlights impressive expansion that is improving accessibility to both major and secondary destinations that have MICE facilities.
Major development projects are underway including international airport capacity expansion at Bangkok's two international gateway airports (BKK and DMK), a substantial upgrade of U-Tapao International Airport located near the resort city of Pattaya. Additional terminals have opened at Phuket Island's international airport.
High-speed rail projects linking the Thai capital with secondary cities, the expansion of cruise ports and terminals, as well as improved airline access, top the development agenda. They will significantly improve access to leisure activities, across the country that can be included in MICE event programs.
New Chapter of Collaboration Between the four Asian bureaus
This year's IMEX America is also the launch pad for a new joint collaboration by four of Asia's leading MICE destinations.
"This is a first for the region as the MICE bureaus of Malaysia, Seoul, Singapore and Thailand unite in this collaborative effort to inspire the US MICE market," said Supawan.
"Clients will glean a better understanding of Asian destinations to stimulate interest in organizing corporate meeting, incentive travel and association events in Asia," said Supawan. Described as a game changer, the collaboration involves TCEB, MyCEB, SECB and Seoul Tourism Organization, joining hands for the first time ever to showcase connectivity between Asian destinations and offering options to combine destinations for incentive travel or to link destinations with post event tours.
"It will deepen awareness and catalyze interest in Asian destinations. Apart from highlighting our connections, another key takeaway is the readiness of key Asian CVBs to partner with US clients, to navigate and anchor events in Asia."
"We see opportunities for more Asian destinations to come on board, to curate better offerings for key target audiences and encourage clients to position events in an Asian circuit. The Asian CVB night at IMEX America, 'An Evening with Asian Destinations', presents this new chapter of collaboration between the four Asian bureaus," said Supawan.
International events head for Thailand:
The marketing campaign aims to raise the industry's profile draw more international events and increase visits. TCEB expects that by the end of the year 2018, there will be 1,192,000 international MICE visitors,  generating 112 billion baht (USD 3.2 billion) of revenue to the country. International events which will be held in Thailand in the coming years include:
2018 MDRT Experience and Global Conference, 1 to

8 February, 2018

;
Bangkok Entertainment Fest, March to June, 2018;
Sport Accord Convention 2018, 15 to

20 April, 2018

;
ASEAN Sustainable Energy Week 2018, 6 to

9 June, 2018

;
ProPak Asia 2018, 13 to

16 June, 2018

;
The 31st Congress of Asia-Pacific Association of Cataract & Refractive Surgeons (APACRS 2018), 19 to

21 July, 2018

;
Beyond Beauty ASEAN Bangkok 2018, 20 to

22 September, 2018

;
Metalex 2018, 21 to

24 November, 2018
About TCEB
Thailand Convention & Exhibition Bureau (TCEB) - the government leading edge agency - has been the key to success for a wide range of global & regional business events since 2004. With our key strategic model, Growth Driver; TCEB works as your strategic business partner, delivers creative ideas, and provides solutions from our capable resources for every scale and various customised business events.
TCEB has formed numerous collaborations and networks linked to open up grand new chapters of business opportunities, and to strategically enhance every business success with special care that will spur lasting advancement and achievements. Our goal is to equipping business events industry at national, regional, and global stage for continuous development, long-term growth and sustainable success.
For further information, please contact Corporate Communications Division,
Thailand Convention and Exhibition Bureau (Public Organization)
Ms. Arisara Thanuplang, Tel: +662 694 6095, Email: arisara_t@tceb.or.th
Ms. Kwanchanok Odton, Tel: +662 694 6096, Emai: Kwanchanok_o@tceb.or.th
Ms. Paniyada Mulalin, Tel: +662 694 6091, Email: paniyada_m@tceb.or.th
View original content with multimedia:http://www.prnewswire.com/news-releases/thailand-convention-and-exhibition-bureau-heightens-mice-marketing-in-the-us-300534909.html