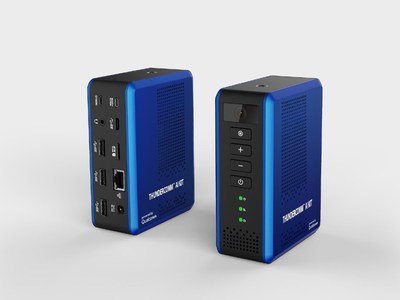 HONG KONG, Oct. 24, 2018 /PRNewswire/ --Thundercomm Technology Co., Ltd., a joint venture between Qualcomm (Guizhou) Investment Co., Ltd. and ThunderSoft, today announced at the Qualcomm 4G/5G summit that its Thundercomm TurboX™ AI Kit powered by the Qualcomm® SDA845 processor is available for pre-orders starting October 24, 2018. The Thundercomm TurboX™ AI Kit will be available for order from the Thundercomm online store at www.thundercomm.com.
As a world leading provider of AI and IoT products, technologies and one-stop services, Thundercomm uses its strong R&D background and expertise on Qualcomm Technologies, Inc.'s platforms to provide comprehensive product deliverables, including hardware design, software customization, OS optimization and algorithm integration. The Thundercomm TurboX™ AI Kit, a high-performance embedded development device from Thundercomm, supports on-device AI application development ranging from robotics, AR/VR, smart camera, automotive, smart retail, smart factory, smart home and smart city.
Powered by Thundercomm TurboX™ D845 System-on-Module (SOM), the new AI Kit supports various optimized AI algorithms utilizing the Qualcomm® AI Engine, running on a heterogeneous architecture featuring Qualcomm® Hexagon™ DSP, Qualcomm® Adreno™ GPU and Qualcomm® Kryo™ CPU. The optimized AI algorithms, including face recognition and object detection, are designed to empower developers and manufacturers to train and verify algorithms and quickly optimize their on-device AI applications.
Thundercomm TurboX™ AI Kit has the following key features:


Powerful computing platform: Powered by the Qualcomm SDA845 processor with a heterogeneous computing architecture well-suited for on-device AI (CPU: 8x Kryo 385 @ 2.8GHz; GPU: Adreno 630; DSP: Hexagon 685), visual processing subsystem supporting 4k@60fps video capture and display, and Dual 14-bit ISP supporting high quality image for AI algorithm.
Flexible visual solution: Built-in MIPI ultra HD camera with USB3.0 camera and support for IP camera (RTSP streaming), which helps developers and customers to use cameras of their choice.
Optimized AI software: The TurboX AI Kit features the Qualcomm AI Engine, which includes the Qualcomm® Neural Processing SDK and support for Android NN API for enabling high-performance inference features including face recognition and object detection. The Qualcomm AI Engine offers support for Tensorflow, Caffe/Caffe2, and additional frameworks via the Open Neural Network Exchange (ONNX) interchange format.
AI app development tools: An online development tool helps developers to create their own AI applications easily and quickly.
Various third party services: going to support various cloud computing service platform including Amazon video kinesis streaming, Microsoft Azure as well as provide industry information, research, and analysis.
Thundercomm TurboX™ AI Kit has the following key benefits:
Easy to develop: Supporting Android OS, providing various AI algorithms and tools, connecting mainstream cloud services, helping developers and customers streamline their application and solution development.
Quick to deploy: Providing rich interfaces empowering AI developers and customers to deploy AI algorithms for various applications quickly and effectively.
Full technical development support: Thundercomm is offering full support, including documents, tools, test cases, SDKs, and application samples. 
"AI, especially on-device AI development, is quite fragmented and complicated. There is an increasing demand for a high performance and complete on-device AI development kit for evaluation, development, prototyping, optimization, validation as well as production from customers and developers. Thundercomm TurboX™ AI Kit is an ideal choice with full support covering different levels of development, rich AI capabilities, plus a powerful processor," said Larry Geng, chairman, Thundercomm.
"AI is positioned to accelerate innovation and transform many industries," said Jeff Lorbeck, senior vice president and chief operating officer, QCT, Qualcomm Technologies, Inc. "We are pleased to work with Thundercomm to bring our on-device AI breakthroughs to innovators in China and other regions."
Additionally, a developer contest based on Thundercomm TurboX™ AI Kit - Bring AI alive on powerful AI Kit - is being held on hackster.io.  Sign up and join us to participate! First round winners will receive a Thundercomm TurboX™ AI Kit and are eligible to compete for more prizes.
About Thundercomm
Thundercomm Technology Co., Ltd. (Thundercomm) is a Chinese equity joint venture established in 2016 by Thunder Software Technology Co., Ltd (ThunderSoft), a Chinese smart platform technology provider, and Qualcomm (Guizhou) Investment Co., Ltd., Qualcomm Incorporated's investment entity in China. Qualcomm (Guizhou) Investment Co., Ltd. is a minority shareholder in Thundercomm. Thundercomm was established to help accelerate development and innovation in the Internet of Things (IoT) industry, including providing support for IoT solutions powered by Qualcomm® Snapdragon™ mobile platforms, products of Qualcomm Technologies, Inc., a subsidiary of Qualcomm Incorporated. Through its expertise in operating systems including Android, Linux, and others, a broad software and on-device AI technology portfolio gaining from ThunderSoft, featuring advanced Qualcomm Technologies' chipset technology, as well as global support network, Thundercomm is a valuable and trusted supplier aiming to build innovative and high-quality smart devices that can be commercialized with accelerated development cycle.
Qualcomm, Hexagon, Adreno and Kryo are trademarks of Qualcomm Incorporated, registered in the United States and other countries.
Qualcomm SDA845, Qualcomm Hexagon, Qualcomm Adreno, Qualcomm Kryo, Qualcomm AI Engine and Qualcomm Neural Processing SDK are products of Qualcomm Technologies, Inc. and/or its subsidiaries.
View original content to download multimedia:http://www.prnewswire.com/news-releases/thundercomm-turbox-ai-kit-pre-order-started-bring-ai-alive-on-devices-using-qualcomm-sda845-processor-300737043.html
Related Links :
https://www.thundercomm.com/