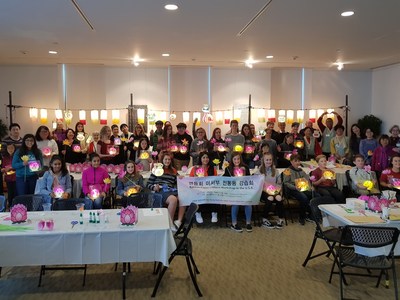 - Lotus Lantern Festival was Introduced at the Official Promotional Video of Pyeongchang Winter Olympics
SEOUL, South Korea and LOS ANGELES, Dec. 13th, 2017 /PRNewswire/ -- On Nov. 18th, The Lotus Lantern Festival (Yeon Deung Hoe) Preservation Committee hosted the Korean Paper Lantern Workshop at Portland Art Museum in Oregon. The event displayed traditional Korean culture and that of Korean lanterns so as to promote the festival abroad. It was also aimed at appealing to Americans interested in Korean culture and educating ethnic Koreans in the U.S. on their heritage culture.
The workshop was attended by around 70 people in Portland including members of Asian art council from Portland art museum. Public interest in Korean lantern culture was strong and due to large demand, the reservation period closed earlier than expected. Before starting the workshop, the committee introduced the Lotus Lantern Festival(Yeon Deung Hoe), played a video, introduced the production process. Lantern masters also gave demonstrations and held a course afterwards. People in different age, from teens to the elderly, participated in the workshop. At last, participants held a small parade rotating the hall three times with the lanterns they made and turned on.
Recently, an official promotional video of the PyeongChang Winter Olympics 2018 was released on Nov. 14, among which Lotus Lantern Festival was well introduced.  (Website for PyeongChang Winter Olympics' official promotional video "The Last A.I."  https://www.youtube.com/watch?v=W9EHsn-9oto )
The full video is 4 minutes 41 seconds in length, from 1:40 to the two-minute mark, it featured a Korean festival, 'Janchi' (party), that was the Lotus Lantern Festival.This means the Korean government officially considers the festival a leading event featuring traditional Korean culture.
As a festival appealed to cosmopolitans in favor of traditional Korean culture, the Lotus Lantern Festival (Yeon Deung Hoe) event will be even more interesting next year. A big Korean 'Janchi' (party) is to be held and everyone holds interest in Korean culture are welcome to join the event.
The event for next year will run on May 11~13, and Lantern Parade as the main event is slated to hold on May 12 (Sat.) from 7 p.m.~9:30 p.m. in the downtown Seoul section of Jongno. The next day, May 13th (Sun.), traditional cultural events with around 100 culture booths and performances will be held in front of Jogye-sa Temple. For more information, visit www.LLF.or.kr/eng.
CONTACT:
Minsuk Hong
82-2-2011-1746
hong@buddhism.or.kr
View original content with multimedia:http://www.prnewswire.com/news-releases/the-traditional-paper-lantern-workshop-was-held-on-us-west-coast-to-promote-lotus-lantern-festival-yeon-deung-hoe-300569937.html