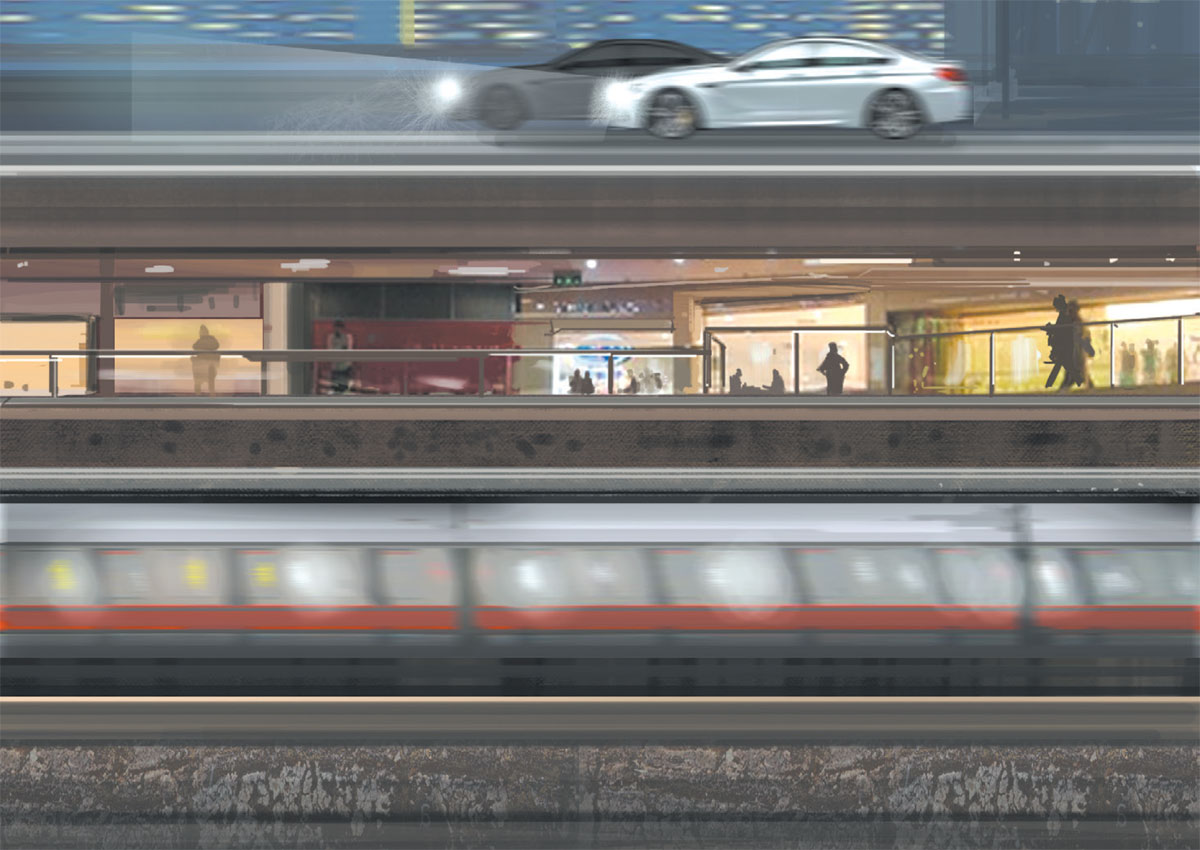 In land-scarce Singapore, land optimisation is a strategic thrust that is achieved by reclaiming land, intensifying land use upwards, and building downwards.
However, there are limits to land reclamation and building upwards due to maritime and aviation constraints respectively.
Therefore, unlocking underground space and synergising below and above-ground land use is the next frontier for Singapore.
To facilitate the growth of an extensive underground pedestrian network, the Urban Redevelopment Authority (URA) developed an Underground Master Plan to guide the construction of underground walkways in the Central Area.
INCENTIVE SCHEME
While the government has the ability to finance public underground development, the commercial viability of an underpass is a significant consideration for building owners and developers.
Consequently, URA implemented an incentive scheme in 2004 to co-fund the construction of strategic underground links in the Central Region, in particular Orchard Road.
However, no developer on Orchard Road has voluntarily capitalised on the URA incentive scheme to construct underground connections.
This provided the key impetus for this study, which focuses on the integration of underground walkways with existing buildings on Orchard Road.
It evaluates the feasibility of an underpass from the perspective of developers, retailers, and the public.
PERSPECTIVES OF DEVELOPERS, RETAILERS AND THE PUBLIC
From a developer's perspective, there are two motivations for an underpass.
First, an underground walkway provides a seamless, all-weather retail experience.
Second, an underpass enhances underground connectivity which could generate higher foot traffic, resulting in higher rents for landlords.
Furthermore, we found that there are two tiers of underpass in terms of connectivity efficiency, whereby a primary underground linkway provides a direct connection between an MRT station and shopping mall, while a secondary underpass connects two adjacent shopping malls.
However, there are six barriers to the development of an underground walkway, namely:
(a) high construction cost;
(b) subterranean land premium;
(c) extensive underground infrastructure beneath public roads;
(d) structural building limitations;
(e) loss of rental revenue during construction period; and (f) diversion of pedestrian traffic to competitors' shopping malls.
Consequently, the total development cost - comprising high construction cost and subterranean land premium - renders an underpass commercially infeasible.
A robust tenant mix is central to the success of an underpass, and the demand for retail space along the link depends on the rent and trade mix.
Generally, retail rent is contingent upon the location within a shopping mall, shop size, and the building's proximity to transportation nodes.
The rents are highest on the ground-level retail spaces fronting Orchard Road, while rentals in the basement levels are typically lower than those of levels one through three, except in cases with direct connectivity to an MRT station.
Our study found that the suitable tenant mix for an underground walkway includes fashion, convenience, pharmacy and healthcare, food and beverage, and accessories.
Furthermore, the tenant mix within an underpass is distinguished from those in the basement levels of a shopping mall.
From a shopper's perspective, one may use an underpass to commute, shop, or do both.
It is dependent on the visibility and connectivity efficiency of an underpass.
For instance, the primary underpass between Orchard MRT Station and Tangs Plaza is heavily utilised because it is not only highly visible, but it also serves as an efficient linear connection between the two shopping malls.
Conversely, the secondary underpass between Orchard Central and The Centrepoint was previously underutilised due to a lack of both visibility and awareness of its existence.
However, the completion of Orchard Gateway provided a more seamless underground connection between Somerset MRT Station and Orchard Central, generating higher traffic flow to The Centrepoint.
RECOMMENDATIONS
Our study proposes four recommendations to encourage the development of new underpasses:
First, the government could undertake the construction of an underground linkway and sell the retail spaces to investors.
The precedent was set by the sale of Tangs Underpass, connecting ION Orchard and Tangs Plaza, to joint-venture partners CapitaLand and Sun Hung Kai Properties.
Today, the Tangs Underpass is lined with retail spaces on both sides of the walkway.
Second, our study proposes further enhancement to the subsidy on public pedestrian walkways and an introduction of a subsidy for retail space under the URA incentive scheme.
These refinements significantly reduce the construction cost of an underpass, thereby making it commercially viable for building owners and developers.
Third, the government may consider the provision of feasibility studies and infrastructure support under the URA incentive scheme, which would benefit both the state and the market.
From the state's perspective, this would develop the underground database to aid future planning of subterranean space.
Furthermore, it would provide the market with clarity on the physical conditions encompassing land parcels and technical requirements of an underpass.
Additionally, infrastructure support could be offered in the form of cash subsidies to partially offset the high construction costs of underground tunnels on Orchard Road.
Fourth, an increase in plot ratio could incentivise developers to undertake redevelopment or major addition and alteration works, leading to the construction of an underpass which is mandated by URA.
The 2014 URA Master Plan allows up to a 15 per cent bonus in base plot ratio for land sites above 10,000 square metres in the Orchard Planning Area.
Furthermore, there is a variety of space and design incentive schemes to maximise a site's development potential.
The upcoming Orchard Boulevard MRT Station in 2021 may motivate building owners to amalgamate land parcels in West Orchard and carry out redevelopment or major addition and alteration works, giving rise to the creation of new underground walkways.
In conclusion, an effective incentive scheme entails a delicate balance between the objectives of the state in enhancing underground connectivity and the market, where profit matters.
Ultimately, the exploitation of underground space has limitless potential in expanding Singapore's physical space boundary vertically downwards and optimising land use through the seamless integration of below and above-ground activities.

This article was first published on December 28, 2016.
Get The Business Times for more stories.