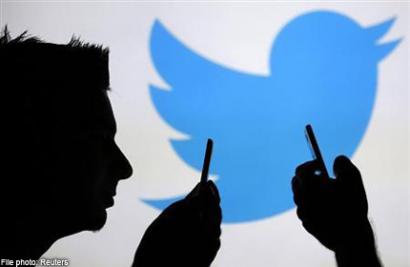 SINGAPORE - The Internet giant with a feathered friend for a logo and a global flock of 200 million that became a stock market star worth US$24.47 billion (S$30.5 billion) three days ago sounded like a bird-brained idea at first.
Just eight years ago, it all started - at least as one account of its ever- changing mythology goes - with two young men Noah Glass, described as a "free range hacker", and Christopher "Biz" Stone, who described himself as a "dork". Peering at the 160-character SMS limit on their prehistoric mobile phones, they pondered a plan for a platform from which everyone in the world could launch mini-messages to the masses.
Capping the length of what would soon become known as "tweets" at 140 characters - to give users room for what would become known as their "hashtags" - they invented Twitter, according to bird-of-mouth - the platform's lingo for circulating news and information.
It was Mr Glass who came up with the name, originally, Twttr, minus the vowels added later.
And the rest is history.
Or maybe not.
As Mr Glass tells it another way, the seed for Twitter was planted when he got stinking drunk in a San Francisco bar in 2005 and was tossing around ideas with Mr Jack Dorsey, who at the time was a tattooed punk rocker with a ring in his pierced nose.
Then again, Mr Dorsey, a computer programmer infatuated with dispatch systems for ambulances, cabs, and bike messengers, claims that he alone came up with the notion of a Twitterverse one fateful day that same year while on a San Francisco playground.
On March 21, 2006, he sent the world's first "tweet". "Just setting up my twttr" was all it said.
But Mr Evan "Ev" Williams sees the Twitter birth differently. A Nebraska-born farm boy, he is credited with coining the word "blogger", and had already cashed in on the Internet by selling his free blog publishing tool of the same name to Google in 2003. A year later, he poured his new millions into a podcasting website called Odeo that he formed with Mr Glass.
When Apple quickly put a similar feature on iTunes, Odeo faltered. Mr Williams urged his dwindling crew to put their heads together, And by early 2006, it was that team - among them Mr Glass, Mr Stone and Mr Dorsey - which dreamt up Twitter, he insists. Together.
No doubt, the truth lies somewhere in the mix.
In a new book Hatching Twitter: A True Story Of Money, Power, Friendship, and Betrayal, New York Times technology reporter Nick Bilton paints a picture of the birth and evolution of Twitter, which echoes the one told in the film The Social Network and its unflattering portrayal of the way Mr Mark Zuckerberg supposedly engineered his own destiny as the father of Facebook.
Apparently nursing a bruised wing after a short stint as Twitter's first chief executive officer, Mr Dorsey took to the TV talk shows and came off sounding like the next Steve Jobs, according to Mr Bilton's account.
In the book's key anecdote, Mr Williams confronts Mr Dorsey - with Mr Stone between them "watching like a spectator at a tennis match".
Telling Mr Dorsey to "chill out", Mr Williams says his behaviour is "sending the wrong message". A defensive Mr Dorsey responds: "But I invented Twitter."
But Mr Williams begs to differ. "No, you didn't invent Twitter... I didn't invent Twitter either. Neither did Biz. People don't invent things on the Internet. They simply expand on an idea that already exists."
Interestingly, Los Angeles Times reporter Matt Pearce observes, astutely, that Twitter is not the invention of any - or all - of the four portrayed as founders.
"In reality it was Twitter users, not the founders, who informally invented the use of @ symbols, the hashtag and the retweet, the service's three most powerful functions". He notes that the first time he ever tweeted was "the first time I saw a man killed in front of me", during street battles in Cairo two years ago.
"The company's real managerial success appears to have come from channelling users' creative energies and formalising their habits," he wrote last week.
But it is the so-called founders, at least two of them, reaping the riches.
Mr Williams, the largest individual shareholder with a 10.4 per cent holding, owns a stake valued at US$2.56 billion, the Washington Post noted last Friday. Mr Dorsey's stake of about 5.1 per cent is worth US$1.25 billion. Mr Stone's profits, if any, were not reported but his net worth is said to be US$200 million.
Their newly floated stock slid more than 7 per cent on its second trading day last Friday, falling US$3.25 to US$41.65. That is still up 60 per cent from the US$26 initial public offering (IPO) price.
Such volatile trading is not unusual as investors try to decide how well firms will do in the long run. Most analysts believe the appropriate price range for Twitter's stock is in the US$30s and low US$40s.
Despite their differences, Mr Dorsey, Mr Williams and Mr Stone were all present on the New York Stock Exchange trading floor for the launch of the IPO, along with Twitter's current CEO Dick Costolo, 50. Mr Costolo, a former comedian, was a latecomer to the Twitter nest, but nonetheless reaped US$344.6 million from his 1.6 per cent share.
Conspicuously absent from the launch party was Mr Glass. That day, Associated Press writer Michael Liedtke went in search of him, and found his seven- month-old daughter and her mother on a dirt plot outside their "earthquake shack", the name San Francisco residents call homes set up after a 1906 earthquake destroyed much of the city.
When he heard the pounding of a hammer inside, he assumed it was Mr Glass and asked if he would speak to him about Twitter. The woman said, with a French accent, that he was not interested. "She was very nice about it, and we wished me a very nice day," he wrote.
While Mr Glass has reportedly become a bit of a recluse, he does maintain his Twitter account under a terse profile: "I started this".
zach@sph.com.sg

Get a copy of The Straits Times or go to straitstimes.com for more stories.