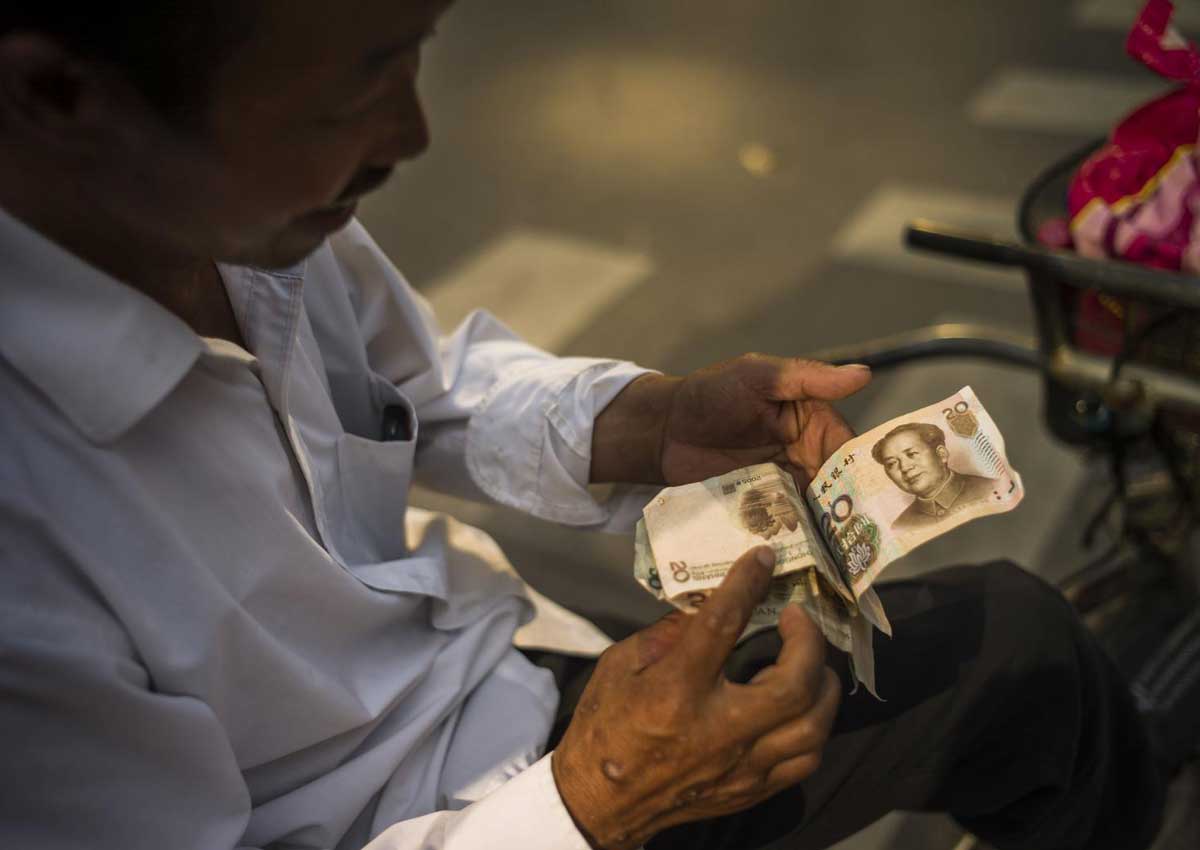 SINGAPORE- China's yuan headed for its largest daily loss and drove emerging Asian currencies to multi-year lows on Tuesday after Beijing surprisingly devalued the currency, building up expectations that its neighbours may follow a similar path to prop up exports.
The People's Bank of China weakened the yuan, guiding the currency to its lowest point in almost three years, dropping by nearly 2 percent in early trade.
The move came after China's exports in July slumped more than expected, while producer prices hit a six-year low.
"China is acknowledging that a strong yuan is hurting exporters," said Sean Yokota, head of Asia strategy for Scandinavian bank SEB in Singapore.
The move is likely to put more pressure on other emerging Asian currencies as central banks may allow their currencies to weaken amid slowing regional growth, Yokota said.
Some regional central banks such as Bank Negara Malaysia have been intervening to stem weakness in their currencies amid growing expectations that the U.S. Federal Reserve may raise interest rates this year.
"They don't want rapid weakness but if your currencies are weakening together with your trading partners, it shouldn't be a problem," Yokota said.
A South Korean foreign exchange official told Reuters that Seoul is not overly worried about any weakening in the won after the China's devaluation as long as the won moves in an orderly manner.
The Singapore dollar and the Taiwan dollar hit five-year lows on the news.
Malaysia's ringgit and Indonesia's rupiah fell to lows last seen during the Asian financial crisis 17 year ago.
The Philippine peso also slid to a five-year low, while the South Korean won turned weaker to hover around a three-year trough.
"We need to stress that there is urgent need to hedge Asian FX risk. This is not just a case of USD strength ahead of the Fed rate hike, but also weak domestic drivers," said Heng Koon How, Credit Suisse Private Bank's senior currency strategist.
"Today's 2 percent depreciation of the CNY adds to the urgency and volatile mix."
SINGAPORE DOLLAR
The Singapore dollar fell as much as 1.3 percent to 1.3996 per the U.S. dollar, its weakest since July 2010.
The city-state's currency closely tracks the yuan as traders and analysts believe it is included in the undisclosed currency basket used by the Monetary Authority of Singapore to manage monetary policy.
Singapore downgraded its 2015 economic growth forecast as economists said the outlook stays tepid in the second half, given risks to global economic prospects.
The Singapore dollar pared some of its earlier losses with a large option barrier at 1.4000, traders said.
WON The won started the day firmer and strengthend to a session high of 1,155.4 per dollar on the greenback's broad weakness in overnight markets.
The South Korean won turned sharply weaker after the China's devaluation to hit 1,179.0 per dollar, its weakest since June 2012.
Offshore investors including real money accounts and macro funds scrambled to buy dollars against the won, prompting traders to cover short positions in the dollar, traders said.
Traders in Seoul suspected the local authorities of selling dollars to tame the won's volatility as its daily movement of 23.3 won per dollar was the largest since Dec. 19 2011.
Still, offshore funds continued to sell the won as the authorities were not seen excessively concerned over the currency's weakness.
RINGGIT The ringgit lost 0.7 percent to 3.9550 per U.S. dollar, its weakest since Sept. 2 1998, the day before Malaysia pegged it at 3.8000 per dollar to put a floor under the currency during the Asian crisis.
Malaysia took the ringgit off the peg in 2005.
Government bond prices continued to fall, a sign that investors are losing confidence in Malayasia due to some political uncertainty and low commodity prices.
The five-year bond yield rose to 3.860 percent, highest since Jan. 16. The three-year yield advanced to 3.360 percent, its highest since June 10.