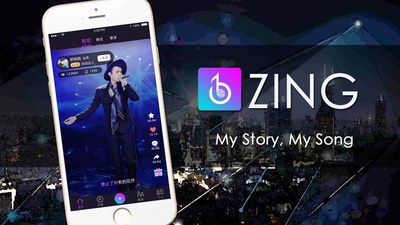 HONG KONG, June 12, 2018 /PRNewswire/ -- A new mobile app has become a heated topic of discussion amongst the Chinese music community recently. Zing, a music creation app infused with social media elements and the latest blockchain technology has spread like wildfire. Many artistes, music composers, song writers and music schools have signed their participation towards this project too.
Scheduled to launch its beta version in August 2018, Zing (www.zingasong.com) has begun its pre-registration process, inviting music composers, song writers and artistes from the Chinese music scene. With legendary Chinese music producer, Lao Mao (Liu Yuan Long) as the app's music advisor, till date, more than 200 professionals in the industry have officially registered with the app. They include well-known celebrities such as Alex To, Cai Guo Qing, Li Yu Gang, Li Dan Yang, Roger Yang, Guan Zhe and more. Asia's most talented DJs such as Kaku, King Chain, DJ Yoyo and DJ Jade Rasif have also come on board. 
As Zing is a music app which provides a platform for aspiring artists to showcase their original works as well as a means for them to garner a greater following, it is no surprise that more than 100 aspiring artists from various singing competitions in China have also come on board.
In conjunction with the official launch of Zing app, the "Zing Team" plans to stage a nation-wide music competition in more than 100 colleges and universities around China, including world-renowned music schools such as Central Conservatory of Music, China Conservatory of Music and Beijing Contemporary Music Academy.
This competition provides the opportunities for music students to work with and learn from established artists and music talents in the global Chinese music scene to create new music pieces. The competition is expected to end in November 2018 and the award ceremony will be held in the capital city, Beijing in December 2018.
Various television channels as well as popular Chinese music applications have also joined the ranks of Zing's network of strategic partners to help further propel high quality productions coming from Zing's users into the deeper reaches of the Chinese music markets.
With an unprecedented line-up of celebrities, professionals and corporate partners, Zing's official launch looks set to be a resounding success. We hereby watch in anticipation, as we witness the making of another ground-breaking Chinese app with the potential to break the 100 million users mark within months of launch.
View original content with multimedia:http://www.prnewswire.com/news-releases/zing-app-begins-strategic-deployment-across-the-chinese-music-industry-300663752.html