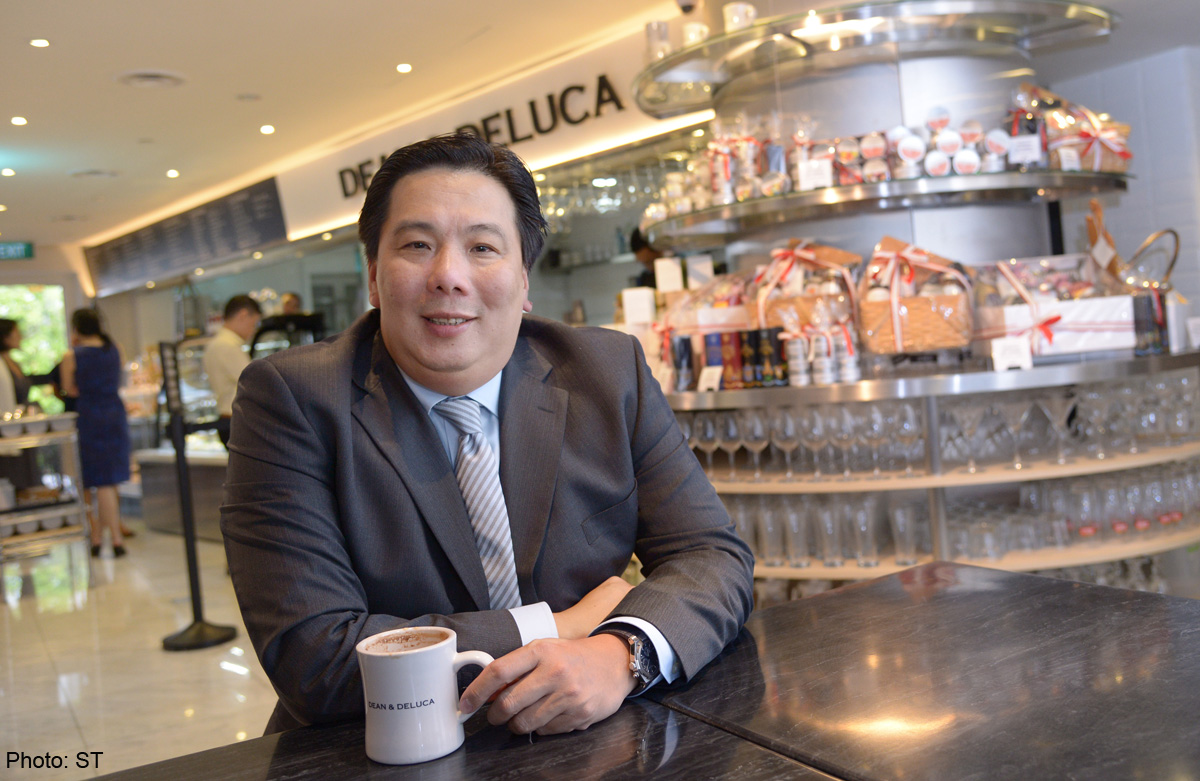 The sale of Chinese restaurant chain Crystal Jade Culinary Concepts to private equity firm L Capital Asia may have made headlines last week, but there are also other entrepreneurs and companies that have been quietly snapping up food and beverage businesses, as well as forming new partnerships.
One of them is Mr Manoj M. Murjani, 45, founder of TWG Tea. He is chairman of recently incorporated holding company Group MMM, a lifestyle, hospitality and food and beverage company that focuses on acquisitions, investments and brand development.
He recently announced a tie-up with Singapore-based French chef Bruno Menard, 52.
The new partnership, which is named after the chef, aims to build a global, multi-platform culinary brand, using Singapore as its base.
Chef Menard, who moved to Singapore 21/2 years ago, used to run the now-defunct three-Michelin-starred Tokyo restaurant L'Osier, which closed after Japan's 2011 earthquake. Here, he is better known as being part of the Deliciae Hospitality Management Group, where he co-created restaurants such as burger joint &Made at Pacific Plaza and brasserie La Cantine at Asia Square. He left the group because he and the group wanted to focus on different things.
In February, The Big Idea, which operates 10 food and beverage outlets under seven brands, sold more than 90 per cent of its company to Far East Organisation's food and beverage arm, Kitchen Language. The deal took eight months to materialise.
Kitchen Language, which was formed in 2008, owns several franchises including American ice cream brand Cold Stone Creamery and American gourmet purveyor and deli-cafe Dean & DeLuca; as well as home-grown restaurants concepts such as Burger Vs Wings + Beer, a casual eatery offering beer, burgers and chicken wings; and runs restaurants in some hotels.
Other food and beverage-related acquisitions over the years include organic supermarket Supernature and gourmet food supplier Culina, both of which are now under the portfolio of luxury fashion and lifestyle retailer Club 21.
New restaurant for Menard
Mr Murjani and chef Menard will be opening a 12-seat restaurant by the end of the second quarter of this year. A location has yet to be decided.
The unnamed restaurant will be the first of several new food and beverage concepts under the chef's eponymous company, all of which the duo plan to take global in the future.
Chef Menard says that he hopes to elevate the dining scene here, and to contribute to the showcasing of Singapore culinary talent to the world. At the new restaurant, he will be serving his style of cuisine, which has a strong focus on French, but is accented with the use of Asian products and techniques, inspired by his 20 years of living in Asia.
He adds: "I want to complement the dining scene in Singapore and want to create a luxurious private dining option for people here."
Mr Murjani says: "I believe that Singapore is ready for intimate, luxury dining. We do not have chefs of the same level (one that has been awarded three Michelin stars) as Bruno living in Singapore, and I believe it is the right time and right place for him to excel."
Next for Kitchen Language
After acquiring The Big Idea in February, Kitchen Language now has 19 food and beverage brands. These include quick- service outlets, restaurants and casual eateries, and in total, they employ more than 600 staff.
Brands under The Big Idea include bistro The Marmalade Pantry; artisan coffee roastery Oriole Coffee; Fat Cow, a restaurant which focuses on Japanese beef; and Kinki, a trendy Japanese restaurant.
Post-acquisition, Kitchen Language's chief operating officer David Lim, 49, says the company's annual revenue now stands at about $80 million. He hopes to cross the $100 million mark in the next two to three years, and potentially grow the business to a turnover of $300 million in the next five years.
His aim is for Kitchen Language to be a "major player in the food and beverage market" in the next five years, with about 50 brands under its portfolio, through a combination of concept creation, acquisition and the purchase and expansion of overseas franchises.
He is currently looking into bringing in two new franchises from the United States and another from Hong Kong.
Plans on how to grow the company's existing business include expanding The Marmalade Pantry with more outlets in Singapore and Indonesia, because it has been found to have "strong brand recognition among consumers", he says.
For instance, the company may consider opening The Marmalade Pantry at upcoming Far East Organisation hotels.
On the coffee front, the company plans to expand its supply and distribution business for Oriole Coffee. It has ordered a $170,000 larger-capacity coffee roaster that can roast 35kg of beans, about 15kg more than its current one. Mr Lim says its coffee roasting business has the potential to supply more food and beverage outlets and increase its sales output by 55 per cent.
The ground floor of Oriole Coffee Roasters, a cafe and roastery in Jiak Chuan Road, will be turned into a steampunk-inspired bar later this year to better align itself with the Keong Saik area's nightlife and vibrancy. The second floor will be given back to the landlord.
The roastery will relocate to Kitchen Language's new central kitchen in Admiralty in the coming months. The kitchen there is being set up mainly to support The Big Idea's food and beverage outlets.
Later, the company has plans to move its supporting services such as packaging to Far East Organisation's new industrial development, Nordcom I, in Gambas Crescent when it is completed, by 2017. It is also beefing up its catering arm.
Last year, the company rolled out six new outlets here just in the month of December. These include a new Cold Stone Creamery outlet at VivoCity.
Another six more openings are on track for the rest of this year. These include Best Of Brits, a new fish and chips and beer restaurant targeted at students and young adults, which will be opening at the Rendezvous Hotel Courtyard in July; and the world's first Cold Stone Creamery Restaurant, an all-day family dining concept designed by Kitchen Language that has been approved by the principle franchisor. A space for the restaurant has not been finalised yet.
Other outlets that are slated to open include two more Dean & DeLuca outlets - one in the Suntec City area and another in Far East's mixed-use development HillV2 in Hillview Avenue.
In the next year, the company also plans to take Dean & DeLuca to Indonesia, and Cold Stone Creamery to Malaysia.
On what Kitchen Language looks out for when it comes to acquisitions, Mr Lim says: "Companies should be fundamentally strong, profitable. I also look at the team and their passion."
For many smaller businesses, getting acquired is a way to take their businesses to the next level which, for instance, may include expanding locally or going global.
Mr Lim adds: "With the pressure of rising costs such as rental, manpower and labour, it can be tough when you do not have substantial operations."
rltan@sph.com.sg
This article was published on May 11 in The Straits Times.


Get a copy of The Straits Times or go to straitstimes.com for more stories.