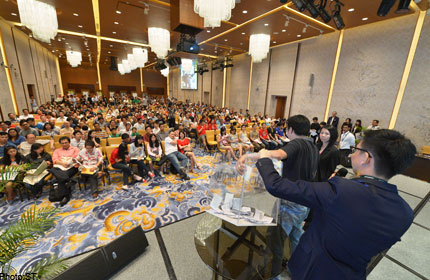 The much-anticipated balloting exercise for Afiniti Residences, a condominium project in Iskandar Malaysia, got off to a positive start on Saturday.
Earlier, 1,570 people had registered their interest online for the 147 units available. Around 200 interested buyers showed up with their family and friends by 11am on Saturday for the first round of balloting.
The 129-year leasehold condo next to Legoland in Nusajaya is being developed by Pulau Indah Ventures (PIV), a joint-venture firm between Temasek Holdings and Khazanah Nasional.
The 21-storey condo with a greenery theme is part of the upcoming Afiniti Medini development.
Aside from the residential element, there will also be a wellness centre, a 33-storey Somerset Medini Iskandar serviced apartment, a corporate training centre and a retail component.
The crowd who turned up for the balloting exercise at the Traders Hotel at Puteri Harbour in Iskandar included Malaysians and Singaporeans.
They were vying for 88 out of 147 units. The remaining 59 units are being set aside for stakeholders including the developers and their partners, PIV said.
By mid-day after two balloting sessions, more than half of the 88 available units had been snapped up.
The ballot was split into two parts, with the earlier slot reserved for those who had pre-registered.
Potential buyers whose numbers were not called earlier could join subsequent ballot rounds with the public.
Units across the seven types offered were available to each batch of would-be buyers.
PIV general manager Roslina Arbak said that she was pleased with the turnout.Potential buyers sat in a ballroom where the ballot was held and light refreshments were provided.
One of them, Mr Ali Razak, 60, shouted "Yes!" when his ticket No.0002 was called. The Singaporean had left his Clementi home at 6.30am and was the second person in the balloting queue.
He was delighted to get a 983 sq ft two-bedroom unit on the second floor, facing a man-made oasis within Afiniti Residences. It cost him about RM834,000 (S$334,000).
"This is my first property in Iskandar and I am planning to retire here in future," said the father of three.
"I did consider buying an investment property in Singapore, but not after the cooling measures in January.
"I'll probably rent out my property in Singapore if my family moves here."
Singaporean Anna Loh, 50, and her husband purchased a two-bedder unit in the development. They already own a three-bedder unit at Meridin @ Medini.
"We were thinking of getting a house in Malaysia for retirement or investment," she said.
The mother of two could not believe that she was lucky enough to be the second person to be called up to pick a unit as they had been caught in a two-hour jam after crossing the Tuas Second Link.
Also present at the balloting was Mr Sandeep Dhingra, 42, who favours buying in Medini for its tax-friendly policies. For instance, there is no capital gains tax when properties in the area are sold.
The final tally for units sold will be released today.

Get a copy of The Straits Times or go to straitstimes.com for more stories.