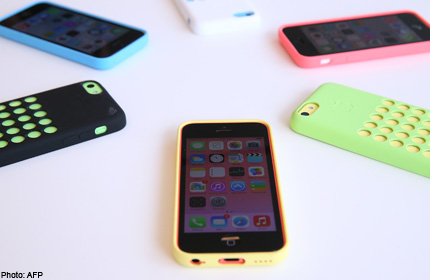 On Wednesday, Chinese web users dismissed the "low-cost" iPhone 5C as too expensive, raising questions over Apple's ability to build up sales in the world's biggest mobile market.
The iPhone 5C is part of the US firm's bid to counter cheaper handsets from rivals, particularly in China, where it has only a 5 per cent share of the smartphone market.
But the new phone will retail in China for 4,488 yuan (S$930) for the 16GB version, according to Apple's China online store, making it only marginally cheaper than the previous model, the iPhone 5. It is also well above the US$549 (S$695) that an unlocked iPhone 5C will sell for in the US, AFP reported.
The top-line iPhone 5S starts at 5,288 yuan in China, whereas the unlocked US equivalent is US$649.
"I thought the cheap 5C version would be priced at one thousand or two (yuan)... I can't sell my kidney for this much," said one poster on Sina Weibo, referring to a teen who sold a kidney to buy an iPhone and iPad last year.
"So this is the so-called cheap version? The 5C starts at 4,488 yuan in China. Ha ha, they treat the Chinese as peasants," said another. With a network contract in the US, the iPhone 5C can cost as little as US$99.
Singapore is among some of the first countries in the world to launch the iPhone 5C on Sept 20, and users can place pre-orders from tomorrow at the Apple Online Store. It will be available for $848 (16GB) and $988 (32GB).
The iPhone 5S will go on sale on Sept 20 via the Apple Online Store and all three telcos, at $998 (16GB), $1,148 (32GB) and $1,288 (64GB).

Get The New Paper for more stories.