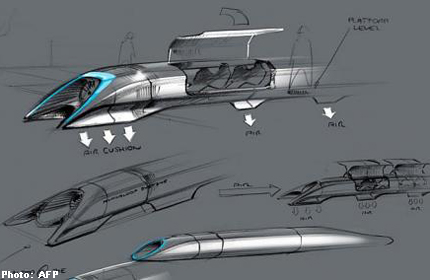 SAN FRANCISCO - United States billionaire entrepreneur Elon Musk unveiled plans on Monday for a futuristic "Hyperloop" transportation system to whisk passengers between San Francisco and Los Angeles in under half an hour.
The highly anticipated announcement put to rest some of the questions surrounding the ambitious project, which the Tesla Motors Inc founder and chief executive has hinted at for months but declined to discuss in detail.
The Hyperloop, which Mr Musk previously described as a cross between a Concorde, rail gun and air-hockey table, will be solar powered and move passengers and even automobiles at speeds of up to 1,287km per hour, according to the 57-page design plan.
The system's aluminium capsules would run above ground and along low pressure steel tubes.
Compared to alternatives like the state's planning high-speed rail system, the Hyperloop would be safer, faster, lower cost and more convenient, Mr Musk said in a blog post.
He asked the public for help improving the design.