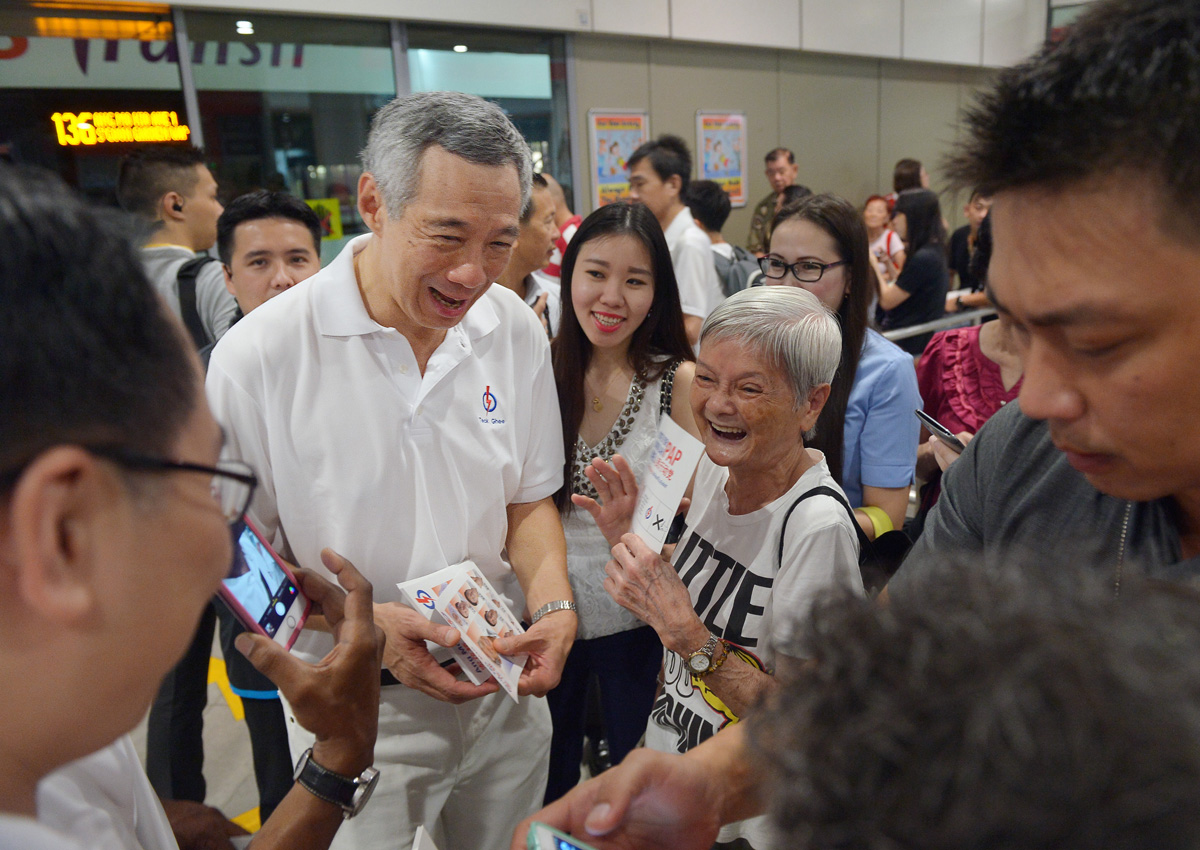 Commuters at Ang Mo Kio MRT station during the morning rush hour yesterday were greeted by Prime Minister Lee Hsien Loong, as People's Action Party (PAP) candidates and supporters pounded the streets across the island.
Accompanied by his wife Ho Ching and fellow Ang Mo Kio GRC candidates, Mr Lee set off at about 7.30am, distributing fliers and posing for pictures with office executives and students, as well as others who were out and about.
His presence created quite a sensation and as the crowd swelled, SMRT staff had to ask Public Transport Security Command officers to help manage the build-up.
At one point, as many as 20 people were waiting in line to meet him. Several also asked for his autograph. Housewife Ang Min Kee, 76, said in Malay: "Must take photo. Rare chance."
As campaigning entered the third of nine days, Mr Lee told The Straits Times after an hour-long morning walkabout: "The candidates are all working hard on the ground. Ours are and I think the opposition ones are active too. We continue to work. It's still early days yet."
As they thanked voters for their support so far and appealed for their continued backing, candidates who hit the ground yesterday pledged to do even more. Parliament Speaker Halimah Yacob, who is standing in the new Marsiling-Yew Tee GRC, said that if she is re-elected, she hopes to focus on the elderly and on young children, and rope in private companies to do more to help her residents.
"We have our own programmes in place, but it's always great to have more hands on deck to provide more support. We do need a lot more partners from the private sector to come in to work with us."
Yesterday, she visited two rental units with volunteers from offshore company Swiber, who plan to spruce up the flats of 50 needy families around the island. Madam Chan Wai Ping, 75, who lives alone in a one-room flat, broke down as she told Madam Halimah in Malay: "I'm so happy that you want to help me."
In Jalan Besar GRC, Minister for Communications and Information Yaacob Ibrahim and team-mates Heng Chee How, Lily Neo and Denise Phua started their day meeting residents at the Geylang Bahru market and food centre, before fanning out for door-to-door visits.
Tanjong Pagar GRC candidates Chan Chun Sing, who is labour chief, Indranee Rajah, Chia Shi-Lu, Melvin Yong and Joan Pereira were at the Pek Kio market and food centre when Ms Indranee spotted white canvas shoes with red-and-blue stripes - the PAP's colours - at a small shop.
The team left with six pairs of shoes, at $11 a pair, after which Ms Indranee wrote on her Facebook page: "Now we're even better equipped to walk the ground!"
Candidates say they have long been gearing up for these intense days of campaigning. For Madam Halimah, who runs 3km on the treadmill or cycles on her stationary bike for at least half an hour several times a week, exercise is key.
"It builds up my stamina lah," she said with a laugh. "Otherwise, I will not be able to do it (walkabouts)."
Candidates continued walkabouts in the evening. In Chua Chu Kang GRC, Health Minister Gan Kim Yong greeted residents outside the MRT station, distributing leaflets and tissue packs with the slogan "Together, a better home."
PM Lee continued campaigning into the evening, visiting Hougang Point's festive market and Sheng Siong supermarket in Jalan Kayu.
karam@sph.com.sg
Additional reporting by Toh Yong Chuan, Nur Asyiqin Mohamad Salleh and Linette Lai

This article was first published on September 4, 2015.
Get a copy of The Straits Times or go to straitstimes.com for more stories.